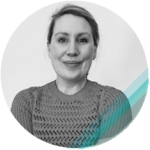 Emma-Lucy O' Brien
Curator
Emma-Lucy O' Brien is a visual arts curator, art historian and producer. She has worked with artists to produce work for national and international audiences. She is currently Curator of Exhibitions and Galleries Coordinator for VISUAL Centre for Contemporary Art Carlow. In this role she has overseen the programming and installation of major group and solo shows, associated exhibition programming, the creation of engagement programmes and the general management of the galleries at VISUAL.
This year she initiated the research phase of a project which hopes to establish Carlow as a MakeWorks region. MakeWorks is a networked on line platform, an open resource identifying a number of industrial regions in Europe, where you can find skilled manufacturers, tools and materials to make work with. MakeWorks connects creative practices with industry, responding to the changing technologies of art production.
Emma has a degree in Art History and English from University College Cork and holds an MA Art in the Contemporary World from the National College of Art and Design, Dublin. She recently completed a certificate in Project Management for Construction at Carlow Institute for Technology. She sits on the boards of Carlow Arts Festival and South Tipperary Arts Centre.
Her professional experience and interests lie in the ever-expanding field of sculpture; working with artists to produce ambitious installations and permanent works, which respond to architectural space and site-specific contexts.
Sessions
June 14, 2019
Speed Curating Room (Curators marked "Full" are currently fully booked)
11.00 - 12.30
Speed Curating Room (Curators marked "Full" are currently fully booked)
14:00 - 15:30