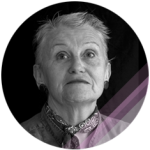 Fifi Smith
Curator, Artist
Fifi Smith is a visual artist living and working in Ireland. She is also the founder and director of the MExIndex. Working primarily in moving image and installation, she explores the relationship between mass behaviour/conformity and individuality within the person and linked to this, the shifting balance between emotion and reason in human motivation.
Originally working as an architect, Fifi Smith has been a practicing artist since 1995. Her first solo show was in 1998. Her work has evolved through many media over the years but it always creates a dialogue between the conceptual nature of her thinking and her use of materials.
Her current work is in the form of light works, kinetic installations and experimental film.
Her work has been shown in Bejing, Budapest, London, Washington, and around Ireland. She has been short-listed twice for the Aesthetica Film Festival, York.
Sessions
May 21, 2018
Lecture Theatre
All Day - 16:30