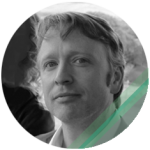 Gabhann Dunne (Full)
Visual Artist
Originally from Kildare, Gabhann Dunne is now a Dublin-based painter and is represented by the Molesworth Gallery. He graduated with fine art degrees from Dublin Institute of Technology and the National College of Art and Design.
Gabhann was a judge on the RTÉ show "Painting the Nation". Gabhann is a former winner of the RDS Taylor Art Award and the Hennessy Craig Scholarship at the Royal Hibernian Academy. He was described by Cristín Leach – writing in The Sunday Times in May, 2015 – as 'one of the best Irish painters of his generation'.
Creative Clinic | Creative & Portfolio Review 
This clinic will be of particular interest to artists working in painting and drawing media seeking feedback on their work or artist led initiatives.
Sessions
May 21, 2018
Clinics Room (Specialists marked "Full" are currently fully booked)
10:00 - 12:50
Clinics Room (Specialists marked "Full" are currently fully booked)
14:10 - 16:00