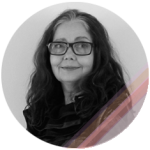 Ingibjörg Gunnlaugsdóttir
Director
Born in Reykjavík 1956
Ingibjörg Gunnlaugsdóttir lives and works in Reykjavík. She graduated from The Icelandic College of Art and Crafts (now the Iceland Academy of the Arts) in 1985.
Ingibjörg became the director of SÍM the Association of Icelandic Visual Artists in 1999.
SIM Residency was founded in 2002 and has from the beginning being organized and managing by Ingibjörg. The SIM Residency is an internationl Artist in Residence Program located in Reykjavík.
Sessions
May 21, 2018
The Chapel
12:00 - 13:00