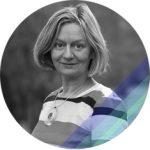 Úna McCarthy (Full)
Director/Curator
Born in Limerick, raised in Co Cork, I have spent most of my working life in Ireland and UK working in Sligo, Belfast, Bristol and Dublin before returning to Limerick in 2015.
I have a passionate interest in how artists make work – across all art forms. I have worked with a number of artists at various points in their careers – I value this opportunity to see the evolution of an artist's practice over a period but also the thrill of "discovering" new voices. I take special delight in the open and perceptive insights of our younger audiences. Recently, I have had the opportunity to work with a number of dance artists and am excited about the interstices of these two art forms and the possibilities therein.
I have recently curated an exhibition of new work by Elizabeth Magill and a survey exhibition of Bernadette Cotter with an accompanying catalogue. I am currently working with artist, Gabhann Dunne, on an exhibition due to open in the Gallery during the summer of 2018.
Sessions