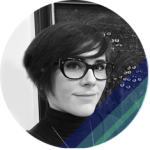 Valeria Ceregini (Full)
Independent Curator
She was a curator-in-residence at SEA Foundation (Tilburg (NL), 2017-2018) to research relationships between abstract art and narrative. As curator and writer-in-residence at Pallas Projects/Studios (Dublin (IE), 2017-2018), she is in touch with many Irish artists based in Dublin.
Her curatorial practice is focused on the etymological meaning of words, artworks, vernacular traditions, social and cultural situation. She always uses her humanistic studies, such as semiotics methods to read and to analyse artworks via philosophical and aesthetics tools to understand and manage the contemporary art.
Her curatorial interests are focused on: the visual and ecological art.
The first research is about the causes and motivations of abstract innate pictorial process and its possible similarities with literature and its stream of consciousness.
The second one examines the relationship between nature and culture, where the nature is by now a cultural product.
Sessions
May 21, 2018
Speed Curating Room (Curators marked "Full" are currently fully booked)
11.00 - 12.30
Speed Curating Room (Curators marked "Full" are currently fully booked)
14:00 - 15:30