Beyond 2022: Launch of Ireland's Virtual Record Treasury Research Project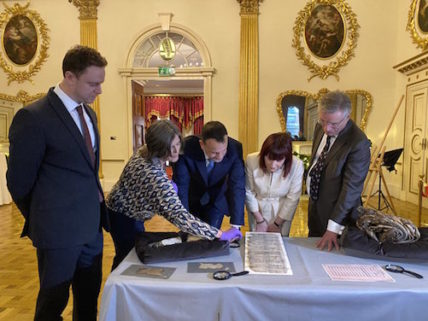 An Taoiseach Leo Varadkar TD announced €2.5 million in Government funding today for a flagship research project led by Trinity College Dublin which will digitally recreate seven centuries of historical records of the Public Record Office of Ireland destroyed by fire at Dublin's Four Courts at the beginning of the Irish Civil War. Beyond 2022: Ireland's Virtual Record Treasury research project, creating an all-island and international legacy for the Decade of Centenaries
The destruction of the Public Record Office of Ireland, at the Four Courts, on 30th June 1922 was a devastating cultural loss. While not comparable with the loss of human life, it was one of the great tragedies of the Civil War.
The Beyond 2022: Ireland's Virtual Record Treasury research project is an exciting all-island and international collaborative project. It seeks to re-imagine and re-create, through virtual reality, this national treasure and the archival collections that were lost, comprising records of seven centuries of Irish history, genealogy and administration.
This is the first time that the project's 5 core archival partners – the National Archives of Ireland, The National Archives UK, the Public Record Office of Northern Ireland, the Irish Manuscripts Commission and the Library of Trinity College Dublin – have formally collaborated on a shared enterprise, although they have longstanding historical connections.
The project is supported by the Irish Government, through a capital grant funding allocation of €2.5 million from the Department of Culture, Heritage and the Gaeltacht, under Project Ireland 2040.
The first phase of the research project funded by the Irish Research Council was led by historian, Dr. Peter Crooks, and computer scientist, the late Dr Séamus Lawless of ADAPT, the SFI-funded Research Centre. It identified over 200 volumes of transcripts suitable for enhanced digitisation, now scattered between archives in the United States, the United Kingdom and archives on the island of Ireland. These handwritten records contain more than 25 million words from documents destroyed in 1922.
With this exciting new funding announcement, the project will create a Virtual Record Treasury and reunite for the first time in a century, thousands of stories of life, law, land and loss in Ireland's history.
The primary outcome from Phase II will be a fully immersive, three-dimensional, virtual reality model of the digitally reconstructed Public Record Office of Ireland, which will be launched in June 2022 to mark the centenary of the fire. This model will be used as an interactive tool for engagement and research, whereby visitors will be able to browse the virtual shelves and link to substitute or salvaged records held by archives and libraries around the world.
Dr Patrick Prendergast, Provost of Trinity College Dublin said:
"Beyond 2022 is an historic landmark international research collaboration combining historical research, archival discovery and technical innovation. Trinity's leading historians and computer scientists have come together in this ground-breaking interdisciplinary research project at scale which has the potential of rewriting Irish history across the past millennium. It will provide a lasting and meaningful legacy democratising access to invaluable records and archives across Ireland and the World."
Source: Visual Artists Ireland News