In classrooms everywhere, beleaguered maths teachers urge students to 'show their working.' No matter the problem, articulating your 'working out' matters. Across the diversity of the visual arts, presented as part of Galway International Arts Festival this July, a commitment to articulating or showing 'seeing' through attention to practices, processes, and spaces united a range of different shows. Although showing your work in maths might serve to justify an answer, the transparency offered to audiences in these exhibitions functioned as a generous invitation to engage anew with artistic processes, familiar spaces, materials, and unseen forces that shape our experience of the world. Rather than expose definitive answers, these shows raised questions about how the visual arts might provoke or support conversations that matter.
Ruby Wallis's solo exhibition, 'Whistling in the Dark', curated by Megs Morely and showing at Galway Arts Centre until 20 August, presented digital photography, film, collage, and cyanotypes. Downstairs, photography and film, shot during lockdown night walks, featured hastily captured suburban flora and fauna, reminiscent of crime scene photography, while a video across three screens evoked the strange otherness of night-time suburbia.
In Gallery Two, large cyanotypes of Galway Arts Centre's Georgian ceiling roses highlighted the space's history, just as the exhibition title nodded to Lady Augusta Gregory's writing about St Brigid. Wallis's collectively cut 'swarm' collages that bled out from corners of the gallery space and stairwell were well accompanied by the sounds of Mike Small's composition of whistling women that Wallis sourced via Instagram. Above all, Wallis's work highlights the subtle ways our deep connection to other beings persists, even during moments of deep solitude.
In Engage Studios, a group exhibition, titled 'Infinite Possibilities', was curated by Simon Fennessy Corcoran and featured works by Vicky Smith, Brigid Mulligan, and Cecilia Bullo. All three artists explore the traditional and familial structures that shape us. Silhouettes from Brigid Mulligan's chandelier danced across home video footage of her deceased father and cyanotypes of her brother's possessions, evoking the emotional ties that bind us. Family and domesticity also permeated Vicky Smith's large self-portraits in which faces obscured by domestic objects – a mop, an iron, and a lampshade – appeared against backgrounds inspired by her grandfather's photographs. Informed by Matrilineal theories, Cecilia Bullo's mixed-media sculptures explore her lived experience of bicultural identity through examining healing practices and womanhood. Fennessy Corcoran made the curatorial decision to co-produce exhibition elements and the open call with ChatGPT.
A site-specific installation with audio on Salthill Promenade, titled Wordspace (2023) by Yvonne Farrell and Shelley McNamara of Grafton Architects, highlighted the hidden beauty of James Joyce's descriptions of the everyday at the seaside. Wordspace is the final instalment of the Arts Council-funded 'Ulysses 2.2' – a year-long project of creative responses to the 18 episodes of Ulysses (Shakespeare and Company, 1922), presented by ANU, MoLI, and Landmark Productions to mark the century of its publication. The installation was directed by Louise Lowe and featured recordings of Olwen Fouéré reading from the Proteus episode.
126 Artist-Run Gallery presented a two-person exhibition by Anne Marie Deacy and Eimear Murphy, titled 'Musica Universalis + Eternal Equations of Love'. The sparse participatory installations were augmented through performances and workshops by the artists. Deacy's Static Ritual (2023) allowed participants to explore the hidden resonance of AM frequencies, while Murphy's performance work explored the enduring value of care through human interaction with a dying world. In the gallery, copper sheets and electromagnets hummed as visitors passed between them, while Murphy's installation invited viewers to use charcoal fingers to create their own rubbings of phrases from words engraved on wooden panels. Across this dual show, material qualities were subtly explored.
In the Printworks Gallery, there were two solo exhibitions: Diana Copperwhite's 'Onomatopoeia', curated by Aoife Ruane; and Lorraine Tuck's 'Unusual Gestures', curated by Photo Museum Ireland.
Interspersing Copperwhite's large canvasses, and further highlighting painterly processes, were vitrines featuring preparatory sketches, video conversations between the artist and curator and between fellow painters. Copperwhite's weight of painting was matched by the weight of experience that resonated in Tuck's photographs in the adjacent gallery space, documenting family life with ASD and intellectual disability. Stolen glances of intimacy include a sibling embrace, acts of care or eating together, and the documentation of medication and customised clothing for her son. Love characterises this gaze, allowing the subjects to reveal themselves. The same is true of Tuck's series of collaborative portraits with Owen/Pink, a gender-fluid relative with Down Syndrome, shot outdoors, fabulously dressed in various outfits and poses. Tuck's exhibition beautifully reflects her own family's experiences in a way that honours the unique everyday intimacies that make a life.
David Mach's epic sculpture of an exploding Range Rover, The Oligarch's Nightmare (2023), filled the main space of the An Post Festival Gallery, while side rooms showed maquettes of other works-in-progress, and sketches styled after graphic novels, woodcut prints, and pastoral scenes with dystopic twists. Mach's explosive sculpture (pun intended) seems to manifest the energies of unrest against the super-rich, the totemic power of status symbols, as well as the flimsy justification they create for authority and influence, thus committing a form of upper-class iconoclasm.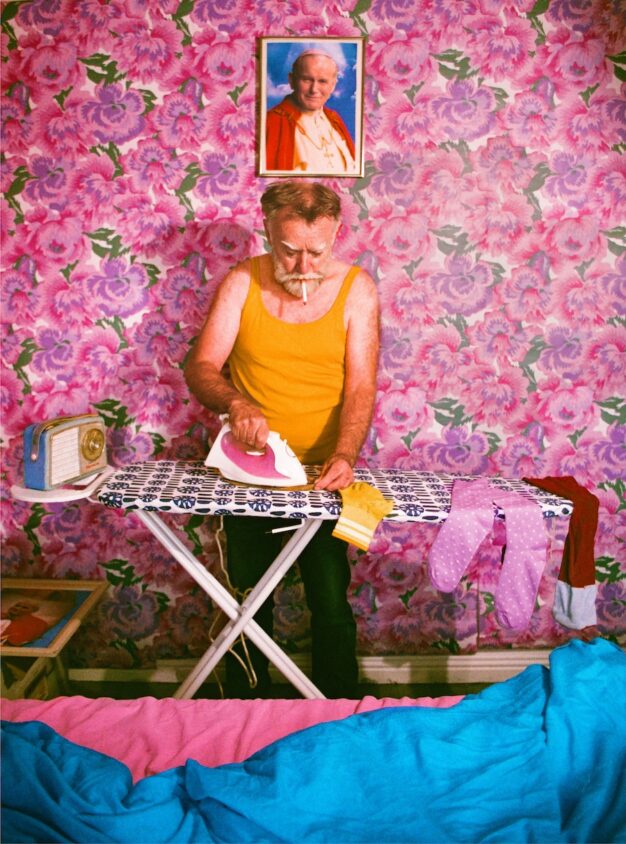 In 'Far Away & Close to Home', curated by Tom McClean at the Outset Gallery, Enda Burke's signature kitsch photographic vision of 1980s Irish domesticity – replete with religious icons, shell suits, and so many cigarettes – was complemented by a meticulous installation of a sitting room. There, a video work, Adverts from the Past (2023) by Dara Greaney, aired various addresses from 'Father Michael', advertisements for John Paul's gift shop, and archival footage of RTÉ's Angelus bells. This exhibition celebrated the palimpsests that sustain nostalgia – in glorious technicolour.
A welcome reopening of the University of Galway Gallery presented the group show, 'Mindscapes'. The presented works were developed in response to conversations with psychology researchers to reveal hidden facets of the experience of living with mental illness and neurodiversity as part of Dr Jane Conway's Scientific Arts Lab initiative.
Dr Lucy Elvis is a curator, writer and philosopher who teaches at the University of Galway.