Critique | 'Innate Flow'
Market House Craftworks, Cappoquin, 6 – 27 November 2021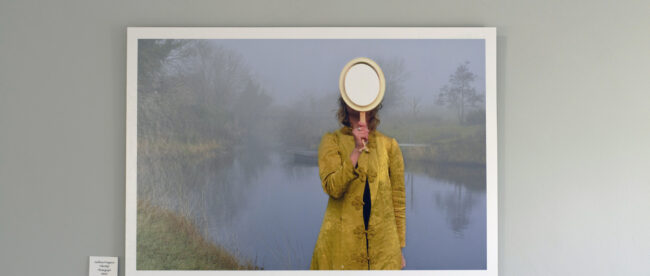 'Innate Flow' is a group show of photographic and mixed-media works by Siobhan Ferguson, Jackie McGrath and Elis Taves; all three artists draw their inspiration from water. It is a very diverse selection of work from practitioners of differing artistic backgrounds. 
Belfast-based Ferguson is a graduate of BA (Hons) Photography & Video from Ulster University. Her video work, Water Border, documents an outdoor performance that loops on a small, wall-mounted DVD player. Garbed in a full-length, gold-coloured coat, Ferguson collects pieces of turf from a field, carries them to the edge of a river, then takes them from the river and places them in a line in a field. It is unclear how long the video is, but perhaps this performance emulates a continuous flow. Other works by Ferguson include three large, printed photographs of the performance. 
County Wicklow-based artist, Elis Taves, presents two large colour photographs from a series called 'Aqua Ripley'. They depict reflections of a building in water. There is also a scannable code to a YouTube link of a minute-long manipulation of one of the stills to create the impression of moving water. Though this interactivity is interesting, arguably the video may have been better shown in the immediate gallery context. Of the wall pieces, one is printed on canvas and framed with a gilt frame, a colour riff which is confounded by its partner image, printed on a thick piece of acrylic.
McGrath's work resonates well with the craft setting of the show. Her works consist of eleven framed, colour and black and white photographs, titled Capitalism Verses Nature, whose surfaces are carefully stitched with colourful embroidery thread. Two sketch books of daily drawings created during lockdown are also displayed on a low table. The use of thread on a flat image is an interesting concept, but perhaps too pretty in this instance to cause a jarring interruption that might actively critique the exploitation of our natural habitat.
There are some minor presentation issues across the show: distracting curvature on unframed pieces, unpainted brackets, a barcode on a dark card. In my experience, inexpensive creative presentation solutions can add to a show and are often preferable. For example, works on paper could have simply been pinned to a wall, while objects from a performance may have enhanced the earthiness of this exhibition. Ferguson's sumptuous robe, or some turf, or river mud might have worked well. Overall, there's a sense that much of the artists' work may exist elsewhere, beyond the gallery walls. 
The space itself is a little gem. Situated in the centre of the pretty west County Waterford town of Cappoquin, the artist-run Market House Craftworks (open since June of the dreaded year 2020) hosted at least seven shows last year. For that alone, the collective is to be applauded but there is an intelligence at work here too. The upstairs gallery space, with windows in three of the four walls and a pitched ceiling, is bright and though not suited perhaps to some types of artworks, still allows plenty of room for play. The rest of the space is incredibly well utilised. There is a mini exhibition space on the narrow staircase to the gallery – occupied at the time of my visit by the well-made and beautifully presented collages of Lismore-based artist, Alan Murphy – while downstairs, original, well-crafted, reasonably priced ceramics, richly hued felt works, and sturdy leather pieces are displayed with thought, where the collective – Len Canton, Joan Casey and Jane Jermyn – also work their magic for visitors. Somehow there is room for everything in this miraculous little space. Long may it last. Go see. 
Clare Scott is an artist and writer based in Waterford.