Glór
6 July – 2 September 2023
In the two-person exhibition, 'On Earth We Are Briefly Gorgeous', curated by Conor O'Grady, Catherine McDonald's sculptural installation, Of Salt and Ore (2023), features a range of weathered copper and iron vernacular utilitarian objects that serve as hosts for the growth of cubic salt crystals. Over the course of the two-month exhibition, the crystallisation process – resulting from chemical reactions of copper water and supersaturated salt solution – presents the alluring and disquieting nature of corrosion.
Entering the installation, two large, rusted, circular vessels are situated on separate plinths, inhabited by stunning crystal ring formations. Eroded and twisted copper piping, with distinctive greenish-blue patina, and an iron anvil have alien-like, white, crystal protrusions. Corroded pipes extend from plinths, accompanied by wisps of salt crystal growth that seep onto the gallery floor. The salt crystals grow on these objects like a futuristic invasive species.
Climate change-induced desiccation is giving rise to higher salinity levels, disrupting the delicate equilibrium between saline and fresh water. This is anticipated to escalate in the coming years, potentially making salinisation a pivotal driver of environmental displacement.1 Recent solutions in water purification have been driven by Artificial Intelligence, identifying optimal nanopores within materials like graphene, to enhance their efficiency in salt removal.2 
Drawing inspiration from Artificial Intelligence, Méadhbh O'Connor's multimedia installation, altspace (installation 1.0) (2023), variously contemplates the digital, the virtual, and the natural. In the accompanying artist's statement, O'Connor provocatively asks: "What kind of installation might appeal to a conscious computer?" Four geometric sculptural forms on dark grey plinths resemble architectural models, fusing synthetic and biological materials such as wood, electronic wiring, and the evergreen perennial air plant, Tillandsia.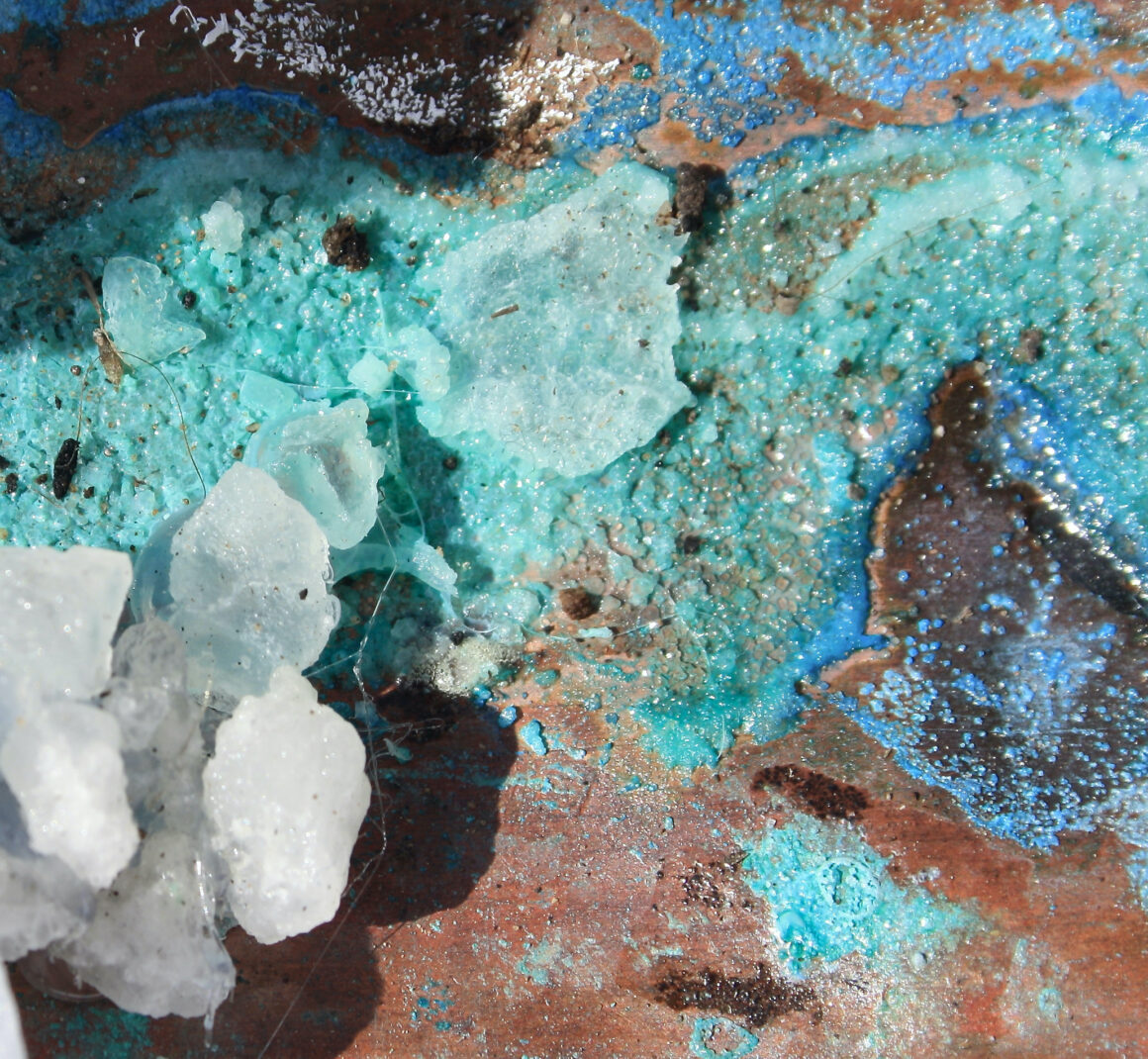 It remains unclear whether O'Connor's large abstract textile wall hanging is of human or machine origin, or if it depicts a fractal or an algorithm. Pixel forms and an aerial map-like wireframe of a motherboard overlay botanical forms. This multi-layered, surreal environment features two-dimensional vinyl works on walls and floors, portraying inverted landscapes, black holes, clouds, and data. These works possess a slightly peculiar, almost DALL-E-like quality, but are somehow more human. Within O'Connor's installation, nothing feels incidental. A television screen displays extracts of the poem, The Physicist, written and recited by the artist: "I notice quartz embedded in the rock as my foot makes contact with the ground…" and "'entanglement' he says, 'is the most amazing part'."
While the artist's installations for 'On Earth We are Briefly Gorgeous' are situated at opposite ends of the gallery space at glór, they each grapple with entangled speculative concerns. Where O'Connor's work raises topical questions in relation to conscious computers, McDonald's dystopian saline habitats pose unsettling environmental dilemmas.
In advocating for a moratorium on the development of technological consciousness, German philosopher, Thomas Metzinger, places the ethical burden on humans for the potential harm that we might impose on conscious machines in the future. He argues that we lack comprehension of the nature of consciousness, or the potential suffering our future inventions might encounter.3 Metzinger urges a ban on experiments that risk the emergence of synthetic phenomenology (or artificial consciousness) until at least 2050 – coincidentally, the same year that a threefold increase in soil salinity is anticipated. Alarming predictions suggest that by then, 90% of Earth's topsoil will be eroded beyond suitability for cultivation.4 While the leap from Artificial Intelligence to artificial consciousness may seem remote, the works exhibited at glór raise various environmental and ethical concerns for both humans and machines. 
Gianna Tasha Tomasso is an artist, writer, and assistant lecturer in Critical and Contextual Studies at Limerick School of Art & Design.
1 Fred Pearce, 'Salt scourge: the dual threat of warming and rising salinity', Yale Environment 360, 10 May 2022. 
2 Yuyang Wang, Zhonglin Cao, and Amir Barati Farimani, 'Efficient water desalination with graphene nanopores obtained using artificial intelligence', npj 2D Materials and Applications, Vol. 5, No. 66, 2021.  
3 Thomas Metzinger, 'Artificial Suffering: An Argument for a Global Moratorium on Synthetic Phenomenology', Journal of Artificial Intelligence and Consciousness, Vol. 8, No. 1, 2021, pp 43-66.  
4 'Saving our soils by all earthly ways possible', Key Findings of The Global Soil Partnership – a Food and Agriculture Organisation of the United Nations, July 2022.