Richard Gorman, Tamsin Snow and Eithne Jordan – Awarded Age & Opportunity Visual Arts Residency at Cowhouse Studios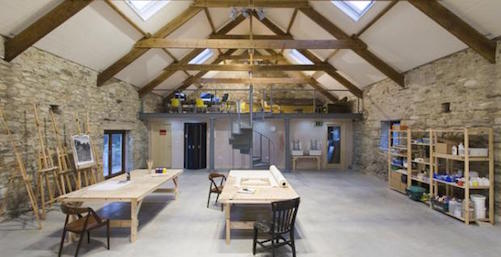 Age & Opportunity and Cowhouse Studios are delighted to announce the 5th year of the Age & Opportunity Visual Arts Residency initiative, which will will take place August 26th – September 6th.
The idea behind the residency is to create a quiet space over the course of two weeks for artists of different generations to consider their practices, and the changing contexts of those practices as time has moved on in their career.
This year the artists Richard Gorman, Tamsin Snow and Eithne Jordan have been selected as the Age & Opportunity Visual Arts Residency artists. There are no formal outcomes expected from the project other than an artistic engagement with the other artists. The residency will conclude with a public discussion at Wexford Arts Centre on Wednesday 4th September from 2pm – 4pm.
This Residency is an Age & Opportunity ARTS initiative, for more information on Age & Opportunity's Arts Programme visits ageandopportunity.ie
Artist Biographies
Richard Gorman is celebrated as one of Ireland's foremost abstract artists. Primarily a painter, he has also worked extensively in printmaking and, to a lesser extent, sculpture. Gorman's spare compositions are sharply delineated with curvilinear forms using areas of flat, perfectly pitched colour. He is known for the exceptional elegance and economy of his work in all mediums, including several series of innovative hand-made paper pieces in which the pigment is soaked into the thick surface texture of the paper. Richard Gorman's oil paintings on linen characteristically involve clearly defined interrelated blocks of colour, creating tensions between themselves and the edge of the canvas.
Eithne Jordan was born in Dublin where she studied at Dun Laoghaire Institute of Art, Design & Technology. She was awarded a DAAD scholarship in 1984 to study at the Hochschule der Künste in West Berlin, where she subsequently lived for several years. Since 1990 she has worked between Languedoc in the south of France and Ireland. Her work focuses on the contemporary city, looking at places such as Paris, Rotterdam, Madrid, Vienna, and most recently Dublin. A member of Aosdana and the Royal Hibernian Academy, she is one of Ireland's leading figurative painters. Recent solo shows include 2017: Tableau, Dublin City Gallery The Hugh Lane; When Walking, Butler Gallery Kilkenny; 2012:Street, RHA, Dublin.Further information on her work can be found at www.eithnejordan.ie
Tamsin Snow (who lives and works in Dublin) studied at the Royal College of Art, London (2012) and Goldsmiths College, London (2008). Snow's works derive from her ongoing investigations into the legacies of modernist architecture. She constructs large-scale built environments, sculpture and CGI animations to raise questions about the political and ideological underpinnings of architecture and social spaces. Past exhibitions include: Spare Face, Block 336, London (2018), Cross Sections Project, Kunsthalle Exnergasse, WUK, Vienna (2018); Resort, Mermaid Arts Centre, Wicklow (2017); Multifaith, Dazed X Confused Emerging Artist Award, Royal Academy, London (2015); Lobby Part I & II, Oonagh Young Gallery, Dublin (2015); and Pavilion, Store, London (2014). Snow was the recipient of the KulturKontakt Residency Award, Vienna; Fire Station Sculpture Bursary Award (2018); Artlink Fort Dunree Artist Residency Award, Donegal; SPACE Residency Programme, Monaghan and HIAP/ TBG&S Residency Award, Helsinki (2017).
Source: Visual Artists Ireland News