JOYCE CRONIN INTERVIEWS LAURA NÍ FHLAIBHÍN ABOUT HER RECENT EXHIBITION IN LONDON.
Laura Ní Fhlaibhín sifts stories, materials and traces associated with site, memory, myth, narratives of care and the casting of spells, creating complex but pithy material scenarios. These may incorporate condensed sculptural images, mineral deposits, instructional texts and formal gatherings of elements that serve also as ritual artefacts. Her recent body of work examines the nurturing relationship between her cousin Róisín, a teenager with autism, and Róisín's horse, Rockie.
Joyce Cronin: I was first introduced to your work at your recent solo exhibition, 'Roisín, Silver, Rockie' at Palfrey Gallery in London (22 January – 22 February). Can you tell me about that particular work and how it came about?
Laura Ní Fhlaibhín: It came about through an invitation from one of my tutors on the MFA at Goldsmiths, John Chilver, who co-directs the space. I became aware of the association with horses in that street. Palfrey are a breed of horse, bred in the middle ages to be particularly dainty for women! There was a possibility that there had been stables in number 8, which is the gallery.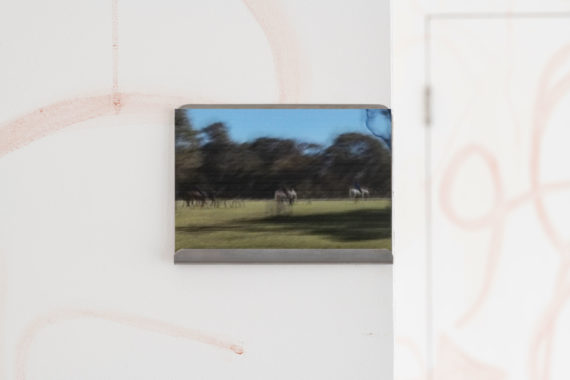 JC: Had you already started working with your cousin, Róisín? Was that project already underway?
LNF: No, it wasn't, but the focus or preoccupation with working around horses had been on my mind through my MFA. Charred horse reins were an element of my MFA show, and I could see a visual language becoming evident. When I char them, they gnarl and curl and twist; the shapes can be quite calligraphic, symbols appear. I was interested in connecting these codes with ways of communicating – cross-species, interspecies or allegiances. I was witnessing and experiencing the support and the kinship between my cousin and horses in her equine therapy and saw her comfort and ease around horses.
JC: I am interested in the context of working at Palfrey and how you responded to that – both the space itself and the street's history and its relevance to the work. I think the interesting thing is how you responded to the space internally but also externally.
LNF: The gallery does feel quite stable-like – it's a tall, unusually shaped and very compact space. I was imagining that a horse could potentially walk in and somehow lick the walls and gain nourishment with the horse lick all over it. Horse licks are salt blocks consisting of a range of vital minerals, and the horse can lick it when they please; usually in the stable or field. There's a nod to the exterior space, in that a horse's tail pokes through the letterbox, swishing around the street, owning the space. It's a typical white cube space, but I'm playing with a different reading, as a space of nourishment. It commemorates the horses that were once there. The charred reins are placed there in remembrance and I imagine them as ghosts as well, reappearing on the walls.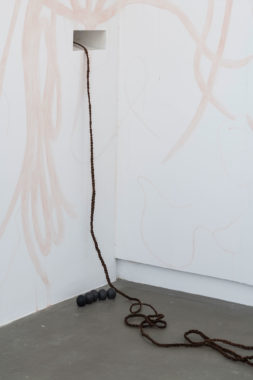 JC: Can you talk about your different approaches in the studio and in the gallery and how those processes overlap? What sort of changes take place, when you're thinking about how people will encounter the work?
LNF: I was working on the drawings in my studio and was excited and nervous as to how that would translate in the gallery. I hadn't worked in that way before – immersive drawing. I played with the symbols and shapes and developed a language of codes that were based on my cousin's drawings. I reproduced, enlarged and realigned them to different shapes. The large steel frame was constructed specifically for that space. I wanted to play with the architecture and the dimensions because I wanted to mirror the attention to detail in the space. For example, the steel round bar is the same material used in the door handles, and the frame is two metres squared, echoing the dimensions of the window. There are other points of connection in the work, playing with ideas of reappearances, ghosts or portals in various manifestations, and the potential communication that can exist.
JC: I think there's something about the scale of that structure as well. Everything else is quite small and focused, making you aware of your own physicality, in the way that encountering a horse can.
LNF: I was imagining the steel bar going across the frame might be where the horse would lean over the stable door. I was also thinking of movements through things, like a portal. It's a bodily object, very physical – I enjoy that play between the miniature and a more giant scale.
JC: There is an element of alchemy and ritual present in your work – where does this come from?
LNF: I'm interested in the apparatus and aftermath, as well as the whole function of a ritual as partly celebratory, but also protective and caring. During the MFA and being away from Ireland, I've become interested in rituals from my childhood, thinking about my grandparents in particular, and the West of Ireland rituals around interacting with land. This talismanic potential of materials – an alchemic reaction or fusing of various objects to bring a ritual of sorts into being – seems prevalent in my work. I enjoy exploring that in a gallery space, with some of my beliefs or memories becoming part of the language of exhibition-making. Ideas around care feature too, rituals of care and support.
What's passed down feels important. I use these little jesmonite eggs a lot; my grandad was convinced of eggs' double function, benevolent and malevolent – they can protect the land but are also curse. I placed some eggs in the Palfrey letterbox as a barrier, as a seal to protect the space. Alongside the horsehair, there's this kind of affinity, a braiding together of ways of being. My grandad grew up in a blacksmith's in Aughrim, County Galway – the site of the bloodiest battle in Ireland. There is a belief in the weight and history of the land; this was very much shared by my grandfather. He passed on beliefs in fairies, ghosts and spirits, which I view as an animist way of being in the world, while also offering us ways of living more ecologically and harmoniously.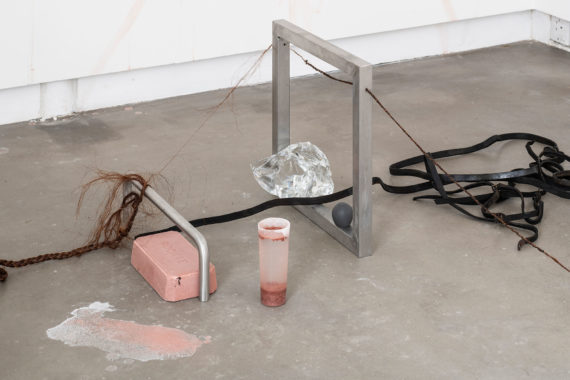 JC: You are creating your own language and your own relationship to the places in which you are showing your work. In a sense, you're carrying on inherited traditions in your own way. This leads on to storytelling in your work, which is also quite an Irish trait, in terms of an oral tradition. Yet sculpturally, the work manifests in the relationship between objects and their materiality. How do these formal aspects interrelate?
LNF: As the exhibition continued, you could see crystal growths appearing on the walls, which hadn't happened in my studio. I guess that was to do with the temperature, and a range of things that synergise to cause transformation and magic! The horse braid was presented in my Nana's steel bowl, with the saltlick in it, turning crystalline very slowly. I'm displaying gratitude towards horses for supporting my cousin; I'm feeding them and telling that story.
JC: In another space, perhaps something else could have happened, depending on the heat, time of year or different kind of light?
LNF: Yeah, it's an unknown and open-ended process – you don't know exactly what will happen. I'm already thinking of the possibilities for outdoor drawings and wondering what the effects of the elements would be on the minerals, especially on the copper, and the process of oxidisation.
Joyce Cronin was born in Dublin and lives and works in London where she is Co-Director of The Bower.
thebower.org.uk
Laura Ní Fhlaibhín is an artist from Wexford, who works there and in London. 
lauranifhlaibhin.com
Feature Image: Laura Ní Fhlaibhín, Spirited rail, 2020, stainless steel, charred horse reins, wheels, 200 cm2 frame; photograph by Damian Griffiths, © Laura Ní Fhlaibhín, courtesy of Palfrey Gallery, London