VAI is recruiting: Services Design & Delivery (Online & Offline) Position – Full Time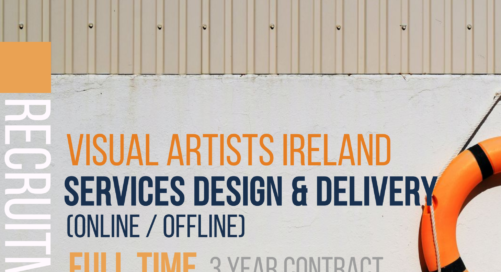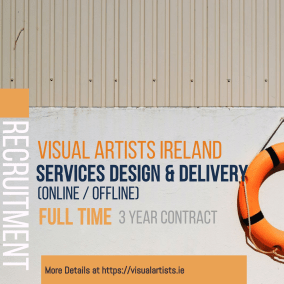 VAI is looking for somebody very special to join our team to take up responsibility for quality led Services Design & Delivery both Online and Offline which are directed at supporting the professional careers of visual artists in Ireland.
Reporting to the Office Manager, the person in this role is accountable for the service design and delivery activities that Visual Artists Ireland undertakes in our support of the professional careers of visual artists across the Republic of Ireland, and in collaboration with our Northern Ireland Manager's programme of events and services.
We are looking for that special person who can combine imagination and creativity with a strong sense of user satisfaction and a commitment to ensuring that quality and relevance are at the heart of all of our work.
The role entails the leadership and management of a team of contractors, ensuring a flexible delivery capacity for Online and Offline events across Ireland.
To provide services that enhance our work, the Service Design and Delivery function needs to actively engage in defining and delivering solutions to the challenges faced by visual artists. The role ensures that the operational framework for effective Service Design & Delivery is efficient and continually improves as our work grows and develops both through VAI's programme of delivery and through work commissioned by a wide range of stakeholders.
Responsibilities also include:
Leading, managing and developing the Service Design & Delivery capability using existing structures for blended/hybrid delivery as well as opening up new avenues and methods for the design and delivery of VAI services

Achieving agreed income targets set with each annual budget

Developing fully costed annual VAI programmes based on needs analysis and 360 feedback

Engaging with stakeholders to design and deliver solutions which may include: Lifelong Learning, Advisory Services, Help Desks, Visual Artists Cafés, Mentoring, Networking, Consultancy Assignments, and Ireland's National Day for Visual Artists – Get Together.

Ensuring that all financial processes and reporting are undertaken in a timely and efficient manner
The successful candidate will have:
Extensive experience in managing service design and deliver activities in a national context

A mature can do attitude combined with the ability to listen and consider the advice of fellow VAI staff members and stakeholders

Excellent English language, communication and stakeholder management skills – working closely with several teams to ensure buy-in and adoption of quality-led Service Design & Delivery principles which are solutions focussed, and always with visual artists in mind

Ability to work alone as well as part of a close-knit team of strong personalities

Proven ability to create and manage a strong sales pipeline

Flexibility in a rapidly changing and developing environment

Strong MS Office skills

Ability to travel to locations across the island of Ireland.
In return VAI will provide:
A competitive salary based on experience plus expenses allowance (VAI Salary Level C)

A lively work environment with a dedicated team of professionals

Access to HR supports
This is a Three Year contract with a 3 month performance-assessed probation period. The start date for this position is Tuesday, 1st December 2020 (may be changed subject to COVID-19 restrictions)
If you fit the profile and can hit the ground running, then send:
A covering letter of no more than two pages outlining the experience that you bring to the role with clear examples of work that you have undertaken and the positive impact that it has had both on your previous employers and your target audience.

A current professional résume of no more than two pages.
Applications should be sent by email to bernadette@visualartists.ie before 5pm Wednesday 30th September. Canvassing will instantly disqualify applications from consideration. No late applications will be considered. We are providing a long lead in time for people to consider the role and to make their application. We consider the achievement of the application deadline and the provision of the information as requested as part of our assessment of individuals ability to operate efficiently.
No approaches from recruitment agents will be considered.
Source: Visual Artists Ireland News