Creative Places Tuam Seeding Funds Announced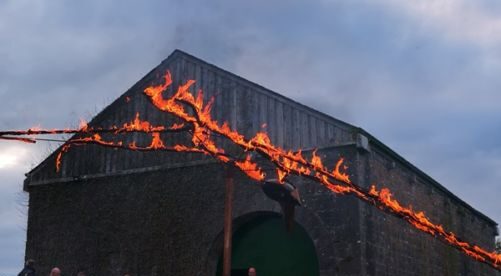 Creative Places Tuam are delighted to announce the recipients of the Creative Places Tuam Seeding Fund. This fund was established in order to respond to the challenge posed by Covid 19 to artists and communities alike. The Seeding Fund enables individuals and groups to fund research or projects that will happen in and benefit the people of Tuam, supporting new thinking, new events or activities. It will create opportunities for civic, social and community groups and individuals to grow new ideas and resource themselves to stay active, engaged and connected. Community is at the heart of Creative Places, so all successful projects will involve local people's input.
The fund received an unprecedented number of applications, and with thanks to an additional financial support of €5,000 from Galway County Council Arts Service, Creative Places Tuam are delighted to be able to fund twenty awards.
Artists and projects funded include:
Kathy Ross is a textile artist based in Tuam, who creates artwork using techniques such as free-motion embroidery, applique and needle felting. Kathy will use the Creative Places Tuam Seeding award to purchase equipment that will allow her to offer online seminars, lectures and workshops to the Tuam community. This will allow her to continue engaging with these groups through virtual platforms, sharing skill-sets, ideas and talent whilst investigating possibilities of collaborations for future projects.
Louise O'Boyle is an early career artist from Tuam, whose work is based on the freedom of expression and exploration.  Louise will use the award to develop and deliver a workshop based around artmaking and synaesthesia, a neurological trait or condition in which senses appear to be merged or overlapping. This will involve discussion of artists who have based work on synesthetic traits or interest, before the workshop attendees are encouraged to create art in response to a number of stimuli.
Jennifer Cunningham is an artist and educator based in Tuam. Maeve Mulrennan is a curator and educator working between Galway and Dublin, who works in visual art and literature.  Maeve and Jennifer plan to use their Creative Places Tuam Seeding Fund to facilitate discussions with a local primary school's 6th class, on 'Overlapping Worlds': how they are navigating the overlap of real and virtual worlds, home and school since March this year. From this discussion they will develop a workshop exploring and mapping this merging of worlds, focusing on the positives as well as anxieties this can cause.
Martina Passman is a local artist whose work involves experimentation with mixed media including the use of found objects, materials and printmaking. Martina wishes to work with the Traveller community in Tuam, young and old, to get a feel for what it is truly like being a member of the Travelling Community in Irish society today. Together they will research the art and craft traditions of the community, for example tin making and engraving, while documenting this research through printmaking/ etching.
Naser Suleman is an artist living in Tuam, who was born in Sudan. Naser came to Ireland in 2017 and in 2019 was granted refugee status. Naser plans to use his Creative Places Tuam Seeding Fund award to make a series of paintings and drawings, culminating in a local exhibition through which he will engage in dialogue about a multicultural society with the local audience. He will use his paintings to develop a visual language which will draw on the plural, cultural and tribal diversity in Sudan as a frame of reference in the context of social and cultural integration.
Rachel Varden is an early career artist based in Tuam. She works from her studio in Tuam, and has exhibited locally and nationally. Rachel will use her Creative Places Tuam Seeding Fund award to create a video platform to highlight local artists, through interviews and studio visits. Rachel recently attended the Tuam Logged In workshops with Michael Fortune, and intends to build on the skills and knowledge accrued there, to develop this project.
Síofra Holyland is a textile artist and member of Tuam Tidy Towns, Cork Craft and Design and the Irish Design Institute. Síofra plans to use this Creative Places Tuam Seeding Fund award to ensure that the Annual Tuam Christmas Craft Fair can take place this year at the Miller's House, Little Mill while adhering to the COVID 19 restrictions and guidelines. This will involve the provision of signage and equipment, as well as establishing alternative modes for artists and locals to engage with the fair, including a craft event in advance of the Craft Fair.
For full list visit: creativeplacestuam.ie/seeding-fund-recipients/
Image: Outdoor Spectacle at Ballyglulin. Courtesy The Three Rings
Source: Visual Artists Ireland News