Curated by Peggy Sue Amison, 'In Transit' delicately weaves together photography and moving image works which hold and honour profound stories of human migration, collectively representing lived realities across various regions.
The people featuring in Daniel Garcia's series, Foreigner, are African and mostly men. The work comprises photography, video and audio, which in some cases involves collaborative processes. Each piece is accompanied by a text, which deepens the context and causes the viewer to pause and reflect. In the audio work, Only Way, we listen to Ousman Kanteh's partial story of his difficult journey across the Mediterranean Sea. This first-hand account emphasises the emotional trauma that so many have experienced while making their way to Europe. Garcia's  delicate images are highly composed and centre on the figure. The figure's surrounds are minimal, with the greatest attention given to foreground, thus emphasising engagement with narrative content. Garcia's compositions are comparable to western religious images, in that they hold the viewer in a reverent fashion.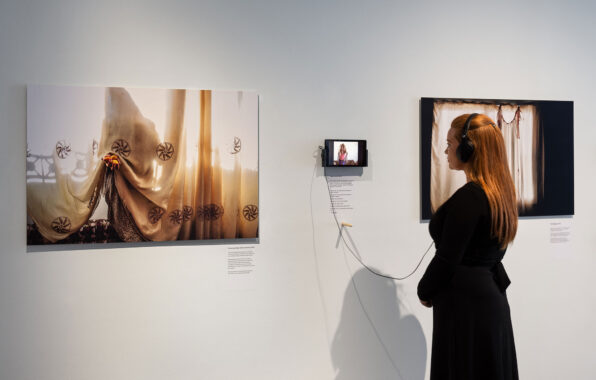 Similarly, George Awde works collaboratively, in this instance with the Syrian boys and young men featuring in his presented photographs. Silver gelatin prints – created from WhatsApp images that his collaborators have sent him – depict important personal and everyday imagery. His series, Scale without Measure, also features large format and Polaroid photographs. True to its title, it is impossible to gauge the real experiences of the people whom the project centres upon. Dates, places and figures are gilded without grounding. Boys become men in worlds which are being built while others are falling apart. Both Garcia and Awde's work is imbued with a classical sense of the hero's journey; however, the works also attend to the stark realities and further trauma faced by people who are simply trying to get on with their lives, in places that do not always offer the necessary opportunities and support.
The exhibition holds the viewer in minute reflections on the 'neither here nor there'. Personal dilemmas go wayward and a vast landscape unfolds, at first unfamiliar and then recognisably indented with the most terribly human needs, wants and wishes. In Tanya Habjouqa's documentary work, Tomorrow There will be Apricots, we see life and the prospect of it changing as opaque. The women's inability to move on from past and present trauma and current involuntary confinement is metaphorised through the use of translucent fabric, drawn curtains, covered hair and closed eyes, indicating a shielded or veiled existence. Individual narratives are also emphasised through accompanying texts. Durational stories of Syrian women in Jordan reflect a deep, soft and feminine sadness, which in some cases is also accompanied by frustration. Some photographs worryingly emanate a sense of acceptance, like Um Ahmed and her Daughter, in which a mother shields her daughter's eyes as a remedy to their current situation.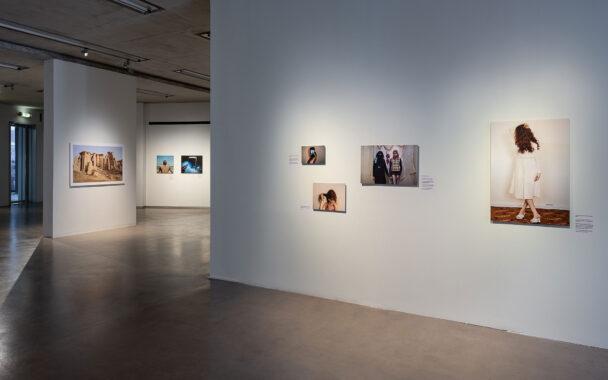 Stephanie Zofia Schulz also distils and expands the monotonous stagnation of everyday life, with her series, Duldung/Toleration, focusing on children and young adults living in the German equivalent of Direct Provision. Born into a housing estate for migrants herself, the artist is innately aware of the situational challenges she is documenting, particularly in her portraits of young woman, such as Lina and Sania.
Gohar Dashti's photographic series, Stateless, presents figures in the sparse landscape of the Iranian island of Qeshm in the Persian Gulf. These scenes question the psychological space of 'home' for those experiencing migration amid unfathomable circumstances. The photographs are large, theatrical and surreal, with the featured people and objects seeming out of context in these expansive compositions. The figure is presented as the most fragile and vulnerable element of this work, which is more fictional in nature but also echoes narratives on journey.
Leaving the gallery is difficult. The exhibition holds you as much as it holds the people featured in it, demonstrating the effectiveness of photography in documenting a multitude of stories. The exhibition does not concentrate on any particular region or demographic, and so provides a very hard-hitting reminder of the scale of the problems faced by millions of people across the globe. If visiting this show, you will need adequate time to read, take in and engage with the expansive and moving material that 'In Transit' delivers.
Róisín Foley is a freelance curator and writer and former director of Doswell Gallery, West Cork.