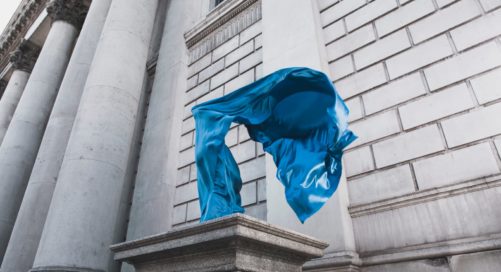 Sculpture Dublin aims to raise awareness of Dublin's sculptural heritage and to commission new works in parks and public spaces city-wide. It is a Dublin City Council initiative, developed by Parks and Landscape Services and the City Arts Office, and supported by the Hugh Lane Gallery and Visual Artists Ireland.
Sculpture Dublin will commission six new sculptures across Dublin in the next 18 months. Following initial consultation and a survey of sites, locations for the new commissions have been identified in each of the Dublin City Council Local Administrative Areas. A temporary sculpture will also be commissioned for the O'Connell Plinth, an empty plinth outside City Hall on Dame Street.
Artistic excellence and meaningful public engagement are the core principles of Sculpture Dublin. It will be a place of experimentation and interaction: a shared space in which to engage with sculpture – old, new, and yet to be imagined.
All of the new commissions will benefit from local engagement programmes designed to raise awareness, provoke conversations about sculpture and involve people in discussing how sculpture and public art enhance their neighbourhood. Local engagement will take the form of online surveys, public meetings, artists' cafes and culture clubs, as well as opportunities to participate in the creation of some of the new commissions and partnership projects with schools, libraries and community organisations.
Sculpture Dublin is working with the city's cultural institutions to draw attention to sculpture in their collections and temporary exhibition programmes. Through a city-wide programme of talks, tours and workshops, online presentations and publications, and a number of exciting new initiatives, including a Sculpture Day and a Developmental Award, Sculpture Dublin will encourage people to rediscover their city through sculpture – imagining new possibilities for art in the public realm and engaging in shared processes of learning and making.
Commissions
Sculpture Dublin will commission a public sculpture in each of the DCC administrative areas: North West, North Central, Central, South Central and South East. The curatorial framework for Sculpture Dublin will be structured around the specificities of each commission site, with strong emphasis on context, user-communities and topographical features. Please note artists can apply for one Sculpture Dublin commission only.
Ballyfermot People's Park, South Central
Artist Brief: Ballyfermot-Peoples-Park.pdf
Budget: The total budget for this commission is €100,000 inclusive of all costs and VAT
Deadline: 14 August, 12 noon.
The commission for the South Central Area will be developed as part of a new park at Ballyfermot Community Civic Centre, Dublin 10 – Ballyfermot People's Park and is a one-stage open competition. Artists are invited to submit a proposal that responds to the development of Ballyfermot People's Park, specifically, and to the broader context of present-day Ballyfermot. Your proposal should set out an approach to the development of a sculpture commission, which may involve a number of phases including: consultation and/or collaboration with the park design team and members of the local community; development and refinement of ideas for the sculptural work and its siting within the park; production and installation.
O'Connell Plinth, Dublin City Hall
Artist Brief: OConnell-Plinth.pdf
Budget: The total budget for this commission is €50,000. This is inclusive of all costs and VAT
Stage 1 Deadline: 21 August, 12 noon
Additional to the five permanent commissions, a special temporary artwork will be developed for the O'Connell Plinth at Dublin City Hall on Dame Street, Dublin 2. This two-stage open commission invites artists to respond to a historical plinth that has stood empty in the centre of Dublin city for over 150 years. The O'Connell Plinth at City Hall was originally constructed to support the monumental statue of Daniel O'Connell – 'The Liberator' – that is now located inside the building. The removal of the statue in the 1860s dispossessed the plinth of its intended purpose, transforming it from a conventional mechanism of display into a vacant anomaly. The space left behind by the O'Connell statue is a provocation, one that demands a physical and conceptual response. It is waiting to be occupied – but by what?
Smithfield Square Lower, Central
Artist Brief: Smithfield-Square.pdf
Budget: The total budget for this commission is €100,000. This is inclusive of all costs and VAT
Stage 1 Deadline: 28 August, 12 noon
This two stage-open commission invites artists to propose a sculpture for Smithfield Square Lower, a small pedestrian square located between the Red Line Luas tracks and Arran Quay. Artists may choose to reference Smithfield's long and varied history in their work or look to its contemporary contexts for inspiration. However, the primary focus of this commission is a celebration of sculpture, its material qualities and form, and the promotion of more meaningful interaction between people and place. How can public sculpture define a space and re-focus people's attention? How can it act as a reference point that interacts with both its built environment and its users? How can it speak to and represent contemporary sculptural practice?
Bushy Park, South East
Artist Brief: Bushy-Park.pdf
Budget: The total budget for this commission is €100,000. This is inclusive of all costs and VAT
Stage 1 Deadline: 4 September, 12 noon
Through a two-stage open competition, Sculpture Dublin asks artists to propose a new permanent public artwork for Bushy Park. Artists are asked to explore Bushy Park, its assorted terrains and contemporary uses, and identify a space within the park that resonates with them. A work of scale might be imagined for an open expanse of grassland, or a modest woodland intervention, water feature or folly. Importantly, the site must speak to you and your work and provoke a sensitive and considered aesthetic response. Ultimately, the work should encourage a new encounter with nature and provoke a moment of wonder that will enhance and refine the meaning of the chosen location.
Kildonan Park, North West
Artist Brief: Kildonan-Park.pdf
Budget: The total budget for this commission is €100,000. This is inclusive of all costs and VAT
Stage 1 Deadline: 11 September, 12 noon
For this commission, Sculpture Dublin will work with Dublin City Council Culture Company, as a commissioning partner, to integrate public engagement more fully into the commissioning process – involving local stakeholders in the cultivation of ideas, decision-making processes and the development of the artwork. A willingness to enter into a working partnership with the key stakeholders and a commitment to creating a significant, permanent, public artwork are core considerations in this commission. Your proposal should set out an approach to the development of a sculpture for the park that will include local residents and communities in the making and thinking around what the final artwork might be.
St. Anne's Park, North Central
The creation of a new permanent land art work for St. Anne's Park is the central focus of this commission. Invited artists will be asked to consider a site within the original historic parkland and propose a response to it that is grand in scale and concept, using earth from the park itself. It is a two-stage, direct invite competition.
Image Credit: Hazel Coonagh
Source: Visual Artists Ireland News