Galway 2020 Reimagined Programme Announced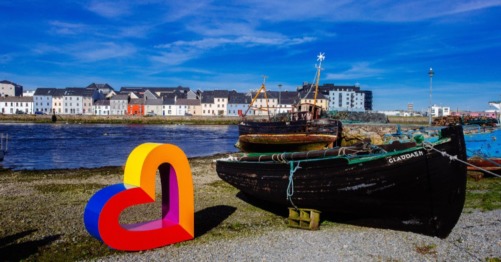 Galway 2020 European Capital of Culture made the decision not to proceed with live events scheduled from mid-March onwards, in response to public health guidelines and in the interests of public health. However, despite these challenging times, Galway 2020 has remained committed to the recovery and sustainability of the sector and our incredible artists and cultural organisations, and today announces details of an exciting reimagined programme of events.
Staying true to the original themes of Language, Landscape and Migration, the reimagined programme, which will take place from September 2020 to March 2021, will include both live and digital components, offering audiences the possibility to attend events in person, or experience elements of the programme online from home.
The reimagined programme comprises hundreds of events from 28 projects, as well as 30 Small Towns Big Ideas community-based projects. Highlights of the programme include;
Commissioned by Galway International Arts Festival for Galway 2020, Mirror Pavilion by John Gerrard, using cutting edge digital technology, will be one of the largest outdoor installations ever to be seen in Ireland.
Turning our bad weather to good use, Hope it Rains | Soineann nó Doineann makes Galway the place to be because it rains and blows. The project is a beautifully curated series of installations, commissions and artistic responses to weather, with the aim of affecting cultural change in our relationship with weather. Hope It Rains invites people of all ages to join its projects to make Galway weather-proof and climate resilient.
Incredible exhibitions and commissions from TULCA Season of Visual Art, Project BAA BAA, Monument and Deeper Shades of Green and Oughterard Courthouse Arts Programme taking us on a journey around the city and the county to view work from wonderful artists both in person and online.
Galway Moves is a series of site-specific dance performances inspired and informed by our landscape. Produced by Galway Dance Project, and devised by Dansnest, Galway Moves will celebrate community and connection bringing dance into open spaces, culminating in public performances in Galway city and county.
To the Island is an enchanting story, beautifully illustrated, that families from Galway, Ireland and beyond will treasure. Patricia Forde's story is about a little girl who visits the strange and mythical island of Hy Brasil, off the west coast of Ireland, but then follows her heart home to Galway. The book will be gifted to every child starting school in Galway in 2020.
Based on the ancient Irish tradition of 'Meitheal' the coming together for a common purpose, the Small Towns Big Ideas programme has impacted communities across Galway, focusing on over 100 community projects since its inception in 2018. The communal creativity continues into 2021 with 30 new and exciting projects and events.
Further updates to the programme will be announced in the coming weeks, in partnership with a number of organisations including Music For Galway's music programme, in line with public health guidelines.
For more information and to view the programme visit www.galway2020.ie.
Source: Visual Artists Ireland News