New PEC research:  The Migrant and Skills Needs of Creative Businesses in the United Kingdom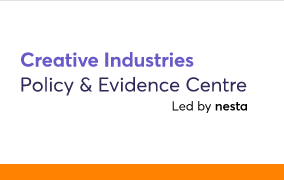 Just published, the Creative Industries Policy and Evidence Centre have brought out new research in collaboration with the Creative Industries Council on the migrant and skills needs of creative businesses in the UK.
This report details the results of a survey of employers commissioned by the Creative Industries Council (CIC) from December 2017 to January 2018. The CIC survey 'piggybacked' on the Department for Education's UK Employer Skills Survey (ESS), which was undertaken in Summer 2017, making use of its robust sampling strategy to ensure that it provided comparable estimates across creative sub-sectors and, where sample sizes permitted, the ability to explore issues in individual sub-sectors, size groups and different parts of the UK. It was based on 700 telephone interviews.
The results show that in January 2018:
Forty-two per cent of employers in the creative industries said that they had jobs currently affected by skills issues (that is, jobs where either they could not recruit someone with the right skills or where the people doing these jobs did not have the skills needed).
Skills issues were most common amongst larger establishments, businesses in the Creative ICT & Games and Design & Crafts sub-sectors, businesses in Yorkshire and the Humber, the North West and the North East of England.
Twenty-two per cent of employers in the creative industries employed at least one non-UK worker, with this being most common amongst larger establishments, Architecture, Design & Crafts and Creative ICT & Games businesses and businesses located in London.
Ten per cent of employers in the creative industries had employed a freelance worker from the EU in the previous 12 months.
This report shows that the creative industries have markedly different skills gaps to the economy at large and provides evidence that should be of use to those charged with considering what the immigration system will look like post-Brexit for this vital sector.
About the PEC
The vision of the Creative Industries Policy and Evidence Centre (PEC) is to provide independent research and authoritative recommendations that will aid the development of policies for the UK's creative industries, contributing to their continued success.
The Centre provides a step-change for our three main stakeholders – industry, policymakers and the wider research community – in the quality of evidence for the creative industries, asking some of the best researchers across the UK the most pressing questions about the sector.
Noel Kelly, CEO of Visual Artists Ireland, sits as an Industry Champion within PEC.
Source: Visual Artists Ireland News