November/December Issue – Out Now!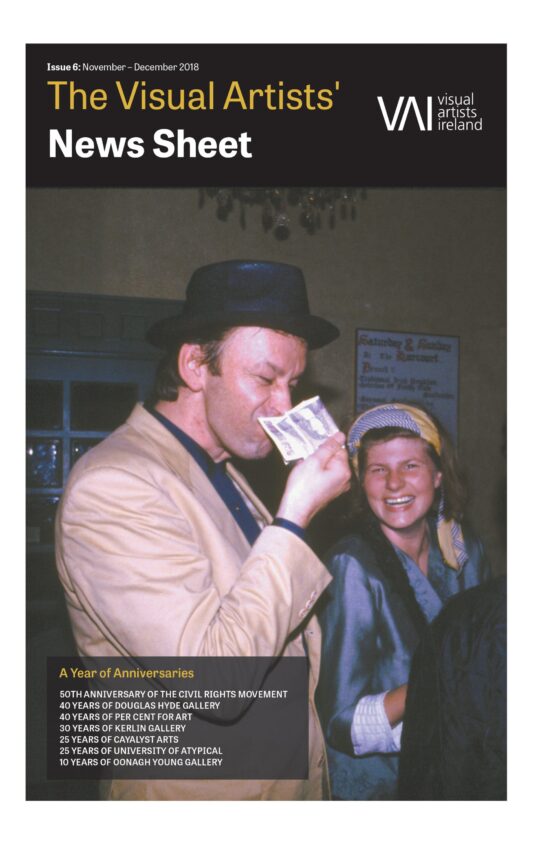 The final issue of 2018 is loosely themed around several prominent anniversaries being celebrated this year, offering a retrospective glance at the evolution of various Irish arts organisations.
Given the upcoming 40th anniversary of Visual Artists Ireland in 2020, we are currently working on the SSI/VAN archive (which extends back to 1980), with a view to mobilising some of this archival material during VAI's anniversary year.
This issue inclues an edited version of an important panel discussion, organised as part of a year-long programme to mark the fortieth anniversary of the Douglas Hyde Gallery. In other organisation profiles, Declan Long reflects on 30 years of the Kerlin Gallery, while Pádraic E. Moore interviews Oonagh Young about the tenth year of her Dublin gallery. In the Belfast context, Siobhán Kelly outlines upcoming events to mark 25 years of Catalyst Arts, while Jane Morrow discusses the 25th anniversary of the University of Atypical. This year also marks the fiftieth anniversary of Derry's Civil Rights Movement, so we asked Sara Greavu to interview artist Helen Cammock about her new film, The Long Note, commissioned by Void, Derry, which explores the involvement of women in the 1968 movement. Annette Maloney, Sinead O'Reilly and Sally O'Leary reflect on another key anniversary for the Irish visual arts – 40 years since the launch of the Per Cent for Art scheme.
We also have reports on several long-running projects: Nathan O'Donnell discusses various strands of the ongoing public art project, 'In Context 4', while Gráinne Coughlan reports on 'Practice and Power', the closing event of a four-year European project led by Create. International perspectives are offered by Kathy Tynan, who reports from her residency at the Cité Internationale des Arts in Paris, and Jonathan Carroll, who discusses the Dora García retrospective at the Museo Reina Sofía in Madrid.
The Regional Profile for this issue comes from County Clare, with organisational insights from Conor McGrady (Dean of Academic Affairs at Burren College of Art), Sinead Cahill (Gallery Manager at Glór, Ennis) and Anne Mullee (Curator of Courthouse Gallery & Studios, Ennistymon). Michaële Cutaya reports from 'Out of Place', a recent exhibition and seminar at Courthouse, while artists Amanda Dunsmore, Tanya Harris and Kaye Maahs discuss the realities of maintaining an arts practice in the region.
Reviewed in the Critique section are: 'Lavish and Judicious' at CCA Derry-Londonderry; Theresa Nanigian at Highlanes Gallery; Phil Collins at The MAC; 'Museum of Mythological Water Beasts' at Ormston House; and 'My comfort and my joy' at the Douglas Hyde Gallery. As ever, we have details of the upcoming VAI Professional Development Programme, exhibition and public art roundups, news from the sector and current opportunities.