Maud Cotter 'a consequence of – without stilling'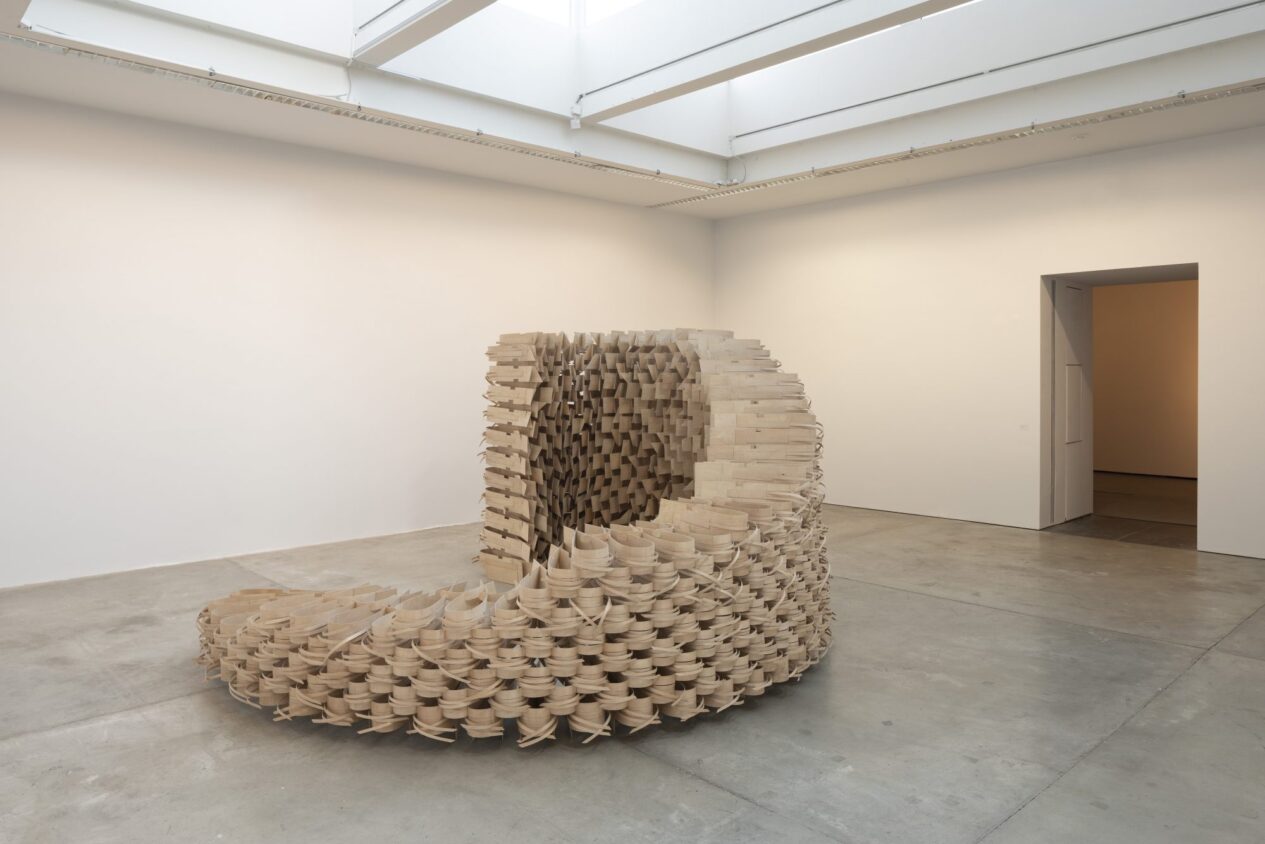 Limerick City Gallery of Art
30 September 2018 – 6 January 2019
The fundamental experience generated by Maud Cotter's solo exhibition, 'a consequence of – without stilling', at Limerick City Gallery of Art (LCGA) is appropriately described in the exhibition text as "a mercurial landscape of the mind… a place where matter and consciousness mix".
Cotter, who was one of the founders of the National Sculpture Factory, Cork, displays an uncanny understanding of, and meticulous control over, the materials she uses, as dramatically evident in two large-scale sculptures: without stilling (2017–18), a skilfully imagined construction, produced entirely of finely cut Finnish birch ply in the South Gallery; and matter of fact (2016), a vast tube-like structure which commands immediate attention in the Foyer Gallery, at the heart of LCGA. The scale and intricate detailing of this sculpture, which is fabricated in looping mild steel wire, gives the initial impression of some sort of mechanical structure, reminiscent of an engine or turbine, appearing to drive the exhibition's momentum.
Walking through the exhibition, one of the first things that struck me was the prevalence of pencil marks on the walls and sculptures, appearing at first as 'remnants' from the unseen processes of construction and installation. Contrary to what we were taught in art college – that a work is only finished when it's perfect, without blemish or mark – Cotter uses these pencil lines to make visible the 'manufacturing' of artworks and her unfolding thought processes, as part of the planned construction. Initially, it was challenging for me not to perceive these pencil lines as flaws; however, they soon became a recurring thread that helped to anchor individual artworks and give a sense of continuity across the gallery spaces. These marks culminate in the corner of the Link Gallery, where a custom-made table – with construction pencil marks intact – displays small sculptural maquettes, along with an extract from Sarah Kelleher's text, A Solution is in the Room, developed in collaboration with Coracle Press.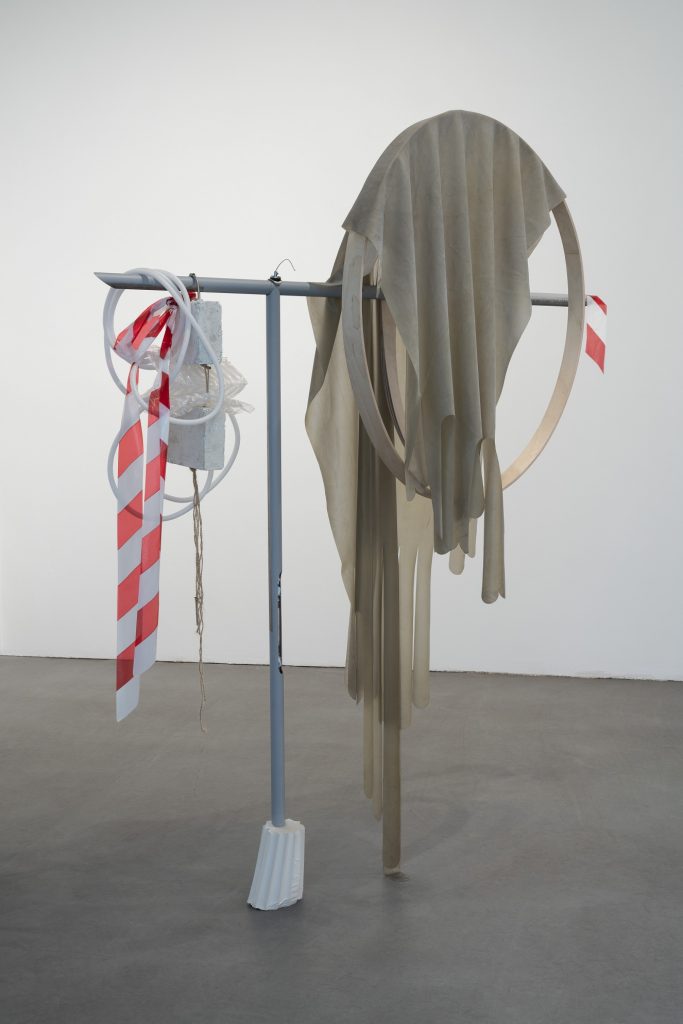 'A consequence of – without stilling' appears as the fantastical world of an artists' studio, where everything has meaning, and each artwork contributes to the genesis of the next one, in the art-making process. The exhibition includes numerous material amalgamations, constructed in seemingly found materials, such as lengths of wire, cable and cotton netting, reminiscent of discarded fishing nets. Cotter displays a thorough understanding of how incongruent materials might relate to each other, while masterfully shaping them into the most aesthetically alluring organic forms. In the Ante Gallery, we are enticed by an elegant, free-standing, triangular construction, draped with latex, titled & bone (2017–18). Like many of Cotter's assemblages, it incorporates industrial materials, including hazard tape, rubber hose and high-tension cable, while three phallic-like constructions, titled a dappled world/ one, two & three (2017), dangle on the adjacent wall.
In the South Gallery, Without stilling feels like entering the artist's personal imaginary aquarium. Hundreds of Finnish birch ply formations – shaped like child-like drawings of fish – have been knitted together repetitively, to create an asymmetrical natural form, reminiscent of a large school of fish, swimming in unison in mid-air, creating a palpable sense of movement. Coupled with the cotton netting used in other works – such as Falling into many pieces | Three (2016) and the moon is falling (2018) – an undeniable nautical tone begins to emerge, underpinned by notions of conservation and pollution. It strikes me that many of the materials used by Cotter could be readily found on many of Ireland's beaches, washing up as domestic waste, or as the discarded biproducts of industry or manufacturing.
Cotter's playful landscapes at LCGA attentively combine found and pre-existing materials to implant experiences of internal consciousness. The works reflect a desire to propagate form and concept, with the aim of instilling order amidst the chaotic. Cotter's current exhibition at LCGA will be followed by two subsequent iterations: 'a consequence of – a breather of air' at The Dock, Carrick-on-Shannon, in spring 2019; and 'a consequence of – entanglement' at Dublin City Gallery, The Hugh Lane in 2020.
Simon Fennessy Corcoran is a curator and current board member of 126 Artist-run Gallery, Galway.
Image Credits
Maud Cotter, without stilling, installation view, Limerick City Gallery of Art; photograph by Roland Paschhoff, courtesy the artist and domobaal.
Maud Cotter, & bone,installation view, Limerick City Gallery of Art; photograph by Roland Paschhoff, courtesy the artist and domobaal.