Paddy Campbell Awarded Giotto e l'Angelico Prize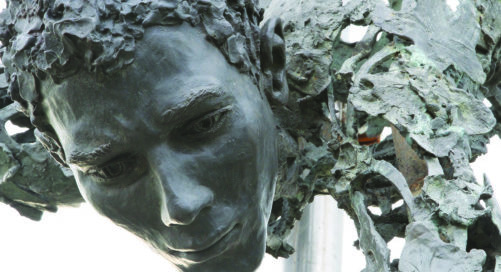 Irish sculptor Paddy Campbell has become the first non-Italian winner of a prestigious annual award for contribution to cultural life in the Tuscan region. The Giotto e l'Angelico prize, which is of national artistic significance in Italy, is awarded by the Association of Giotto and Angelico to a person they consider to have made an important impact on art and culture, particularly in Tuscany.
The prize was presented to the Dubliner at the original home of Renaissance painter Giotto in the town of Vicchio, renowned as one of the cradles of the Renaissance and also home to artists including Fra Angelico, Cellini, and Cimabue.
Paddy Campbell has spent much the last 25 years in Florence, where he discovered and developed his gift for sculpture. One of his most striking sculptures, Life and Death, adorns main piazza of the town and is dedicated to the victims of war crimes committed by Fascist regimes during World War 2, notably in and around Florence and Vicchio.
"I feel humbled and privileged to speak in sculpture, for those whose lives have been taken, or torn apart, by the terrible things done to them in acts of war and terrorism," said Paddy.
"Some of my clearest early memories were from early childhood years spent in my widowed Grandmother's tiny farmhouse in the hills of County Tyrone.
"What I gained from this was a particular insight into the tribal nature of the sectarianism which had festered in the two factions of the local population and was destined to become my legacy, as an artist."
In 2005, Paddy released his first monumental bronze sculpture The Spirit of Love, situated at Bantry Bay and since then has gone on to create a number of public pieces including the official bronze portrait of President Mary McAleese and a six metre sculpture The Day that Changed Ireland, which was installed in the main concourse of Shannon Airport in 2015.
The post Paddy Campbell Awarded Giotto e l'Angelico Prize first appeared on Visual Artists Ireland.
Source: Visual Artists Ireland News