Plein Air: The Cloud of Unknowing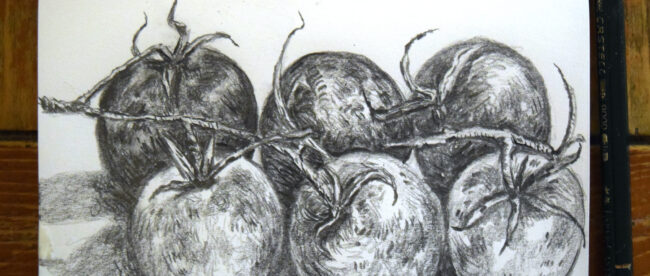 CORNELIUS BROWNE REFLECTS ON THE REALITIES OF ARTISTIC ISOLATION.
Pencilling this column in my head, shortly before the ominous complexion of the year revealed itself, I thought I'd be writing about solitary outdoor painters gravitating towards each other during these summer months. By now, I'd normally be looking forward to tutoring plein air workshops. There is a sense now that days will go by unpainted; that trees and shores next to which we usually pitch our easels will watch over our absences.
Poverty has imposed upon my life restrictions not dissimilar to those inflicted upon the wider populace by COVID-19. Growing up in rural Donegal without transport, my first 18 years unfolded largely within a 5km radius. Only once have I been outside Ireland, when in 1989, I spent a summer in Glasgow as a pavement artist. Aged 51, I have never applied for a passport. Homeless during the Celtic Tiger period, I fled Dublin for the sanctuary of my childhood home. For twelve years, I was again without transport, and rarely went further than my feet could carry me. My two children were born during this time, and we had at our disposal one short road for exercise. Those slow walks of infancy were also the infancy of my plein air paintings. Since graduating from NCAD rather inharmoniously, I had not picked up a brush for 21 years. As my children marvelled over wildflowers, I found myself idling on the same spots, day in, day out. In that slowness, the urge to paint returned. For four years I painted within sight of that familiar road, and nowhere else.
Although I paint outdoors, I feel a bond with artists whose lives were restricted and interior, their art often shaped by deprivation. Folk artist Maud Lewis spent her entire life within one-hour's drive of her birthplace. During her last thirty years, she almost never left the confines of the tiny one-room house, now on permanent display at the Art Gallery of Nova Scotia. Every day her metal TV tray transformed from table to easel and she sat in her cramped corner by the window painting. Maud's work often broke free of the boards that brought her fame, brightening the impoverished dwelling as doors, breadboxes, wallpaper, linoleum, stairs, and even stove, burst into vibrancy amid the squalor.
Although he went to sea as a young man, by the time he took up painting 'for company' in his seventies, Alfred Wallis was experiencing severe isolation. Described by one early biographer as "a man locked up darkly within himself", this rag-and-bone-man turned painter no longer budged from the single downstairs room of his decaying cottage, where he lived, slept and painted. Another seaman, Norfolk fisherman John Craske, was stricken by a mysterious illness in his thirties which made of him an invalid. Echoing Maud Lewis, he began painting every surface of his humble cottage that had room for an image, moving onto sheets of brown wrapping paper when he ran out of space. Eventually bedridden, Craske then moved onto embroidery, because he could do the stitching while lying down.
Functioning outside the mainstream art world, artists such as these have long reminded me of mystics, many of them hermits or recluses, who produced works outside the boundaries of the established Church. The fourteenth-century author of The Cloud of Unknowing, cloaked in anonymity, evangelised a God who can be met only through oneness with nature.
Now that I have a car, I'm continually surprised by how much I keep returning to the same spots to paint. Often, I come upon tubes of paint or brushes in the grass that I recognise as my own, lost for months, even years. My sympathy for artists like Lewis and Craske surges – that desire to live inside their paintings.
During lockdown, with outdoors fraught, I have retreated to the kitchen table, producing only tiny 'breakfast drawings'. I tried painting indoors for the first time since the NCAD studios, but felt trapped and claustrophobic, and accept that I have become a feral painter. I'm a great believer in lulls, however, as a means of replenishing creative sources.
Cornelius Browne is a Donegal-based artist.