Republic of Ireland Gallery Guide (July – August 2020)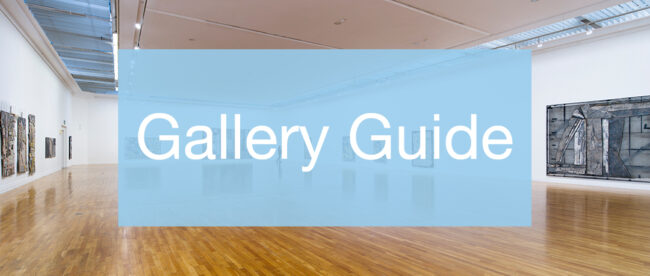 These exhibition details have been collated based on organisational websites and survey responses. All details were correct at the time of writing; however, arrangements may be subject to change. Visitors are advised to contact individual galleries before attending.
This guide does not cover exhibitions in Northern Ireland, because there is currently no definitive roadmap out of lockdown in the north to offer guidelines for the reopening of galleries and museums.
Dublin
Draíocht Arts Centre
Ground Floor Gallery: '#ShowUsYourArt Exhibition', Works by Children from Dublin 15 (20 July – 28 August 2020)
First Floor Gallery: 'Works from the Graphic Studio – Members from Fingal', Print exhibition to mark the studio's 60th Anniversary (20 July – 28 August 2020)
draiocht.ie
Dublin City Gallery The Hugh Lane
'Relentless Protest, Protestors and Poetry' (31 August 2020 – 31 January 2021)
Gallery reopens on 30 June.
hughlane.ie 
Gormley Fine Art
Stephen Forbes Solo Show (20 June – 3 July 2020)
Eugene Conway Solo Show (4 – 18 July 2020)
Jackie Edwards 'To Catch a Hummingbird' (6 – 20 August 2020).
Peter Monaghan and Ian Davenport (10 September – 1 October 2020)
Sandra Bell Solo Show (8 – 25 October 2020)
Patrick O'Reilly Solo Show (29 October – 13 November 2020)
All welcome, however numbers at any one time may be restricted in the earlier shows due to social distancing.
Open from 22 June, Monday to Saturday (10am-5:30pm)
gormleys.ie
Hillsboro Fine Art
'Menti Curiose: Enzo Cucchi & George Warren' (30 July – 29 August 2020)
Open from 30 July, Monday to Friday (10:30am – 5pm), Saturday (10:30am – 3pm)
hillsborofineart.com
IMMA | Irish Museum of Modern Art
East Ground Galleries: 'IMMA Archive: 1990s From the Edge to the Centre' (30 June – Autumn 2020)
The Freud Centre: IMMA Collection: Freud Project (30 June 2020 – 2021)
Main Galleries, West Wing: Bharti Kher, 'A consummate joy' (21 July – Winter 2020)
imma.ie
Jorgensen Gallery
Ongoing exhibition of contemporary paintings and sculpture and late-19th/mid-20th century paintings.
Open from 8 June, Monday to Friday (11am – 4pm). Saturdays by appointment.
jorgensenfineart.com
Kerlin Gallery
Richard Gorman, 'dalkey 2' (continues until 15 August 2020)
kerlingallery.com
Kevin Kavanagh Gallery
Gallery Exhibitions:
Gemma Browne 'Queen of the Dusk' (9 July – 1 August 2020)
Cecilia Danell 'I set a Bait for the Unknown' (6 – 29 August 2020)
Robert Armstrong (3 – 26 September 2020)
Galeri Magnus Karlsson, featuring Artists Anna Bjerger, Bella Rune and Petra Lindholm (1 – 24 October 2020)
Online Exhibitions:
Richard Proffitt (23 June – 11 July 2020)
Robert Armstrong (14 July – 1 August 2020)
Michael Coleman (4 – 22 August 2020)
kevinkavanagh.ie
MART Gallery & Studios
Áine Phillips 'Buttered Up' (8 – 25 July 2020)
MART Members Exhibition (29 July – 15 August 2020)
Andrew Carson (26 August – 18 September 2020)
Open from 8 July, Wednesday to Saturday (1 – 6pm) from 8 July 2020.
mart.ie
Molesworth Gallery
Shane Berkery, 'Cave Paintings' (22 June – 17 July 2020)
molesworthgallery.com
mother's tankstation
Niamh O'Malley, 'Placeholder' (extended from 2 July – 1 August 2020)
Open from 2 July by appointment only, Thursday to Saturday, 12 – 6pm (Last appointment: 5:30pm)
For further information and to schedule an appointment: https://calendly.com/motherstankstation/dublin
motherstankstation.com
Pallas Projects/Studios
Barry Mulholland, 'TOSSED IN THE DRINK' (13 – 29 August 2020)
Opening day on Thursday 13 August (5 – 8pm); Usual hours Thursday to Saturday (12 – 6pm)
To book for the opening day, visit http://pallasprojectsstudios.eventbrite.com
pallasprojects.org
Royal Hibernian Academy
'Neil Carroll: In Pursuit of the Brocken Spectre' (continues until 2 August 2020)
'Alan Phelan: Folly & Diction' (continues until 2 August 2020)
RHA Collection (continues until 2 August 2020)
Eilis O'Connell RHA 'Six Works – Augmented Reality' (continues until 31 August 2020)
'Joseph Heffernan: There were Strange Gatherings' (continues until 2 August 2020)
Visitor Arrangements: Attendance will be limited to 40 individuals per hour (groups of no more than four) and you be requested to book your free visit on Eventbrite.
rhagallery.ie
RUA RED
Joe Caslin, 'Resilient/Resilience' (29 June – 28 August 2020)
Online Exhibition: 'Sonder' Creative Digital Media Degree Show 2020 (continues until 30 August 2020)
ruared.ie
Temple Bar Gallery & Studios
Mairead O'hEocha, 'Tale Ends & Eternal Wakes' (continues until 8 August 2020)
Open from 2 July, Wednesday to Saturday (12pm – 6pm). Maximum of 6 visitors in the gallery at a time.
Please note: Wednesdays (12pm – 1pm) are dedicated to at risk groups, with a maximum of 4 people at any one time.
templebargallery.com
Leinster
An Táin Arts Centre, Dundalk
Els Borghart, 'A Drawing a Day' (25 July – 22 August 2020)
Open from 25 July, Tuesdays – Saturdays (10am – 4pm)
antain.ie
Highlanes Gallery, Drogheda
Margaret Corcoran, 'Love & Independence' (25 July – 2 September 2020)
highlanes.ie
Mermaid Arts Centre, Bray
Susan Montgomery (continues until 31 July 2020)
mermaidartscentre.ie
Signal Arts Centre, Bray
Ray Corcoran 'Ordinary People and Extraordinary People' (20 July – 2 August 2020)
'Signal Open 2020' (4 August – 16 August 2020)
Conor Wickham 'The Eyes Want To See, The Hands Want To Caress' (17 August – 30 August; opening reception Friday 21 August)
'Liminal: Into The Matrix' (31 August – 13 September; opening reception Friday 4 September 2020)
Open 7 days a week from 20 July (10am – 1pm; 2pm – 5pm)
signalartscentre.ie
Connacht
Custom House Gallery and Studios, Westport
Jane Williams, 'Earth's Silent Embrace' (29 June – 19 July 2020)
Matthew Mitchell, 'Age to Age – Ó Aois go hAois' (23 July – 16 August 2020)
2020 Graduates of BA Fine Art (Hons): GMIT (Mayo Campus)' (23 July – 16 August 2020)
Group Show: Marian McHale, Eileen Ferguson and Fiona Cawley (20 August – 13 September 2020)
Norah Brennan (20 August – 13 September 2020)
Social Distancing measures in place.
customhousestudios.ie
Hamilton Gallery, Sligo
'Among School Children' (from 13 June 2020)
Gallery access by request via The Cat and The Moon shop (max 6 visitors at a time)
hamiltongallery.ie
Linenhall Arts Centre, Castlebar
Dr Rajinder Singh, 'Unmigranting' (24 July – 26 September 2020; dates subject to change)
Open from 20 July, Monday – Saturday (10 – 4pm). No advance booking required. Visitors will be required to follow new Health and Safety measures implemented in relation to COVID-19.
thelinenhall.com
Luan Gallery, Athlone
'Crowded Thresholds', (14 July – 20 September 2020)
'Over Nature', (26 September – 21 November 2020)
athlone.ie
Roscommon Arts Centre
Margo McNulty 'Duality' (continues until 31 July 2020)
Mark Garry, 'An Lucht Siúil (The Walking People)' (8 August – 25 September 2020)
Open from 30 June, Tuesday to Friday (10am – 5pm) until further notice.
roscommonartscentre.ie
The Model, Sligo
'The Sea Around Us', John Akomfrah (GH/GB), Forensic Oceanography / Forensic Architecture (GB), Shaun Gladwell (AU), Karen Power (IE), Susanne M. Winterling (DE), (23 July – 27 September 2020)
Jack Butler Yeats, 'A Thought of Sligo' (23 July – 31 December 2020)
Open from 23 July, Thursdays to Saturdays (12pm-4pm). Entry to the building will be ticketed in 2-hour slots 12 – 2pm & 2 – 4pm; enter via The Mall and exit via Connaughton Road. Thursday 12 – 2pm will be exclusively for cocooners and those in at-risk categories.
themodel.ie 
Cork
Crawford Art Gallery
'In Transit' (continues until 20 September 2020)
crawfordartgallery.ie
Lavit Gallery
'Land of Some Other Order' (continues until 13 July 2020)
Gallery is open from 30 June, Tuesday to Saturday (12 – 4pm); appointment only outside these hours
lavitgallery.com
Sarah Walker Gallery
Kate Murphy and Ellen Duffy, '3D2D', (4 – 25 July 2020)
'202020' (1 – 29 August 2020)
Open daily from 29 June (11am – 6pm).
sarahwalkergallery.com
Sirius Arts Centre, Cobh
'How the land lies' (continues until 22 August 2020)
Miriam O'Connor, 'Tomorrow is Sunday' (continues until 22 August 2020)
Marie Brett, 'Day of the Straws' (continues until 29 November 2020)
siriusartscentre.ie
Uillinn: West Cork Arts Centre
'Outdraw' (20 July – 14 September 2020)
'Uillinn: West Cork Arts Centre's Member's and Friend's Showcase' (20 July – 29 August 2020)
westcorkartscentre.com
Munster
South Tipperary Arts Centre, Clonmel
Denis Mortell, 'Protectorate' (30 July – 22 August 2020)
'John Burke Retrospective' (27 August – 20 September 2020)
Open from 20 July, Monday – Saturday (10am-5pm).
southtippartscentre.ie
VISUAL Centre for Contemporary Art, Carlow
Joyce Wieland 'Rat Life and Diet in North America' (continues until 29 June 2020)
Sibyl Montague, Artist in Residence 2020 (continues until 18 October 2020)
Katie Holten, Artist in Residence 2020 (continues until18 October 2020)
'ARTWORKS 2020', Carlow Arts Festival and VISUAL Annual Open Submission and Art Award (continues until18 October 2020)
Ben Rivers 'Ghost Strata' (23 July – 18 October 2020)
visualcarlow.ie