Ciara Healy: I enjoyed the performance of your live artwork, SPIN SPIN SCHEHERAZADE (2019), in Crawford Art Gallery in late June, as part of Cork Midsummer Festival. Judging by the rich collection of stories presented in the show, these last few years have been very busy for you. What have you been doing?
Orla Barry: I've been herding, lambing, dosing, shearing, haymaking, sheep dog-training. There have been pedigree sales, art seminars, sheep discussion groups, Arts Council applications, Bord Bia audits, farm inspections, tax collections. Exhibitions, performances, livestock shows. I've collaborated with human animals and farm animals. I've been an attentive nature student, as well as a keen observer of the farm industry and the art world. I have been a bit of a hermit sometimes. I've been working hard at combining my work as an artist with running a pedigree flock of Lleyn sheep for over a decade.
CH: Rural Ireland has changed a lot in recent years. How did your practice evolve when you re-located back to County Wexford from Belgium?
OB: I returned to Ireland to live on my father's tillage farm in 2009, and I established a pedigree Lleyn sheep flock in 2011. In many ways, while I was in Belgium, the Irish landscape never left me. It loomed large, but it was romanticised in works such as Foundlings (1999) and Portable Stones (2004), which were primarily concerned with the experience of remembering the land. When I got back to Ireland, my work became about the experience of making a living in and with the land.
I grew my flock to 70 and presented them at livestock shows. The language of art and pedigree breeding replicate each other, and I found that interesting and humorous. Coming from a farming background meant that if I was going to farm, I had to do it properly. The farming I embarked on was no hobby and the creative work that emerged as a result came from the doing. Trying to run all those things at once was nearly impossible at times; to be a farmer, an artist, a lecturer, was a big ask. There was a marked difference between remembering the landscape when I was living in Belgium and drowning in the muck of real farming when I returned to live in Wexford. There were no preconceived ideas – the farming came from necessity. My days were filled with beauty and death, love and violence, as I embodied all identities at once, and from this experience, much richer creative work emerged.
CH: SPIN SPIN SCHEHERAZADE conveyed this rich complexity through collaboration.
OB: Yes, the first and most important collaborations in the work have been the human-animal relationships I foster on the farm. SPIN SPIN SCHEHERAZADE (2019) is a sequel to BREAKING RAINBOWS (2016). In both these works, I collaborated with Einat Tuchman, a Belgian-Israeli performer, with whom I have been making work for the last decade. My involvement with Einat evolved because I have always been interested in language and the ways in which it is spoken by native and foreign speakers. There is also humour and a kind of incongruity when someone as dazzling and cosmopolitan as Einat, presents and performs stories about a sheep with a prolapsed uterus, of lambs being slaughtered in the meat factory, of deals in the mart, of judging flocks and feeling the testicles of pedigree rams! I am interested in the tension between the visceral and factual here too.
The performance platforms and artworks I constructed for Spin Spin are white, highly engineered, and spotless – there is not a straw bale in sight. A tension emerges when these sterile surfaces are used as a stage for Einat to tell stories of intense kindness and love, blood and guts. My desire to contradict the clichéd imagery of farming can be confounding for an audience. It is unclear to them if I actually do farm. I tell my farming stories to Einat so that she knows them almost in an embodied way. Our linguistic worlds combine. The audience then gets the impression that her experience as a narrator is an authentic experience as a farmer.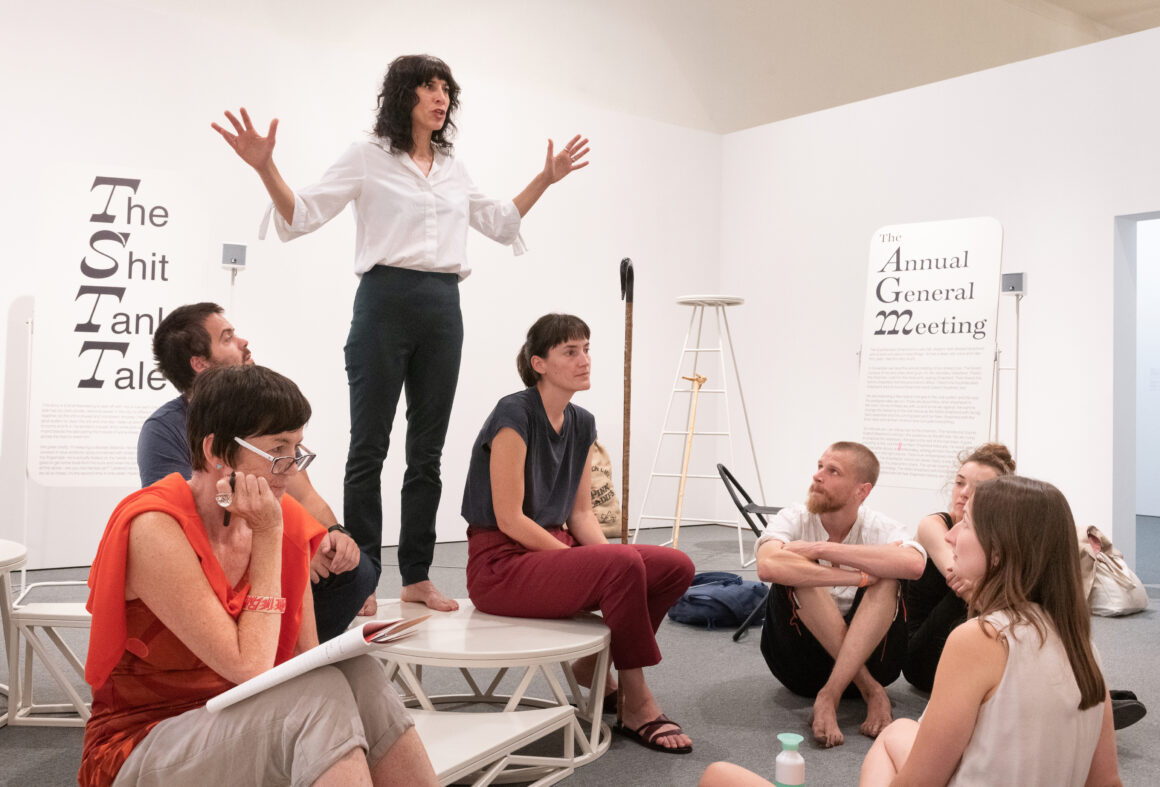 CH: How does the audience experience this collaborative work and how does it all come together in a gallery space?
OB: Einat moves around the space and occasionally stands on the platforms the audience is sitting on, so the audience has to move around too. Chance plays a significant role in how the work is experienced. While Einat is performing my stories, I make toast. The toaster is a performative device that punctuates each story. When the toaster stops, Einat stops, and asks the audience to direct her to continue or to move on to another story. For the audience, it might feel like things are a bit out of control, as Einat jumps from one story to the next. Especially when these stories are intense or moving, about death or a complex birth. The audience might be totally engrossed, laughing or crying, then suddenly this emotion is brought to a halt. It is unsettling as there is no beginning, middle or end.
This type of disjuncture is integral to my work; it is how my dyslexic mind works, and it is how farming works. Making toast was also my way of being in the performance, and using bread is both personal and political. My grandmother's family were in the famous Kelly's bakery in Wexford. When I was researching Spin Spin, I thought about the fact that she was at the end of the farming cycle making bread, and my father, as a tillage farmer, was at the beginning of the cycle, growing grain. While the toast references my grandmother, it is also a product of capitalism, bread being the staple food that has kept workers alive across Europe since the Industrial Revolution. Toast is something you live on when you are lambing. At 2 o'clock in the morning, a cup of tea and a slice of toast keeps you going, before you run back out into the rain to deal with the unknown in the darkness of the lambing shed.
CH: It is clear from your stories that your animals and the people you have worked with over the years – on the farm, in the pedigree sales community, and as the former secretary of the Breeders' Association – are important influences, but who else has inspired your work?
OB: I like to think of myself as a minimalist-expressionist. My world is a crossover between Edvard Munch, Hanne Darboven, and Beatrix Potter! I admire her because she was a knowledgeable and skilled Herdwick pedigree sheep breeder, as well as a conservationist and successful artist. I remember when I started farming, I suddenly understood everything to do with fables and fairytales. I am the embodiment of all of that, the exhaustion, and the elation of it. I am so happy to have had the opportunity to do it. I have become a kind of anthropologist of my own rural community.
Ciara Healy is a writer and Head of Department for Fine Art & Education at Limerick School of Art & Design, Technological University of the Shannon.
ciarahealymusson.ie
Orla Barry is a visual artist and shepherd who lives and works on the south coast of rural Wexford.
orlabarry.be
SPIN SPIN SCHEHERAZADE will be presented at Temple Bar Gallery + Studios from 5 to 7 October in association with Dublin Theatre Festival.
templebargallery.com
The work has been translated into French and will enter the collection of Musée des Arts Contemporains (MACS) in Grand-Hornu, Belgium, where it will be shown as part of the artist's significant solo exhibition in April 2024.
mac-s.be