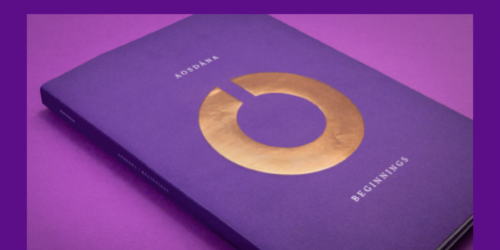 The Arts Council publishes 'Aosdána Beginnings' by Mark Duncan, commissioned to celebrate the 40th anniversary of Aosdána in 2022. Free copies of the publication are available to the public.
Over its 40 years Aosdána has honoured artists whose work has made an outstanding contribution to the creative arts in Ireland. The support awarded enables members to devote their energies fully to their art practice. The hard-back publication tells the history of Aosdána and how it was founded in 1981.
Among the first members of Aosdána in 1981 were artists including Nobel laureates Samuel Beckett and Seamus Heaney, poet Leland Bardwell, writer May Lavin and playwright Brian Friel. Visual artists included Louis le Broquy and Pauline Bewick, while composers Jane O'Leary and Seoirse Bodley were also among the original members. The original 88 artists, and the 381 artists voted as members of Aosdána since then, have been supported through their membership of Aosdána to create work that gives Ireland its creative and cultural credentials.
The illustrated text is of historical and cultural significance, highlighting the artistic work of members, paying particular attention to the Saoithe, and incorporating all five disciplines; architecture, choreography, music, literature and visual art. The original 88 members appointed in 1981 are listed as are all members elected since 1984.
Professor Kevin Rafter, Chair of the Arts Council, said: "For 40-years Aosdána has been honouring artists whose work has made an important contribution to the arts in Ireland This publication celebrates Aosdána's special place in the arts sector and in wider Irish society".
Speaking about the publication, Maureen Kennelly, Director of the Arts Council, said: "We wish to say sincere thanks to writer Mark Duncan, who brought careful attention and compelling energy in writing this history. As we enter the fifth decade of this visionary support programme, we are energised and encouraged by the dignity that these existing and newer supports will bring to Ireland's artistic community".
Anne Haverty of An Toscaireacht, said: "Since it was established in 1982 Aosdána has been regarded internationally as a unique and hugely significant advance in Ireland's support for the arts, and this handsome publication is a long-awaited and welcome account of its foundation and evolution".
To avail of a free copy of the publication, please email aosdana@artscouncil.ie or telephone Arts Council reception on + 353 1 618 0200
For more information click here to visit the Aosdána website.
Source: Visual Artists Ireland News