AVRIL CORROON INTERVIEWS KATHY PRENDERGAST IN HER LONDON STUDIO.
Kathy Prendergast: I know you're here to interview me, but can you tell me about your work as well? I'm curious.
Avril Corroon: I work with quite a varied mix of mediums, which have been changing more frequently since going through the MFA programme at Goldsmiths. My last major project, called 'Spoiled Spores', was presented at The LAB Gallery (14 November 2019 – 9 January 2020). I took swabs of mould from rental accommodation, including my own, and I used these samples to make around 30 large artisanal cheeses, which I named after the participating tenants. They have individual colours, textures and scents, and are quite sick, abject bodies. I also made a film which documents the provenance of these moulds and the cheese-making process, with menus outlining rental fees and ingredients lists, which includes black mould.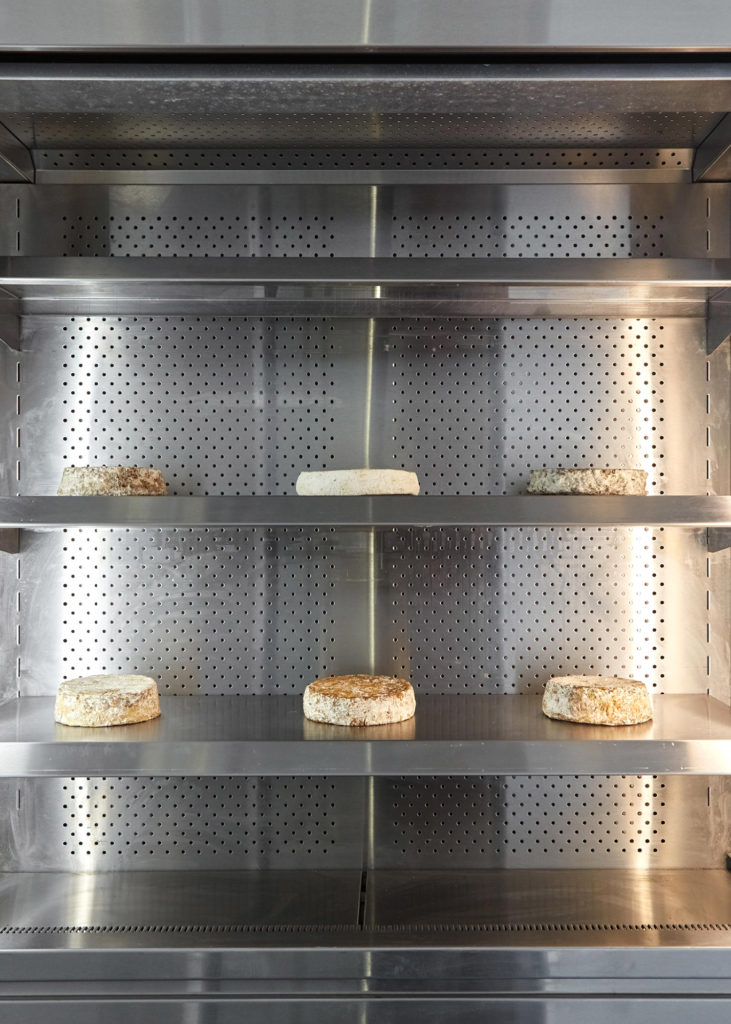 KP: Wow… Black mould is very toxic and dangerous stuff. So, is food a big thing in your work?
AC: Sometimes. I've done a few other works that include food, but they're used to reference class dynamics and labour politics. For Latte Art, I used hidden-camera footage of me serving in a gallery café – effectively working on the edge of a world I aspire towards.
KP: Do you mean operating as a service worker, while not being recognised by the art world?
AC: Yes. I documented the kitchen areas, showing really common behind-the-scenes practices, such as eating leftovers because you can't bear food waste or because you don't have time for a proper break. I'm interested in those kinds of backstage tactics. Can you discuss your approach towards found materials? Often, you're altering the surface through a system of erasure – why is that?
KP: Most recently, my work has focused on using atlases and maps as raw material. In the '90s, my 'City Drawings' were pencil drawings on paper, transferred from maps of cities. Since then, I've been using actual atlases and maps as the support, working directly onto their surfaces. As you can see on my walls here, I'm using a road atlas at the moment and thinking about roads as a metaphor. There is a road atlas of Minnesota which I've become slightly obsessed with, in particular the flat areas and regular grids. I just started colouring them in different configurations, to see what different patterns the roads can make, finding a system to reveal something about us in the world. I'm doing a very long linear project called 'Road Trip', working on those maps. I do have some rules – like highlighting every square mile with black infill, which looks like a form of coding. Conceptually, I do like the idea of a road atlas, because you bring it with you when you're travelling, so the map travels the roads it contains. I'm also thinking about the human impressions we leave on the landscape.
AC: I was wondering how the intensity of current politics affects your work? From what I've seen, you leave the work quite open-ended, so that people can make their own interpretations. Is this non-didactic approach important to you?
KP: Although politics do affect me, I wouldn't want my work to be seen solely from a political point of view; more a human perspective. Migration, identity, loss – all those things have affected me really strongly throughout my career. I started the 'Atlas' series when I was messing with Google Earth. The toolbox at the top shows the stars above your location, and I thought I would try that out on a map, blocking out everything but the white dots. I use one particular brand of maps because of their white borders which have adjacent places written in red – I do think about borders a lot. When the maps are blacked out and only the dots remain, they show how we've historically moved across the landscape settlements; how a city evolves and grows over time. Those 'stars' contain all that history. After I made lots of Black Mapworks for the walls, I decided to make a whole atlas that could spread out. I made 100 map works of an opened motoring atlas – which become 200 pages when you open them up – containing the whole of Europe. When displayed on tables, people can walk through, as if navigating these invisible European roads.
AC: Some of your works seem to resonate with current anxieties around climate change. Are there references to places that might actually disappear?
KP: Yes. I have also worked with places that are named 'Lost', which is a common place name in America, possibly named by the pioneers who moved from East to West.  I also had reworked a compass with 'LOST' written on it, instead of NESW. I like the idea of this instrument, which is meant to help you find your way, making you realise that it can't. Writers such as Rebecca Solnit have written about getting lost and the importance of not knowing where you are all of the time.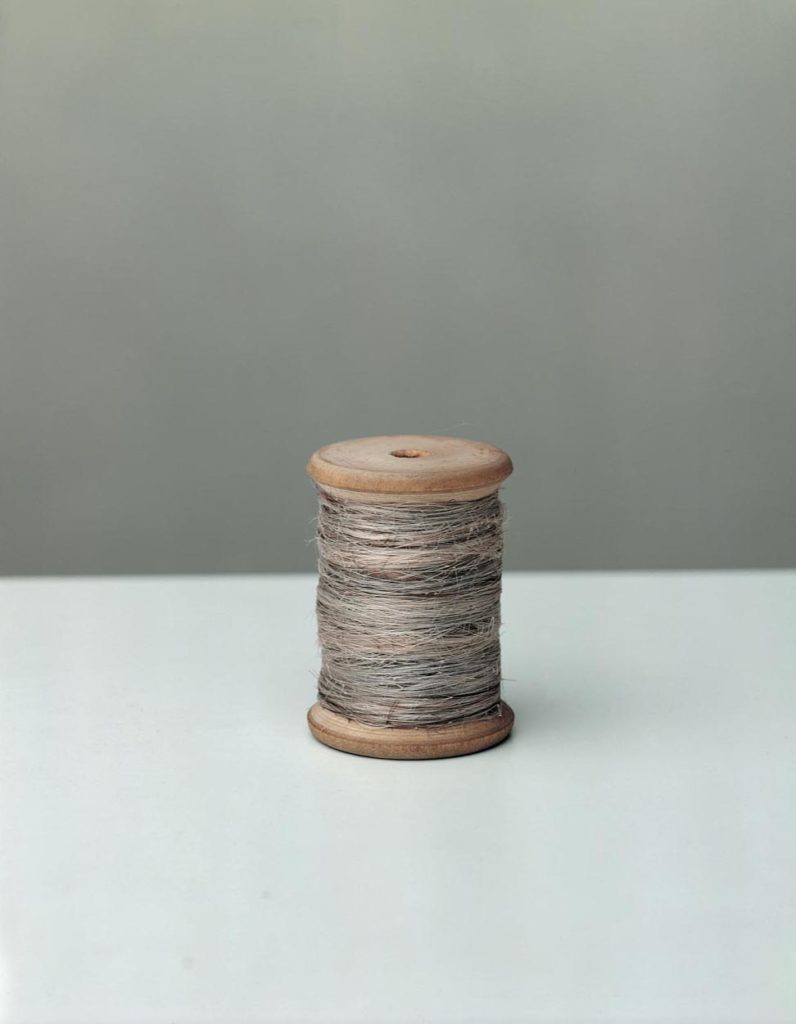 AC: I guess this brings up your work, End of the Beginning II (1996)?
KP: I made End of the Beginning II at home. I remember asking my mum: "Can I have a bit of your hair for a piece of work?" So, there was her hair, my hair and hair from my son, who was probably about eight months at the time. It's funny talking about that piece now, because my mum isn't alive anymore, and I feel like when I made that work, I didn't think about those kinds of things. But certainly, that piece was about continuity. Her hair is in the centre and my son's is on the outside, so in theory, if he has children, their hair could be added, so it could continue forever – as with life.
There's quite a bit of my mum in other works, including a piece I made while studying at NCAD called Waiting (1992), which is in the Hugh Lane Gallery. At home we had photographs of my mum and dad when they were in their 20s. They were both working in the Dublin Corporation and that's where they met. In those days when a woman got married, she could no longer work. My mum was really smart. She got something like tenth in the country in the Leaving Cert and was the first in her family to complete secondary school education. Her parents couldn't afford to send her to university, so she went to work in Dublin Corporation. She said that they were the best three years of her life. In the photo, my parents were the same age I was, when studying in NCAD in 1979. For me as a 20-year-old in the late-70s, feminism was a big part of our thinking, and I was conscious that my mother ended up as a housewife because she couldn't work.
AC: What was it like being included in a museum collection while still in art college?
KP: I do think I was very lucky. It was kind of extraordinary times. I made that piece for my NCAD degree show and then put it in the 'Irish Exhibition of Living Art'. I was working in RTÉ, training as a cameraman, and then I got a phone call from the head of the college, Campbell Bruce. He said: "There's something going on about that piece – you need to ring them up and tell them how much it is, better do it now". So, I rang them from a public payphone in RTÉ. I didn't even know how to price the work – no one knew in those days – it was really quite extraordinary, looking back on this now.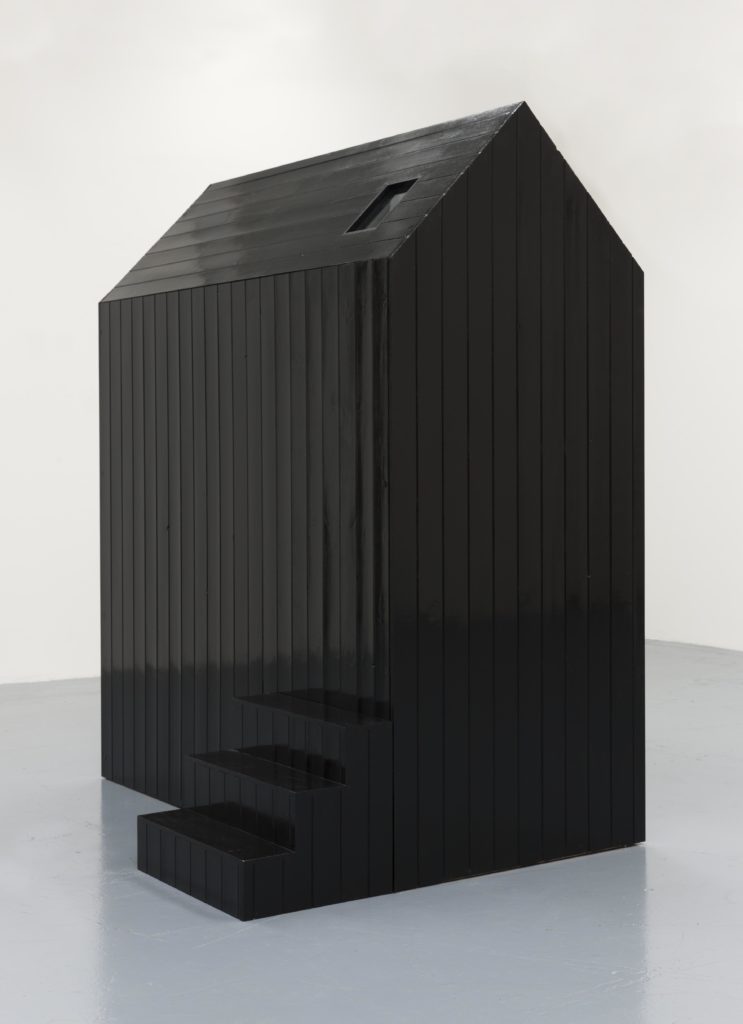 AC: As an expanded discussion on Irish sculpture is the running theme of this issue, I was wondering how you feel about your work being described as 'Irish sculpture'?
KP: I do always think of myself as an Irish artist, even though I've lived here in London longer than I've lived in Ireland. I feel a certain amount of loss from not living in Ireland, but I go back quite a lot and I'm still very close with a lot of my college peers in Dublin. I often wonder how visual arts organisations in Ireland feel about the Irish diaspora and how willing they are to acknowledge us as being part of Irish artistic culture. I do think there's a gap there.
AC: Your work Mittens shows the effects of decay and time passing, yet it is still quite beautiful.
KP: Those Mittens were emotionally very loaded. They were knitted by someone and given to me as a present, when one of my children was born. They were so beautiful I put them away, and when I found them, they were barely holding together from the moths. So, I took a photograph before I moved them, because they'd disintegrated. I was trying to hold onto some semblance of them.
AC: I guess I'm attracted to that because when I'm dealing with mould and different organic materials in the home, I'm also looking at how decomposing has its own aesthetic impression, as it takes away the look of the thing it's spoiling.
KP: And also, there's a time element which you've no control over, and that is important as well. I do have to ask you; did you have a cheese tasting session?
AC: Oh no, they're poison!
Avril Corroon is a visual artist working between Westmeath and London. She is currently on residency at ACME Studios with the Goldsmiths MFA Award.
avrilcorroon.com
Kathy Prendergast is a London based Irish artist who represented Ireland at the Venice Biennale in 1995, where she won the Silver Lion Best Young Artist Award for her 'City Drawings' project.
kerlingallery.com
Feature Image: Kathy Prendergast, Atlas 4, SLIGO-BELFAST, 2017, AA Road Atlas of Europe, ink, 30.5 × 43.5 × 1 cm; courtesy of the artist and Kerlin Gallery.