Adopting a Carbon Neutral approach to the making and presentation of the visual arts – Julie's Bicycle in Dublin.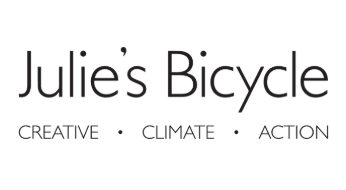 We are delighted to announce that Claire Buckley, of Julie's Bicycle, will present at Get Together 2020. Rather than trying to make it up as we go along, we have invited Claire to join us and provide guidance and insight to the development of a more carbon neutral approach in visual arts practice and visual arts organisations. In particular we have asked Claire to give us some insight into how organisations that they work with have approached the changes required, and also to look at individual art practices with a view to working methods, materials, and the research around the longevity and archival quality of new materials and methods. Simply put, what do we have to do in our galleries, museums, and studios to better contribute to a carbon neutral society.
Julie's Bicycle is a London based charity that supports the creative community to act on climate change and environmental sustainability. Julie's Bicycle provide the creative community with the skills to act, using their creativity to influence one another, audiences and the wider movement. They run a rich programme of events, free resources and public speaking engagements, which contribute to national and international climate change policy development.
VAI will also be reviewing our carbon offset policy with Claire to ensure its effectiveness, as we continue on our journey towards carbon neutrality. Several more steps to take, and also a long road ahead working with some of our suppliers!
Arts Council England and Julie's Bicycle are working in partnership on an environmental programme with a focus on leadership underpinned by a rich portfolio of events, workshops and ongoing support for environmental reporting, best practice and policy development. Since 2012 this partnership has produced the following impacts.
21% decrease in energy use emissions since 2012/13
5% annual average reduction in energy use emissions since 2012/13
If this rate continues the sector will have decreased emissions by 85% in 2029/30
The sector is improving energy efficiency and prioritising action:
22% decrease in energy use since 2012/13
5% annual average reduction in energy use since 2012/13
19% of organisations have switched to clean energy providers or green tariffs
Onsite generation has tripled between 2015/16 and 2016/17
The sector is more resilient:
A total of £11 million energy savings since 2012/13
If current rate continues the predicted savings by 2019/30 is £168 million
The number organisations able to report robust data has increased by 33% since the beginning of the programme
Source: Visual Artists Ireland News