"We are solitary" is possibly the best description of 2020 for many people, since months of restrictions and lockdowns curtailed our interactions with the outside world and each other. This phrase was also the title of a group show at Rua Red (20 – 28 November 2020), organised by the National College of Art & Design, MFA Fine Art programme and Rua Red. The exhibition presented 12 artists, whose artworks reflect an array of approaches that characterises our cultural moment at the crux of this most unusual time in history. 
The exhibition includes works by Kitsch Doom, Maree Egan, Louis Haugh, Vanessa Jones, Lisa Karnauke, Ann-Marie Kirwan, James Leonard, Martyna Lebryk, Bara Palcik, Eve Parnell, Bettina Saroyan and guest Lee Welch. From the moment you walk through the first set of doors, you are met with curious sounds; large speakers stand like friendly guard dogs, big black beasts that you want to rub as you stare with them into the gallery. 
Curated by Lee Welch – Studio Artist in NCAD's School of Fine Art (2020-21) – the white gallery space at Rua Red is in perfect balance. Each work is equally represented, achieving harmonious interactions between diverse styles and impulses across a spectrum of issues, from the personal to the communal. The artworks delve into the past and play with our perception of reality by creating fictional worlds that reflect the one we live in now. 
There are no divisions. After Lisa Karnauke's funky loudspeakers sprawling in the hall, we glide into the light and immediately become intrigued by a large opening, high up in the wall, filled with sap green trees. This is not actually a window onto a forest, but an artwork by Louis Haugh, titled 6.6kms south east of here, which looks at aspects of colonialism and 'alien' tree species. Curiously, it feels like those trees are looking in and watching us. Deciding now is a good time to move to the next work, I am relieved to engage with a large painting by Lee Welch. Soft pastel colours contrast with strong architectural references. There is a flattening of forms and a sense of the Italian atmosphere, maybe from the architecture suggested in the background, or the warm colours, or it could be the suggestion of the classical, sculptural head, which makes the viewer want to explore and negotiate with the painting.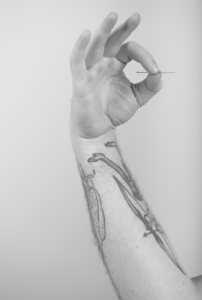 Nearby, mounted on the wall, is a large, ultra high-definition LED screen, turned on its side like a portrait painting. All black, on moving closer, it seems to come to life; something stirs in the darkness. Slowly revealed is a twisting wisp of white smoke, rising attractively and meandering around itself but always upwards – it seems to have somewhere to go. Is it at this point the cigarette in the glass ashtray should be mentioned? Maybe not. Slightly mesmerised by my work, the wisps of white smoke seem to billow.
The next work, a painting by Vanessa Jones titled Chain Link Roses, is reminiscent of a walled garden. It is feminine and colourful, yet full enjoyment of the roses is denied to us by the chain link fence. The artist has another painting in this exhibition, titled HoMi Hand Plow, with both paintings offering a valuable comment on femininity, strength and power. In the middle of the room, suspended from the ceiling, are two large photographic prints by Maree Egan, which capture the essence of absent friends and foreign lands, examining the human condition on a personal and collective level.
Turning back, two colour photographs seem pinned to the walls. They are gritty, documentary-style images. One features a burned-out car; the other, a woman in an urban setting on a leash. Enlightened by theories on gender, sociology and post-humanism, Kitsch Doom brings the viewer on a journey of grim discoveries. In the middle of the gallery is a floor-based screen, showing a moving image work by Anne-Marie Kirwan. Split is the result of the artist's transition from sculpture to video during lockdown. She deliberately pushes the endurance limits of the human body, exploring a particular fascination with breathing – or rather, not breathing. The viewer also undergoes a type of endurance, as we watch the artist experimenting under water.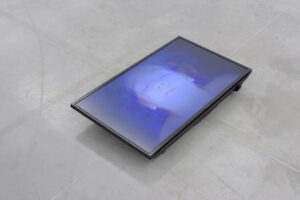 Jimmy Leonard displays two vibrant canvases, inspired by a workshop he did earlier in the year at Rua Red. Colourful and edgy, the painting series is titled 'Summer Breeze' and is a grateful acknowledgement from the artist to the community. En route to another part of the gallery, the viewer's attention is pulled by a mass of placards. These are paintings by Martyna Lebryk; their presentation as protest is quite deliberate. The installation explores ideas of social agency and identity in contemporary life.
Slipping out from between the placard paintings, we swing into a darkened space. There are three artists in here, and in the dark, it is hard to tell if one of them is not still there. Kitsch Doom has left a figure lying on a chair, with a projection on its face. On the wall, a spotlight highlights a QR code, which links with a video by Bettina Saroyan. The Creature in the Pink Box came all the way from France. Saroyan is fascinated by weaving and new technologies, such as coding. You've got to be bold in here. And then Bara Palcik introduces us to Earth Calling, a video of a figure, in a landscape, in the dark, with sounds from space, specifically made for Rua Red.    
Eve Parnell is a graduate of NCAD, exhibiting widely in solo shows across Europe.
eveparnell.com
'We Are Solitary' ran at Rua Red from 20 to 28 November 2020, with documentation circulated via Instagram.
@we_are_solitary