THREE ARTIST-LED STUDIO GROUPS SHARE INSIGHTS INTO CURRENT ACTIVITIES.
Contributions from: Annie Lynott, General Manager at The Complex; Courtney Sharos and Niamh Porter, co-directors of spacecraft artists' studios; and Rob Hilken, trustee of Vault Artist Studios.
Vault Artist Studios, Belfast
In early 2019 Vault Artist Studios undertook a consultation exercise with a local branding specialist (Paul Kelly, Form Native), to understand what makes the organisation tick. The studio had grown rapidly from a relatively small original group of 25 artists, who took over a disused Ulster Bank building in East Belfast for a year. When they landed the opportunity to take over a vacant college building, they expanded to over 100 artists and were left wondering if they could sustain the essence of what had made the community thrive during the first two years.
The Vaulters, as members are affectionately known, began a series of informal conversations called 'WTF is Vault Anyway?' This was followed by a more focused series of workshops, aimed at developing a manifesto for the community. They identified three fundamental principles that make Vault different to other organisations: members cover a diverse range of creative disciplines; their independence allows them to organise around individual needs and invest in each other; and their collective attitude gives them the energy to affect the change that matters to studio members.
The first of these principles, diversity, is obvious to audiences who attend events at Vault. Membership includes visual artists (53%), performing artists (18%), musicians (16%) and a smaller number of filmmakers, writers, event organisers, curators, composers, chefs and community artists. Visitors might well encounter circus performers rehearsing in the theatre, harp music drifting through the corridors or the smell of fermented foods tantalising your taste buds. Artists are constantly learning from each other, in order to expand their growing public profiles and professional reputations. Members also exchange and sound out creative ideas, which can lead to collaborative projects and initiatives, many of which are cross-disciplinary.
A core manifestation of the second principle, independence, is that Vault do not seek any public funding towards running costs. Like most artist studio groups in Northern Ireland, Vault maintains a highly precarious existence. The building is occupied for free on a one-month rolling lease called a 'Tenancy at Will' agreement. The group generate enough earned income from studio rents (some of the lowest in Ireland) and room rentals to cover ongoing core costs. Vault run a self-funded public event programme and have recently begun to focus on initiatives that will help members grow their own incomes.
Being independent does not mean that they exist in isolation. Studio members understand that building partnerships and relationships with public bodies is critical to maintaining their independence. The trustees place a strategic emphasis on maintaining regular communications with Belfast City Council, the Arts Council of Northern Ireland, East Side Partnership, Arts & Business NI and their landlords. This is now paying dividends, as others now advocate on their behalf.
These relationships became critical to the survival of Vault in 2020. COVID-19 had a severe impact, with the studio losing nearly all of their income during the first lockdown. Cash reserves were drained to cover staff, heating, water and insurance bills. Artists could not pay their rent and they were unable to generate income from external room bookings. Being self-funded was suddenly a threat to the group's existence. Vault were eventually able to access emergency funding from the Department for Communities and from the Arts Council of Northern Ireland. Their entrepreneurial management model allowed them to remain open until this emergency funding was secured.
The final principle is the one that members feel strongest about: their close-knit community and overwhelming desire to do things differently. Vault believe that the system is broken and that they can demonstrate a new kind of model, but are currently grappling with an ideological challenge: how should the contributions that individual members make to the community be valued? The studio was founded on the principle that people would contribute time and energy towards running the organisation, in order to maintain low studio rents. This principle has become strained as the organisation has grown; inevitably some people are more able to contribute than others.
Alternatives routes emerged out of the challenges posed by the coronavirus pandemic: that Vault should focus on initiatives that help members to grow their creative businesses. They ran a successful outdoor public event in September and have recently opened a temporary shop in East Belfast to sell original artwork, editions and exclusive t-shirts. The shop builds on the success of their online store, which launched last summer.
The biggest challenge, however, is maintaining the strong community bonds that are so vital to members, when social-distancing measures effectively block much of their regular activity. The combined stresses on members of isolation and financial hardship have been overwhelming at times, but they remain wildly optimistic about the future.
Vault Artist Studios is a group of artists working across many disciplines, from visual art, music, photography and film, to writing, puppetry and beekeeping. 
vaultartiststudios.com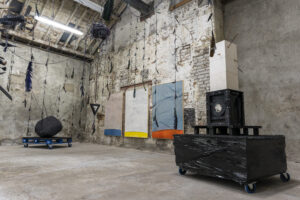 The Complex, Dublin
The Complex is a 'place where art lives'. It has 17 multidisciplinary artist's studios, a gallery and a venue, situated in a converted warehouse in the heart of the fruit markets, Dublin 7. A stone's throw from Capel Street, The Complex's ambitious new home on Arran Street East holds its history of trading in fruit and vegetables, with banana ripening chambers now repurposed as studios. The raw industrial aesthetic of the interconnecting warehouses has been retained, a trademark of The Complex's previous conversions of five city centre spaces for arts practice.
Founded by artistic director Vanessa Fielding, The Complex is a much-needed centre for arts in Dublin city. It is the only space with a significant number of artist studios together with a gallery and a warehouse-style performance venue and is the only live arts venue in the north west inner city. The performance space is open plan and fully versatile, with options to design alternative settings using in-house modular seating and stages. It has height for circus, circumference for theatre in the round, traverse and promenade. Its programme is mixed with makes and hires, arts and events, theatre, music, opera, contemporary dance, dance nights and commercial shoots. In spite of the devastating impact of COVID-19 restrictions on live performances, this large, open-plan, double-height space has proved invaluable for arts organisations throughout the pandemic, as a space for rehearsals and live-streaming, while we wait for audiences to return. 
The Ground Floor Gallery is also unique, in that it has a distinct aesthetic and is not a traditional white cube, retaining most of its original warehouse features. The Complex has developed and adapted its extensive visual art programme for 2021 to consider the impact of COVID-19 restrictions. As ever, the programme is devised from a mix of exhibition proposals and curated programming, making it accessible to a diverse range of local, national and international artists.
The Complex's Visual Art Programme has been evolving since 2009, with a focus on curating the work of emerging/mid-career Irish artists. It has attracted significant media attention in recent years, celebrated for its curatorial originality and the unusual aesthetic of the gallery itself. Commissions from Robert Dunne, Barbara Knežević, Pádraig Spillane, Glenn Fitzgerald, Liliane Puthod, Richard Proffitt and Sibyl Montague took place in 2019. In 2020 an international element was developed, embracing a group show of four celebrated Liverpool-based artists – Frances Disley, David Jacques, Brendan Lyons and Paul Rooney – and a solo show featuring Leipzig-based artist, Tine Günther.
Its 2021 programme is both exciting and ambitious and features a diverse range of contemporary Irish artists. Ann Ensor and Alex de Roeck begin the programme in February with 'Nature? Fact and Fiction', a two-person exhibition responding to the tailored, distressed aesthetic of the gallery. Mark Swords and Tanad Williams will launch their collaboration 'A Means of Exchange' in April. The Complex curators Mark O'Gorman and Paul McGrane invited the artists in early 2019 to discuss a collaboration. Just weeks before they were first contacted, both artists, who did not know each other previously, had coincidentally met in William's studio to discuss his recent work. The two decided to collaborate by continuing the conversation that had begun in the studio. Through correspondence and several subsequent studio visits, they began their "back and forth" as the artists referred to it, sharing ideas, responding and witnessing developments in each other's work. 'A Means of Exchange' is a record of this. 
Later this year, the Ground Floor Gallery will host solo exhibitions by Emma Roche and studio artist Austin Hearne. A curated group show, titled 'Ethylene', will see artists Aleana Egan, Áine McBride, Dennis McNulty and Conor O'Sullivan respond to the presence of the organic compound that was used in the original banana ripening chambers of The Complex. 
The Complex Studios houses 36 artists of all disciplines. The studios are all occupied and always full. There is 24-hour access and both individual and communal spaces. Visual Art Co-ordinator, Paul McGrane, manages the studios and selects the artists. The studio criteria has a focus on pure arts rather than creative businesses, mixed practice and mid-career, so that the artists are not just from one discipline. Twelve-month leases are offered, and the artists are invited to apply for a subsidy each year to assist with the cost, supported by the Arts Council of Ireland. The Complex also runs the Art Factory, supporting guest artists, based on the quality of project ideas. In 2019, five really strong projects were selected for development and we hope to show them in 2021.
Community engagement is important to The Complex. We provide a base for the High Hopes Choir, Ireland's first choir for homeless people, and we also run Complex Youth Theatre, now in its eleventh year, led by Anthony Goulding. The Complex produces at least one in-house theatre production each year, directed by Vanessa Fielding. The production for 2021 is an exciting transposition of a classic play, The Rose Tattoo, by Tennessee Williams, reset in a modern Irish traveller community. This work explores themes of women's liberation and aims to accelerate the debate on traveller feminism in Ireland.
The Complex is an artist-led organisation and is open to collaboration. 
thecomplex.ie
Spacecraft, Limerick
Spacecraft Artists' Studios is a non-profit, artist-led workspace in Limerick City, set up as an affordable space to accommodate creative practitioners of all levels. The space hosts a community of artists and creatives from a range of disciplines. Spacecraft is located in a high footfall area, adjacent to the popular Milk Market in Limerick city centre. The centrality of spacecraft provides opportunities to actively engage with surrounding arts organisations, allowing the members to make valuable professional connections.
In August 2017, Limerick School of Art and Design alumni, Isolde Donohoe, Oscar Staehelin and Ciara Barker established spacecraft as a CLG (Company Limited by Guarantee). The space is governed by members and a voluntary, artist-led board of directors that provides valuable support and advice across areas such as arts administration and policy, programming, financing and leadership. At the beginning of 2020, the board established a new internal management structure, devised to ensure the sustainability of the space and its operations. This new model shares responsibilities through the appointment of roles fulfilled by each studio member. These roles include Accounts Manager, PR Manager, Programme Coordinator, Maintenance Manager and two appointed Co-Directors, who liaise between the studio members and the board and manage administrative tasks of the studio. As these roles rotate frequently, the system offers professional development opportunities for studio members, and transparency regarding the management of a creative workspace.
Spacecraft began in 2017 by activating a vacant commercial unit as a shared studio space, providing much needed space and support for eight early-career artists based in Limerick. In 2020, with support from the Arts Council Workspace Scheme and Limerick Arts Office, we successfully expanded our studios into a neighbouring vacant unit. 'Unit 7' gives each of the eight studio members a desk and wall space within three rooms, offering more privacy and warmer conditions to work in. 'Unit 6' is now an open-plan, shared project space – an essential environment for members to create large-scale work, rehearse, document and experiment across a variety of disciplines. This space will also be used to present a public programme of exhibitions, presentations, workshops and artist talks. It is a very exciting time for spacecraft, as we grow and move towards a programme that inspires and celebrates ambitious projects initiated by emerging artists.
Activity continues to progress and develop each year within spacecraft. Previously, members had participated in events including open studios as part of Culture Night, which was a great opportunity for our members to interact with the public, show insights into their practice and network with local artists. For Culture Night 2020, in compliance with COVID-19 restrictions, spacecraft delivered an online tour of the studio and featured interviews with each member (see spacecraftlimerick.com). In December 2019, with support from Limerick Arts Office, spacecraft members collaborated to present a members' exhibition. This was the first instalment of what will hopefully be an annual showcase. March 2021 will see spacecraft's first on-site exhibition by studio member Hannah Bloom and artist Julie Weber in our newly established project space. 
Supporting emerging artists and their ambitions in their professional practice is a fundamental part of our ethos. The project space is an essential resource to showcase members' work, encouraging them to initiate projects and create opportunities for themselves and other artists. Health and safety regulations have been implemented, due to COVID-19. At spacecraft, the aim is to retain a space that allows practitioners to work safely and productively. 
Current members of spacecraft artist studios are: Anna Blair, Hannah Bloom, Carey Long, Niamh Porter, Amy Richardson, Courtney Sharos, Paul Williams and Angela Vaughan. Additional information on previous and current members is available on the spacecraft website.   
spacecraftlimerick.com