This is an immensely informative, well written and enjoyable book with a foreword by Declan Kiberd. The influence of Kiberd's magisterial book, Inventing Ireland: The Literature of the Modern Nation (1996), is clearly acknowledged by Éimear O'Connor who opens her introduction, like Kiberd, with the question: "If God invented whiskey to prevent the Irish from ruling the world, then who invented Ireland?" As Kiberd tried to answer the question using Irish literature, in Art, Ireland and the Irish Diaspora: Chicago, Dublin, New York 1893-1939 Culture, Connections, and Controversies, O'Conner attempts the same with the visual arts in the 50-year period between 1893 and 1939. What emerges is a large canvas displaying a variety of personalities, events, exhibitions and themes against a background of momentous political and cultural change in Ireland, before and after the Anglo-Irish Treaty of 1921. If, as proposed by Kiberd, Ireland's complex relationship to England meant that the English helped invent Ireland over centuries, O'Connor shifts the ground to Ireland's relationship with America. The book reinforces, and illustrates, that the 'idea of Ireland' was fashioned, in large part, by the Irish diaspora and their cultural connections with a range of people within Ireland. One could argue that the cultural influence of America from that time is so strong that, in spite of our membership of the European Union since 1973, a former politician could say with some validity: "We are closer to Boston than Berlin."  
As the title of the book indicates, this is not an art historical book in which artworks are examined in great detail. Rather, it is a sociocultural account of a labyrinth of connections between the two countries that facilitated the greater visibility of Irish art in America. Political events at international, national and artistic levels are, however, not forgotten. The impact of conservative nationalist politics after the 1921 Treaty on the visual arts is deftly threaded throughout the narrative. One example is the short-lived Ministry for Art in 1921 which, following the anti-Treaty stance of De Valera, led to the fall of the Free State government and the Ministry. 
Various controversies are described in the book, including the saga of the opposition to Hugh Lane's Municipal Gallery of Modern Art, the fate of 39 Impressionist paintings and Lane's tragic death aboard The Lusitania in 1915. The author emphasises that the usual binary opposition of traditionalists versus modernists is more nuanced than often portrayed. Artists of all persuasions need an audience. Thus, conservative Royal Hibernian Academy artists, for example, often exhibited alongside modernists in exhibitions at home and abroad. Similarly, in spite of her pivotal role in the Irish Literary Renaissance, Lady Gregory nevertheless fully supported her nephew's ambitions for a museum of modern art by lobbying and raising funds in the United States, while on tour in 1913 for the Abbey Theatre. Lady Aberdeen too, despite her status as part of the English ruling establishment in Ireland, was a passionate supporter of Home Rule and had a philanthropic desire to alleviate poverty by founding The Irish Industries Association in 1886. She then turned her attention to the eradication of tuberculosis, founding the Women's National Health Organisation in 1907 and Peamount Hospital in 1912.  
The author relates in the introduction, that it was earlier research (and subsequent book, Seán Keating: Art, Politics and Building the Irish Nation in 2013), which led to this book. It is divided into four chronological sections: 1893 to 1907; 1907 to 1924; 1923 to 1935 and 1931 to 1939. Each has a short introduction and summary. This structure allows the author to maintain control over a multifaceted narrative about personalities, organisations, exhibitions and their contexts, and yet produce a coherent, engaging book.
One of the book's main achievements is the way in which personalities are vividly brought to life. Thus, we can follow the various activities of Lady Aberdeen, artist and cultural commentator George Russell (AE), Sir Horace Plunkett, founder of the Irish Agricultural Organisation Society and the Department of Agricultural and Technical Instruction, and the Irish-American lawyer John Quinn, until their deaths in later sections of the book. Quinn (1870–1924) is, rightly, presented as a key figure of the diaspora, in terms of his Irish friendships and energetic support of Irish art through loans from his collection to 'The Armory Show' (1913) and other exhibitions. He was also responsible for opening up Irish art to America by persuading the Ways and Means Committee in 1913 to reduce customs duties on modern art for non-residents. This, in turn, led to an increased number of galleries in New York, including the Helen Hackett Gallery and Padraic Farrell's Irish Art Rooms, both of which specialised in Irish art.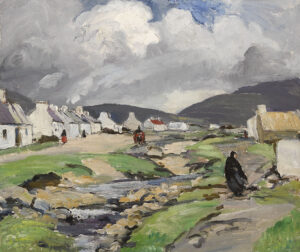 While the pivotal role of women in the arts and crafts in Ireland has been acknowledged, that of such women in America as Helen Hackett (former wife of émigré E. Byrne Hackett, first director of Yale University Press) and Madeleine Boyd is less well known. Similarly, artists like Marjorie Organ, Michael Power O'Malley, Patrick Tuohy, all Irish émigrés, and photographer Frances Hubbard Flaherty are brought forward for further attention.
Recent scholarship on exhibitions has pointed out that they are the commonest way in which art is encountered. O'Connor's book recognises this by providing details of exhibitions and fairs to which Irish arts and crafts were introduced to the public in Ireland and America from 1853 to 1939. This book will be of value to all those interested in how Irish visual art became embedded, not only in American academia through Irish Cultural Studies programmes, but also how the way was paved for Irish artists to take their place on the international stage.
Brenda Moore-McCann is a medical doctor and art historian. She is the author of 'The Irish Diaspora, the Cold War and American Art in Ireland,' in Hot Art, Cold War – Western and Northern European Writing on American Art 1945-1990 (New York & London: Routledge, 2021) pp. 59-87 (in press).