I received the new publication from Paper Visual Art Journal by post to a rural part of South-West Donegal. The volume, titled Everything is Somewhere Else, is meticulously edited by Dennis McNulty, who announces in the introduction that: "each contribution reflects directly or indirectly on infrastructure." Interestingly, writing about this publication coincided with a week whereby all of the main infrastructural systems in the valley of Glencolmcille broke down one by one. And in a way, Everything is Somewhere Else became a sort of handbook, with each article taking on heightened significance as I navigated the various breakdowns. 
The coverage went last Thursday, so I walked into the village to see if the entire Three mobile network was down. The woman in the shop mentioned that this was a fairly common issue: "it was off for a full week last year", she said. Since I was hotspotting for internet, this threw a spanner in the works. Then the electricity went. A raging storm had also plucked a sheet of corrugated iron from the viewing stand at the GAA pitch and sent it sailing through the air, as though it was a feather clinging by matted cobweb to a fence. Off up the village again, to find out when the power might be back on. Inside the shop, every kind of torch imaginable, from the more recent LEDs to the older more cumbersome ones, were spotlighting biscuits and beers, cereals, tins, The Donegal Democrat and Refresher bars. The power was back that evening, but my phone had started acting up, sporadically asking to be connected to Wi-Fi. 
Then the water went and stayed off for two days. I searched for a nearby well, only to discover that sadly, two houses built in the late '90s had breached planning laws and sunk a septic tank in the same field as the ancient well – making the water unfit for consumption. So, I fashioned funnels from water bottles and gathered water from the down pipe, boiling it first to drink. After the power went again and the water couldn't be boiled, I walked to the shop, where I found out that a filter part in the local reservoir needed replacing and someone had gone down to Galway to collect it – if this mission was a success, I was told, then the water would be back on by 8pm. Outside the shop in passing small talk, I found out that the shop itself, the only shop within a 10km radius, had run out of petrol. It was also mentioned that the national school had to close, as the children weren't able to wash their hands.
That evening, the water did indeed come back on, but the following morning, I discovered that a pipe in front of the house had burst, with water spurting out from between the flagstones of the path – so I called a man named Gallagher. "That path'll need to be taken up", Gallagher said, "and the damaged pipes replaced". Gallagher was to return the following day but when I woke up, the water was off again – including the leak. It was, again, a valley-wide occurrence. In the wind and rain and slapstick style, I gathered water from the downpipes and drains to make tea and wash the dishes, wondering what would go next.
At least I had a hard copy of Everything is Somewhere Else that seemed to complement the situation. A few lines from Maeve Connelly's text, 'Becoming Infrastructural', became my mantra: "The material and social dimensions of infrastructure are actually impossible to pull apart, and the infrastructural is simply so pervasive and ubiquitous that its multiple forms and operations are taken for granted, right up to the moment of their collapse."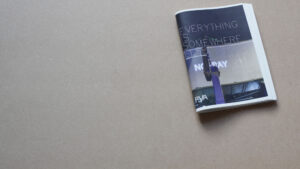 Then Nancy Holt, in an interview which originally appeared in Circa Art Magazine in July/August 1983, discusses her piece, Sole Source. "None of the things I've been doing are production systems", she says – "they're conduit systems" (p4). And I thought of all the makeshift conduit systems I had imposed on the house in lieu of functioning ones. Holt adds: "I would say that certain people in our society have been overlooked […] that the kind of wisdom and knowledge that the worker has in his or her craft has not been adequately considered in terms of art criticism" (p5). And I thought about the village hero, driving to Galway to find the very specific replacement filter.
Turning the page, a paragraph crediting all those who worked with Holt on her piece, Sun Tunnels (1976), appears embedded in a transcript from Charlotte Prodger's feature-length, single-screen video, Stoneymollan Trial (2015) (p7). This is a succinct passing of the baton to Prodger, whose practice centres on the intertwined relationship between the body and technology. An exhibition of photographs throughout by Dan Walwin buttresses the concept of infrastructure laid bare, while Anne Tallentire's piece, LAG (2016), (pp1 & 61) bookends the publication with her aesthetic sensitivity for technological ingenuity. 
Eva Richardson McCrea quotes Alice Echols in her text, 'Manifesto Forms and Utopian Thinking' (p48) reminding us that unveiling hidden labour "can often provoke and reveal an enormous cultural anxiety." Which I took to mean that when we acknowledge work, we must pay for it; therefore, a capitalist system must, in the first place, vehemently deny labour wherever possible. In my ramblings up and down the Glen in search of Wi-Fi, I thought of 'Urban Scanner' (p52), Jennifer Reut's interview with Shannon Mattern, and Mattern's statement that "having the ability to access the internet is not sufficient. We also have to have pedagogical services and support systems like public library services for instance", which she asserts will foster "new forms of media literacy that we have to equip people with today." And this rang true, as the responsibility of community-based mediator for contemporary channels of information fell to the woman who already has her hands full, working in the local shop.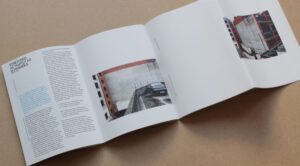 I am now limited by the wordcount, after telling you all about my week of failing infrastructures. I can therefore only mention in passing the vibrant fictional pieces by Matthew De Abaitua (p12) and Jessica Foley (p42) that embodied the theme of the publication, as well as an interview with Cliodhna Harmey about her wonderful artwork, Dublin Ships. And indeed Chris Fite-Wassilak (p21) and Matt Packer (p54), who further bolstered the publication with their analysis of Canary Wharf town planning and a critique of EVA International's 1996 catalogue, respectively. Even the design by Peter Maybury, I began to appreciate as both simple and functional – as an object directed towards reading and viewing purposes. 
'Inventive' and 'resourceful' are two words that have taken on added meaning the past week, and with all the antics and hijinks, it was at least a boon that I could respond with anecdotal experience of infrastructural collapse. It was also a great comfort to engage with this object and its content that made sense and worked.
Ingrid Lyons is a freelance writer and curator, currently living and working between London and Donegal.