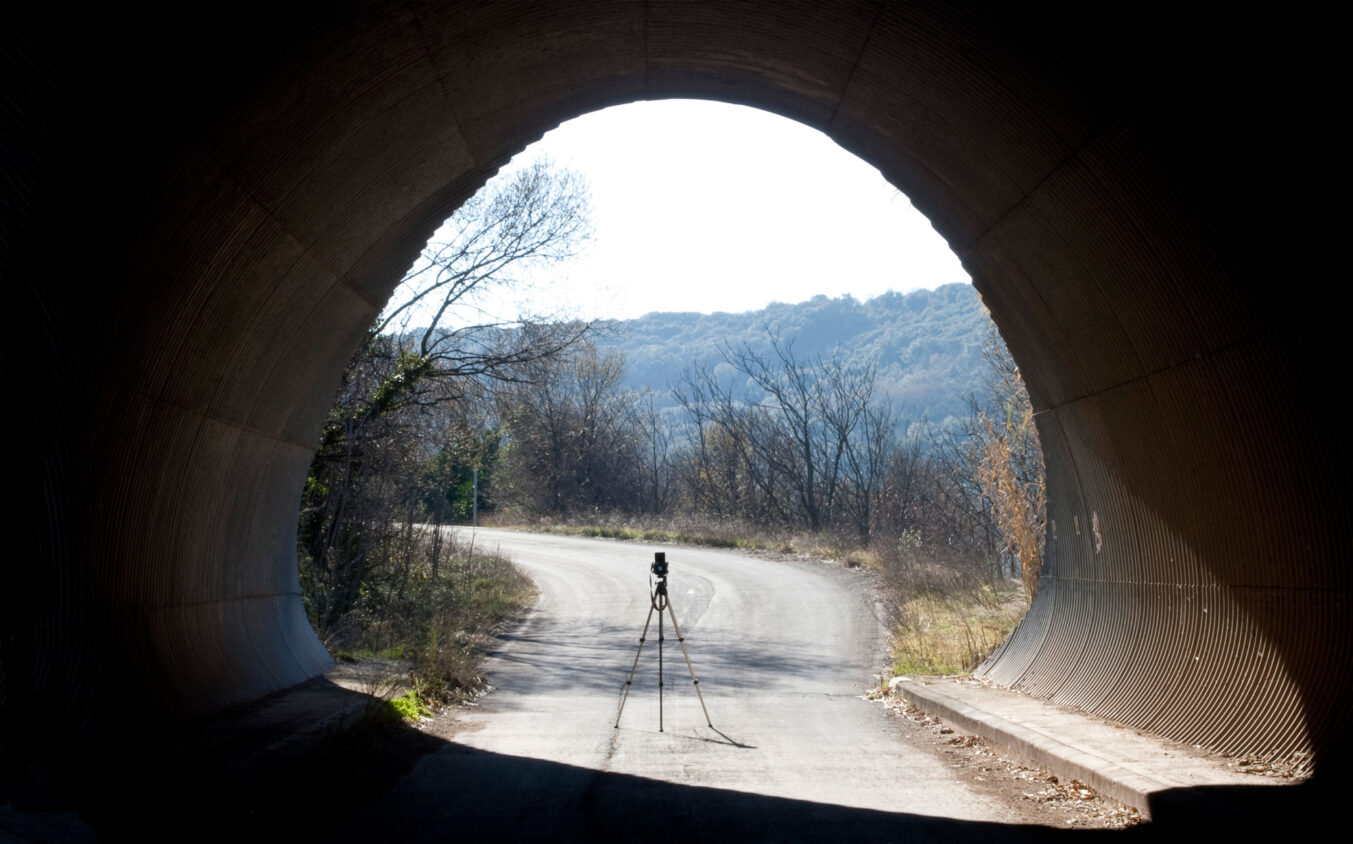 Rathfarnham Castle, Dublin
14 November – 21 December 2019
Arriving late to view 'Over Nature' at Rathfarnham Castle means settling into a very particular viewing condition – namely one of silence. First encountered in this group show (curated by Valeria Ceregini) is an installation by Shane Finan. In an unrestored dining room, a projector casts landscape video footage onto a faint and skeletal painting that spans two large canvases. The projector is controlled by the viewer through a small touchscreen device, upon which a grid of options appears, displaying geometric symbols. Each of these options is linked to a separate video. The painting – a somewhat ghostly transposition of William Turner's Rye, Sussex (1794-7) – is at times almost buried under the strong fluttering hues of the videos cast onto it. In quieter frames however, its marks become more apparent, and there is a back and forth of pictorial prominence, fluctuating between states of visibility. 
This optical dichotomy is effective at first but soon becomes drawn out. These fluxing visuals repeat without building anything, and unfortunately there is little introduced in the way of textual connection to engage with outside of this mechanic. However, these particulars tell only half of the story. External to the work is the dining room itself, unrestored and engulfed in deep and old silence. The echoes and reverberations that would normally carry in a white cube seem to have been subsumed into these cold bare walls. In this potent silence, the work resonates in some way, but through means outside of its own intervention.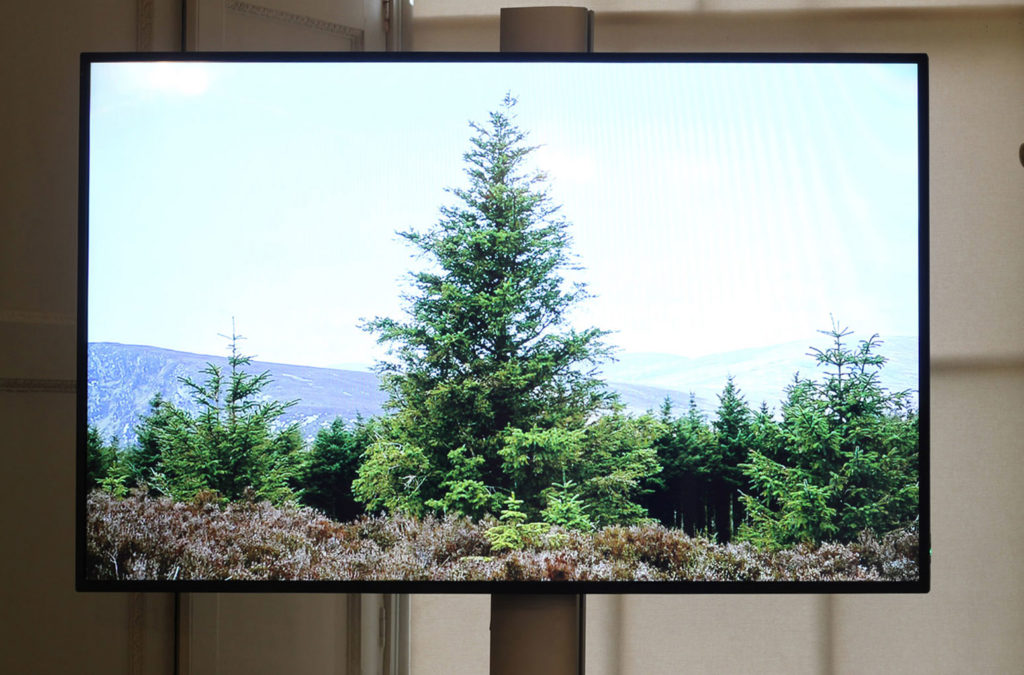 Continuing on, the viewer enters the Long Gallery where the majority of the works are on display. Again, the space as it exists, independent of any artwork, is powerful. The silent void of the previous derelict space has given way to a restored, yet comparably intimidating, Elizabethan parlour. Embedded into the decorative ceiling are ten paintings by Patrick Touhy, commissioned by the Jesuit Order in 1913, which depict the life of Christ. They peer down onto the exhibited works in an unforgiving manner, imbued – as iconography often is – with a weight through that which is unsaid. 
Louis Haugh presents a visual display of a spruce tree on a monitor, framed centrally and only mildly disturbed by a breeze on an anonymous hilltop. Placed next to the fireplace is Haugh's second work: a jagged-edged collage of silver gelatine prints that coalesce to depict a scene of dispersed branches and twigs. Meanwhile, paintings by Beata Piekarska-Daly, titled Arras I and Arras II (2019), line the floor and crawl up the far wall. These sprawling linens, saturated with heavy applications of acrylic, are at once inviting but tonally subdued. Shown alongside them is a more measured and similarly decorative effort – this time with oil and gold leaf on canvas.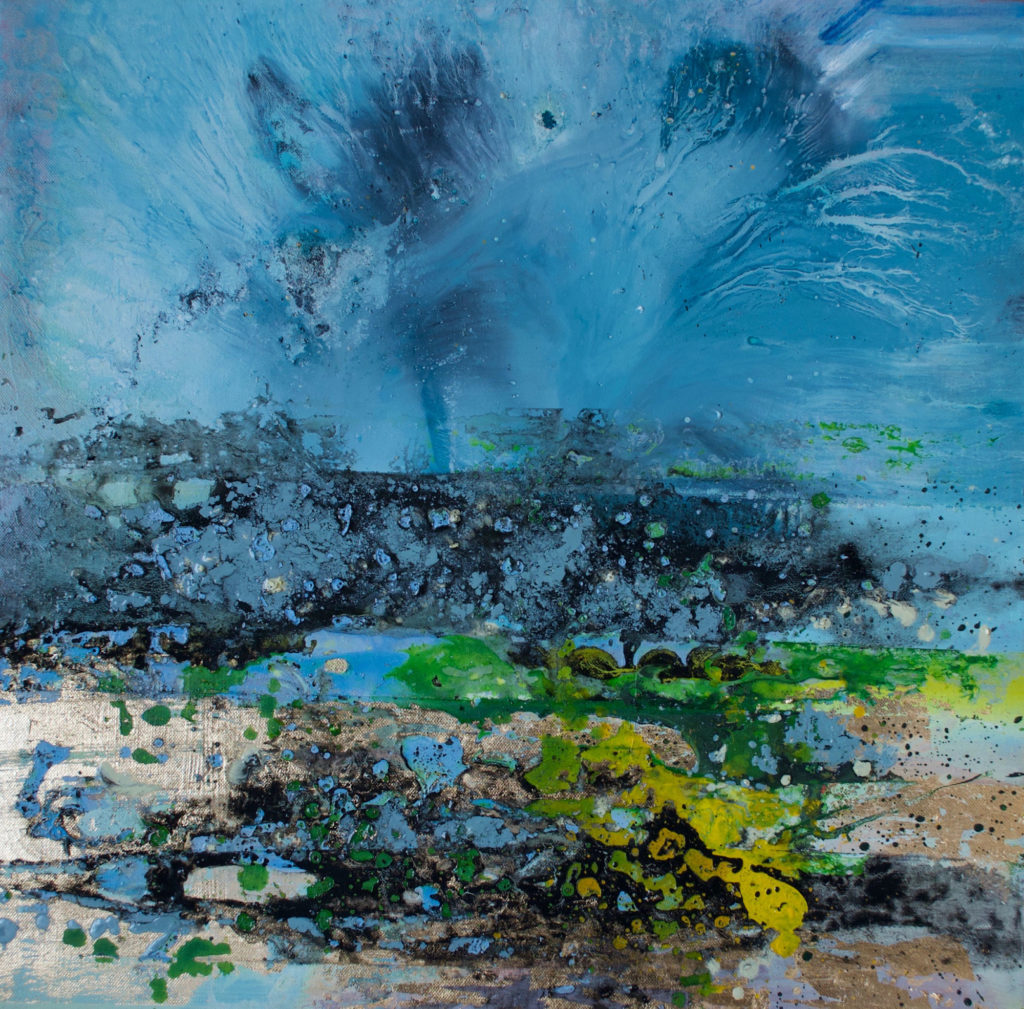 Reflecting the prominence of mixed media processes in her work, Kathy Herbert presents several works based on the Dodder River in a stripped-back and straightforward manner. A large drawing of rippling water is draped in front of a window; a process notebook sits on a plinth; a series of small vials containing water samples is displayed on a table, and a linear series of digital photographs capture instances of the river's flux. Opposite these, the graphite of some smaller river drawings glisten and reflect the November sun. Further up this opposing wall, Mary O'Connor's abstract canvases attempt to flatten and cool with subtle motions of blue.
Notions of 'The Anthropocene' drive the exhibition, and there is an implicit call (as stated in the exhibition press release) for the collective to grasp at "the material formalisation of the possible". Relative to this end, Herbert, for example, specifically references Félix Guattari's Three Ecologies as a formative work in her process. This text presents a sensitive case regarding 'selfhood', claiming that as we are increasingly reliant on forms of mass signification, we will be continuously and increasingly reduced to a subjectification of passivity and repetition. With art, the sort of narrowed subjectification Guattari is referring to proliferates through the usual tropes we encounter, whether they be material or conceptual. Considering then that as an exhibition 'Over Nature' seeks to formalise new possibilities, one would assume these tropes to be subverted, or at least tested, where and when they are devised. Instead, there is little that emerges throughout the show, formally or otherwise, that could be construed as effective when considered in this light. As such, 'Over Nature', despite honest efforts, at times falls prey to the sort of passivity it seeks to stage itself against.
Philip Kavanagh is a writer on art based in Dublin.
Feature Image: Guillaume Combal, Ubiquity, 2019, video installation; courtesy of the artist