AIDAN KELLY MURPHY INTERVIEWS MARYSIA WIECKIEWICZ-CARROLL ABOUT THE RATIONALE AND EVOLUTION OF BERLIN OPTICIANS GALLERY.
Aidan Kelly Murphy: Launched in late 2018, Berlin Opticians is an Irish gallery with a primarily online presence, supported by periodic physical exhibitions. What were the origins of the gallery?
Marysia Wieckiewicz-Carroll: The rationale for Berlin Opticians dates back to 2015 and conversations I had with a number of artists about the need for another commercial gallery in Dublin. There was this group of artists who graduated around 2009 and into a period when everything seemed to collapse; and while there were opportunities to show work in DIY spaces, there wasn't that link to the commercial sector, to facilitate the sale of work. Around this time, everything started to change; places like Broadstone Studios closed, and from there it snowballed, with more and more studios and galleries closing. This all fed into those conversations around creating another gallery, which could create new opportunities to show and sell work – this was very important from the start.
AKM: How did the lack of affordable space in Dublin influence the decision to proceed with Berlin Opticians?
MWC: In 2015, I was still tied to the idea of a physical space. But then I began to realise that it was impossible to move forward with a traditional approach, as a permanent physical space in Dublin was unattainable. The sustainability of the project was a significant factor, as was where to focus my energy. If you have a permanent gallery space in the city, it costs a lot of money, and 90% of your energy will go towards sustaining it. For me, a curator's role is to care for the artist, so a major incentive was to showcase artists while supporting them in a way that would see the money going back into their pockets.
AKM: How were the ten artists selected?
MWC: There is a generation of artists who graduated around ten years ago, that were 'emerging' but are now actually more established, with a number of solo shows under belt. Coupled with this is a set of energetic and compelling recent graduates, creating a diversity of artists that generate exciting conservations between both groups. During the studio crisis, Gerard Byrne was talking about the importance of studio spaces and the sense of community they create. I see Berlin Opticians as this type of community, offering the potential for support and exchange. Gender balance was also important to me. I'm not trying to make any political statements – I just wanted to make sure that male and female artists had equal space and say in the gallery.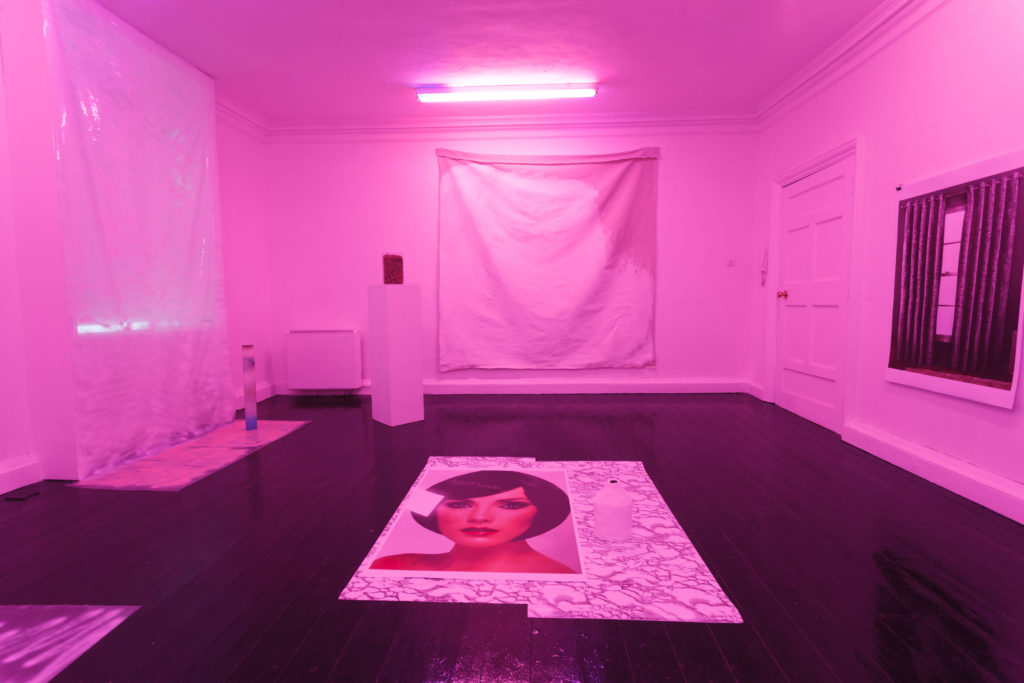 AKM: How does Berlin Opticians situate itself, in relation to a burgeoning lack of physical interaction with art?
MWC: I think in a way, Berlin Opticians is a reaction to how we all view art these days. When conceived, it was very much 'attached to a space' – partially because that's how I tend to interact with shows. However, we all look at magazines and read reviews, imagining artworks and exhibitions in our heads. And let's be honest, Instagram has become a dominant platform for interacting with art. We all have our favourite artists, yet we may not necessarily have even seen their work in reality. I think if you look back, there has always been interactions with art using different media, and that would not always involve the physical. We've balanced the physical with the digital, intertwining physical shows with online only exhibitions – this documentation can be found on our website. I'm not trying to eliminate a physical interaction with artworks, I think that's absolutely necessary.
AKM: As a gallery without a permanent base, do you feel you are more open to exploring the use of temporary spaces?
MYC: Definitely. As a nomadic gallery, I think we're more open to possibilities; and whilst it requires a lot of flexibility, it is also exciting. Although the architecture of the first set of spaces was predominantly Georgian, they were all drastically different. In the Royal Society of Antiquaries of Ireland, it was like walking into a house, with a sense of the domestic and an aura of comfort, which worked particularly well with contemporary art. In the Irish Georgian Society, we found ourselves in a setting that was designed for exhibiting but had an interesting tension in how the traditional lent itself to the modern, with its difficult salon hang. For the third show in Poetry Ireland, this was a unique space, but one that had a specific role. You have to be able to respond to the places that are available. It becomes a scouting operation, and while you might be preoccupied with space, it is not everything. There is a wider identity to the gallery.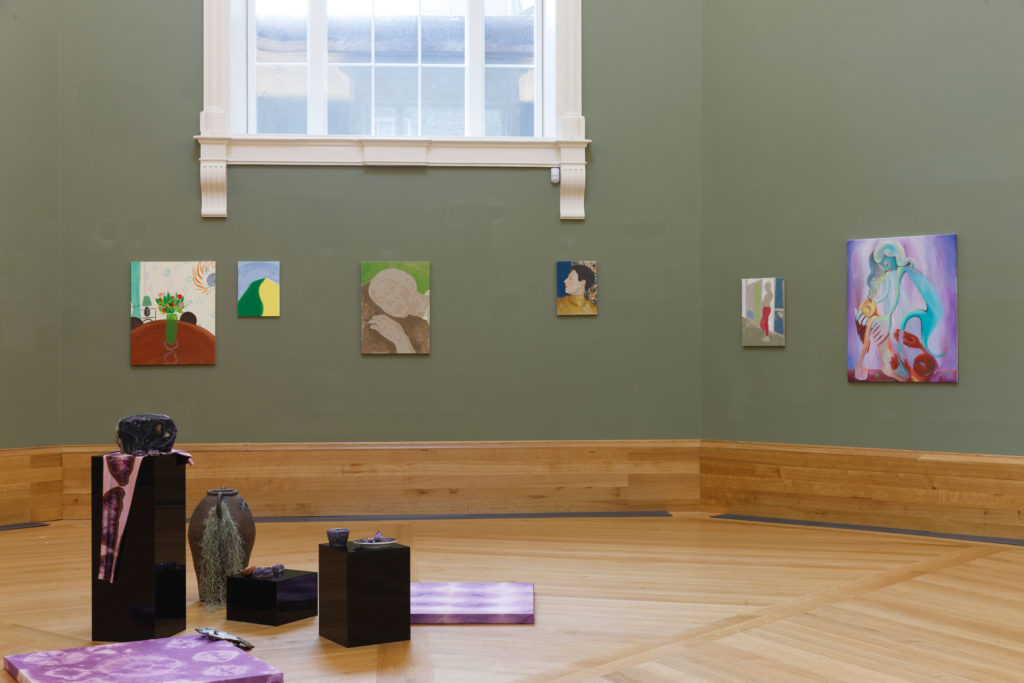 AKM: What are the advantages of using a model like this?
MWC: By forming a group, you are highlighting their activity, which in itself creates a springboard. As you don't have a fixed home, people are offering and welcoming you into their spaces, which adds to the experience. Next year we will appear in different locations, some of them outside of Dublin, like Lismore Castle Arts, and that's really exciting. Not having a preoccupation with a single space provides a chance to expand beyond Dublin, potentially even beyond Ireland in the future.
AKM: Conversely, have any challenges arisen?
MYC: As the gallery inhabits a new space for each exhibition, there is no time to develop an intimate knowledge of it. Visits can be arranged beforehand, but the spaces are not always empty, so it might be hard to imagine what the exhibition would look like. You need to react intuitively and adapt to any restrictions that might suddenly appear. It's hardly ever a clean white space, and you can't always intervene or change it, as you have this limited amount of time. The idea behind it was never to pretend that you were in a white cube. When you bring art home you don't necessarily paint your walls white, it lives in the space you provide it with. Another aspect to not having a fixed space is that we are continuously reintroducing our presence, so sustaining that engagement is something we have to work hard on. On the plus side, there is neither the time nor space to develop habits, so we can continually reinvent the gallery's identity, which is fun.
AKM: Would you encourage others to follow a similar approach?
MWC: Absolutely. It has been such an exciting journey, making space for art in a city where it feels like we're being continuously eradicated. It takes a little courage, as it's time-consuming and there is risk, but that is also part of what makes it exciting.
AKM: Can you discuss your plans for 2020?
MWC: 2019 was very much about establishing the gallery, marking our presence and making sure we were visible. My first dedication is to the ten artists, but the latest show in Poetry Ireland in November saw an invited artist for the first time, Linda Quinlan. In 2020, the plan is to feature more invited artists and begin to open up the project, ensuring that Berlin Opticians continues to be a welcoming and accessible structure. This year we will also have a couple of solo shows in grand settings: Sven Sandberg in Rathfarnham Castle at the end of February and Alicia Reyes McNamara in Lismore Castle Arts in August. We're also hoping to bring about something utterly different, but for now it's still a secret.
Aidan Kelly Murphy is a writer and photographer based in Dublin, and the Associate Editor of CIRCA Art Magazine.
Marysia Wieckiewicz-Carroll is a writer and independent curator based in Dublin.
The initial line-up of Berlin Opticians artists includes David Beattie, Neil Carroll, Paul Hallahan, Emma Hayes, Barbara Knezevic, Alicia Reyes McNamara, Sarah O'Brien, Liliane Puthod, Sven Sandberg and Lee Welch. The gallery's first exhibition took place at 63 Merrion Square from 18 to 20 October 2018.
berlinopticiansdublin.com
Feature Image: Berlin Opticians Gallery, Inaugural Exhibition, 18 – 20 October 2018, 63 Merrion Square, Dublin 2, installation view; photograph by Lee Welch, courtesy the artist and Berlin Opticians Gallery, Dublin.