FOLLOWING A SCREENING EVENT ORGANISED BY VISUAL ARTISTS IRELAND, PROJECT ARTS CENTRE'S LÍVIA PÁLDI SPEAKS TO KADER ATTIA ABOUT HIS RESEARCH AND PRACTICE.
Lívia Páldi: The legacy of colonialism, specifically French colonialism, is one of your main artistic concerns, with an extensive inquiry that builds around the concept of 'repair'. How do you reflect on a decade of work exploring the concept's genealogy, as well as its political, aesthetic and architectural expressions?
Kader Attia: It didn't start as strategic research, rather was born out of my various interests. If I had not become an artist, I would probably have worked as a historian. I've always been curious and didn't want to be jaded into a single field. My materials come from very different sources and places. This is what I see as key problem we again face with current fascisms: the refusal of diversity; the refusal of the other. I mention this because one of the core states of 'repair', as it has been thought about by Western white male modernity, is this idea of supremacy on time and history. The idea that we are able to re-enact by returning to the 'origin'; to the state before the 'accident', before the 'injury'; that we are able to own time. It's an incredibly false myth and also impossible.
For me, the notion of return – as derived from the Latin root of the verb reparare ['restore', 'put back in order'] – is extremely dangerous, as it could equal theories of fascism; the idea of returning to the very early moment. That's why I think the concept of 'repair' has an important political subconscious that we have to dismantle. I've become aware that by doing artistic research, you observe objects, people, human bodies, scars – in fact scars have this incredible power. As Cormac McCarthy used to say: "Scars have the strange power to remind us that our past is real." To translate all these into an artwork is complex because one must address the status and potentiality of art today. My method has always been to avoid a denial of the past, of the genealogy. It's especially important now amid a current fascination with technology in the arts. It is extremely important to elaborate on a corpus of work that is in dialogue with our significant genealogy because it is another part of fascism to deny the layers of history by only focusing on what we must return to and ignoring the in-between.
LP: Your research has involved long-term conversations, building over the last decade and feeding into your research-based moving image works and large-scale sculptural installations and environments.
KA: It is something that one cannot control. Sometimes I start by finding a broken plate and repairing it, as recently happened to me in Berlin. For three weeks the pieces were lying on my studio desk and after a trip, I started to glue them together. It took me three days. The practice of being an artist is neither the meditative moment of drawing, which I like a lot, nor this sort of determinist thing that you know what you want to do. For me this plate is also research: you leave, come back, revisit, stay with. I showed it to a fantastic restaurateur, Anne Göbel, in the Dahlem Museum Ethnological Museum (Berlin). She said it was badly done because the cracks were showing; if she had done it, there would have been no visible signs. I think the dialogue we had was very interesting because of course she is a 'soldier' of the 'order of the perfect'. For me, the injuries tell me plenty of things. These small objects I collect or repair, help me breathe within the ongoing processes of research. If all of my life's work was a single book, then these small pieces would serve as punctuations. I have a heightened sense of care for objects but don't spend the same amount of time or intellectual energy on them as I would with a film. My films and installations may take up to three years to develop. But both are very important.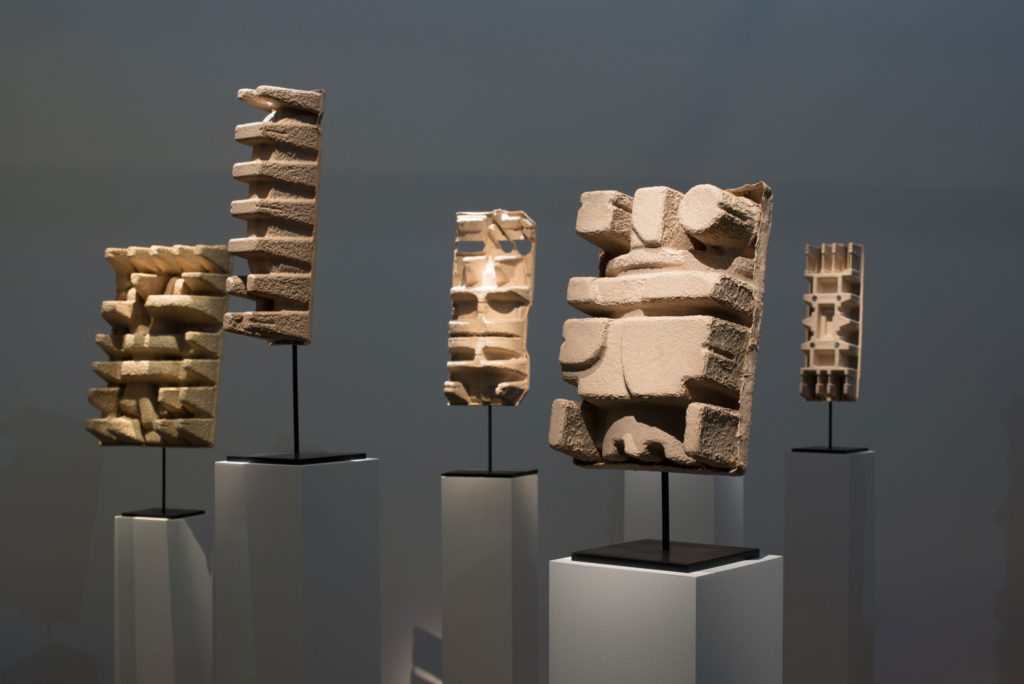 LP: Often you employ everyday materials – such as cardboard, wire mesh, mirror fragments, couscous – to build installations and to employ various objects.
KA: I believe in everyday objects as metaphysical entities – as having emotional and symbolic power. I think one of the stronger ruptures between the pre-Modern moment and Modernity is not just the rationalisation of our relations with others but also our relations to objects, in the sense that the hegemony of reason has cut us from the possibility of living with an invisible or parallel world. In our everyday life, it often translates as fear of being ridiculed. In his book, African Art as Philosophy: Senghor, Bergson and the Idea of Negritude, Souleymane Bachir Diagne writes that in African civilizations, where systems of writing did not exist, masks and sculptures were philosophies.1 I really do think that this works the same with each and every object. Everyone refers to some objects as special, due to familial and other relations. This is how objects carry this philosophy and mythology.
LP: Can you discuss your involvement in projects that look at changing our perception of objects in ethnological museums, regarding the way collections represent them as artistic or ethnologic material?
KA: I have a continuous pilgrimage to inquire into the 'hidden' collections of museums – the forgotten items – and to excavate those objects that have been repaired and stored away. I met Clémentine Deliss (then director of the Weltkulturen Museum) in 2012, when I arrived in Frankfurt to explore the whole parcours of museums.2 We continued to collaborate, as she was also interested in the question of giving new life to these 'hidden' objects. For me, she is a very exciting director for an ethnographic museum – which has generally been a very conservative and often reactionary context up until now – opening up ethnography to contemporary art. I also like the Musée d'ethnographie de Neuchâtel (MEN), where, as part of your research, you can touch the object and this 'patina' becomes part of the object's existence. This is a legacy of the ethnographer and former director, Jean Gabus.
LP: Your research into the 'repair' also connects to how decolonisation and understandings of restitution are addressed.
KA: I've been working with these issues for over a decade and still (re)discovering different aspects of the repair concept. What is crucial to make clear, when we speak about restitution, is what these objects (colonial artefacts) really are, and to map their epistemology, making visible the hijacking of the non-Western epistemology by the Western one. The whole problem of restitution is that it concerns an 'imaginary' that has been colonised. Some of the objects might be considered powerless by now and might not be reclaimed, but then you talk to people who avoid going to see certain African objects at the Musée du uai Branly (Paris) or the Metropolitan Museum (New York). These objects are philosophy – and thus part of a complex cosmogony of conscious and subconscious symbolisms – even though the indigenous religions that produced them were colonised. When it comes to speaking of the non-rational, I very much respect the work and flexible thinking of Stefania Pandolfo, who links two discursive traditions – Islam and psychoanalysis – when speaking of illness, trauma and healing.3
LP: La Colonie (the space you established in Paris in 2016) strongly relates to your questions and research. In Le Monde, La Colonie was described as the headquarters of the 'decolonial intelligentsia'.
KA: For me it's an unlearning place. It's been a long missing part, a phantom limb, that now links debates on the Anthropocene, decolonialism and feminist critical work. The space is located by Gare du Nord within an ocean of diversity. I left Paris 11 years ago and have been working on the subject of colonialism for almost two decades, but I was not invited to exhibit there until recently. There has been a strong denial in France of that colonial history, and I thought the most efficient would be to create a space for 'invisible' topics, as well as for communities. I have strong networks in the banlieues and universities, artists, thinkers. I started by inviting activist organisations, which later extended into projects such as the 'Decolonial School'.4
LP: Do you want programmes and debates, such as the 'Decolonial School', to influence current political conversations?
KA: It's complex. On the one hand, over 600 people come for a debate on colonial issues, but on the other hand, we need to work on extending our network of competencies (e.g. to involve legal experts). I am currently having a series of conversations with my colleagues about the future of La Colonie. And though we have been attacked by some of the academic bodies, we have a great hope that the French academia will eventually introduce decolonial studies into their curricula.5 This is where I see a real task to be done, to affect the system.
On 25 November 2019, VAI, in partnership with Project Arts Centre, welcomed Kader Attia to present a screening of Réfléchir la Mémoire / Reflecting Memory (2016), followed by a Q&A.
Lívia Páldi is the Curator of Visual Arts at Project Arts Centre, Dublin.
Kader Attia (b. 1970) grew up in Paris and Algeria and spent several years in Congo and South America. These formative experiences fostered Attia's intercultural and interdisciplinary research on colonial histories and immigration.
kaderattia.de
lacolonie.paris
Feature Image: Kader Attia, Untitled, 2017, ceramic, metal wire, diameter 25.3 cm; photograph by Ela Bialkowska, courtesy of the artist and Galleria Continua.