January/February 2020 Issue – Out Now!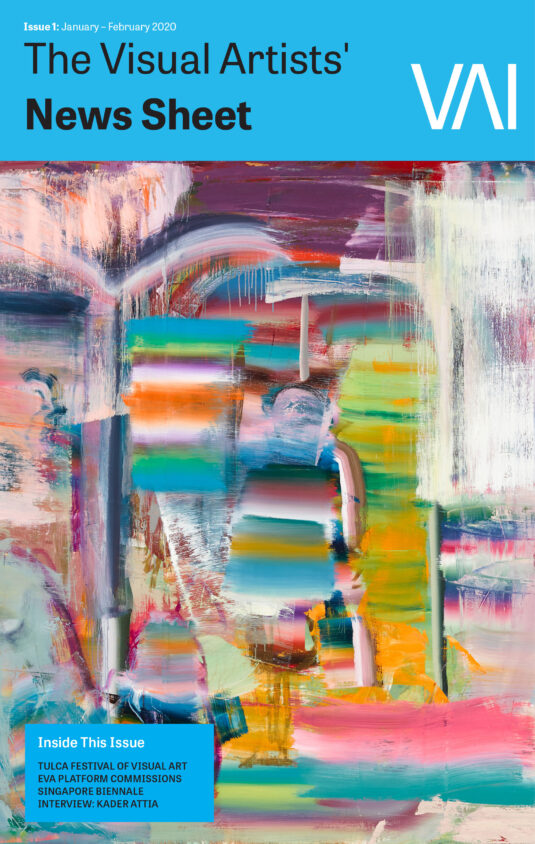 The January – February 2020 issue of The Visual Artists' News Sheet is out now.
The first issue of 2020 introduces Visual Artists Irelands's new discursive programme, 'VAN Chats', which aims to further emphasise our publishing activities through a series of public talks and events. Following a screening event at Project Arts Centre organised by VAI, Lívia Páldi interviews artist Kader Attia about his research and practice. Also in this issue, Joanne Laws interviews Kunstverein Braunschweig curator Raoul Klooker, ahead of group critique workshop and talk on queer artistic practices, which takes place on 7 February at Visual Artists Ireland's Dublin office.
Continuing his column on plein air painting, Cornelius Browne reflects on what the New Year can bring, both in life and in painting. In his ongoing column, dealing with the subject of internationalism, Matt Packer considers the distributive powers of art world communication, while Emer Lynch reflects on 'No Longer Peripheral' – a screening event and symposium organised by aemi. On the subject of artist publishing, Bryan Hogan discusses the themes underpinning his recent photo book, From Where the Heart Is (2019), while Jo Melvin discusses 'Publication Scaffold' – a series of talks and events she organised (in collaboration with Irish artists Michelle Horrigan and Sean Lynch), as part of Temple Bar Gallery + Studios' Dublin Art Book Fair 2019.
This issue features three festivals profiles. Offering a glimpse of the international scene, Logan Sisley reviews the Singapore Biennale 2019. In the Irish context, Hilary Morley reviews Galway's TULCA Festival of Visual Arts 2019 and we also hear from some of the artists developing new work for the 39th EVA International as part of the biennale's Platform Commissions. In other feature articles, Susan Thomson profiles the work of the Belfast art collective Array at Jerwood Arts in London; Aidan Kelly Murphy interviews Marysia Wieckiewicz-Carroll about the evolution of Berlin Opticians Gallery; while artists Sarah Browne and Vanessa Daws each reflect on their recent public art projects.
The Regional Focus for this issue comes from County Offaly, with insights from Birr Theatre & Arts Centre and Offaly Arts Office, as well as visual artists Julie Spollen, Brendan Fox, Veronica Nicholson, Micheál O'Connell and Claire Guinan, who each reflect on the evolution of their respective practices.
Reviewed in the Critique Supplement are 'Over Nature' at Rathfarnham Castle; Eoin McHugh at Kerlin Gallery; 'Scaffold' at The Bomb Factory Art Foundation; Camille Souter at Custom House Studios Gallery; and Doireann Ní Ghrioghair at Pallas Projects/Studios.
As ever, we have also have details on upcoming VAI Lifelong Learning workshops, recent exhibitions, public art roundups, news from the sector and listings of current artist opportunities.