JUMP by Cléa van der Grijn wins at Oaxaca FilmFest, Mexico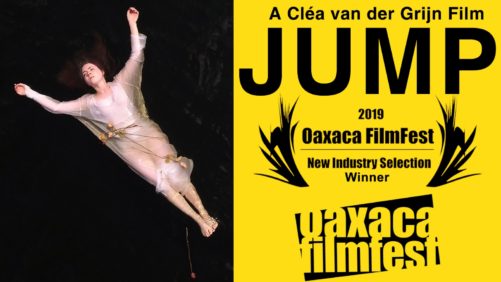 JUMP by Cléa van der Grijn is a 26 minute experimental film which has won at Oaxaca FilmFest, Mexico. Oaxaca Film Fest is a week long film and script festival which had over 10,000 submissions. Oaxaca Film Fest is one of the largest film festivals in South America.
JUMP also has had official selections in over a dozen other festivals; it won best Experimental at International New York Film Festival and won Experimental/ cinematography in other festivals.
JUMP began as part of an immersive installation with film / paintings / neon. It toured (with an Arts Council Touring Grant) for 9 months in 5 venues nationally before getting wings as a film in its own right and being shown on international platforms.
Cléa van der Grijn (b. 1967 Ireland) is a visual artist, film maker and writer based in Sligo. After graduating with first class honours from the National College of Art and Design Dublin, van der Grijn presented more than 25 solos exhibitions and 40 group shows nationally and internationally. Van der Grijn, employs various media, including site-specific installation, experimental film, large format photography, collaborative projects, sculpture, drawing and painting.
Since 2008 van der Grijn has been working on the subject of death. Her practice deals with unraveling the complexities associated around the culture of death and reconstructed memory, researching the myth of repressed memory, re-imagining and process all become part her narrative, understanding the rational, social and emotional circumstances that become constructed around memory and time.
In JUMP (2018) van der Grijn asks what are the memories between the transitional period of jumping + hitting the water when life becomes momentarily suspended. When viewed from our typical perspective of being within and perceiving the world according to linear time, the period of a jump, between the precipitation of the action and the landing, the splash, happens in an instant; and from this perspective, not much can 'happen' in an instant. This is the effect of forgetting that linear time is a projection, a construct that the mind creates to make it possible to self-identify and exist in the world.
Source: Visual Artists Ireland News