The Model, Sligo
17 November 2018 – 27 January 2019
This extensive exhibition by Chris Doris is installed across five gallery spaces at the Model, exploring a number of thematic strands, influenced by components of the artist's life, namely: meditation, psychotherapy, psychology and neurobiology. Doris brings these professional interests into play and reinterprets them in the gallery context, showcasing a unique range of observational modes, as well as a lucid, coherent range of artworks.
What might initially appear as hard-edged abstraction within the galleries, is softened through the introduction of the outside world. Natural light is present in three of the five spaces; it appears to have been deliberately choreographed to create dynamic interplays with Doris's paintings. There is clearly an influence of Colour Field painting of the 1940s and 50s – from American artists, such as Mark Rothko, Barnett Newman and Clyfford Still, to British artists including Robyn Denny. Doris undoubtedly has a distinctive and personal style, but there is a sense of acknowledging abstract art precedents.
Gallery D features an interesting combination of paintings referencing nature. A convex painting, akin to a large human eye, confronts the viewer, featuring heavy impasto and a black circle on an off-white background. The canvas is deep and its edges feature interlocking multicoloured stripes. Entitled The Empty Field (2) (2017), it interrogates the formal construct of painting, the language of production, or perhaps even something beheld by the eye – an empty field beyond.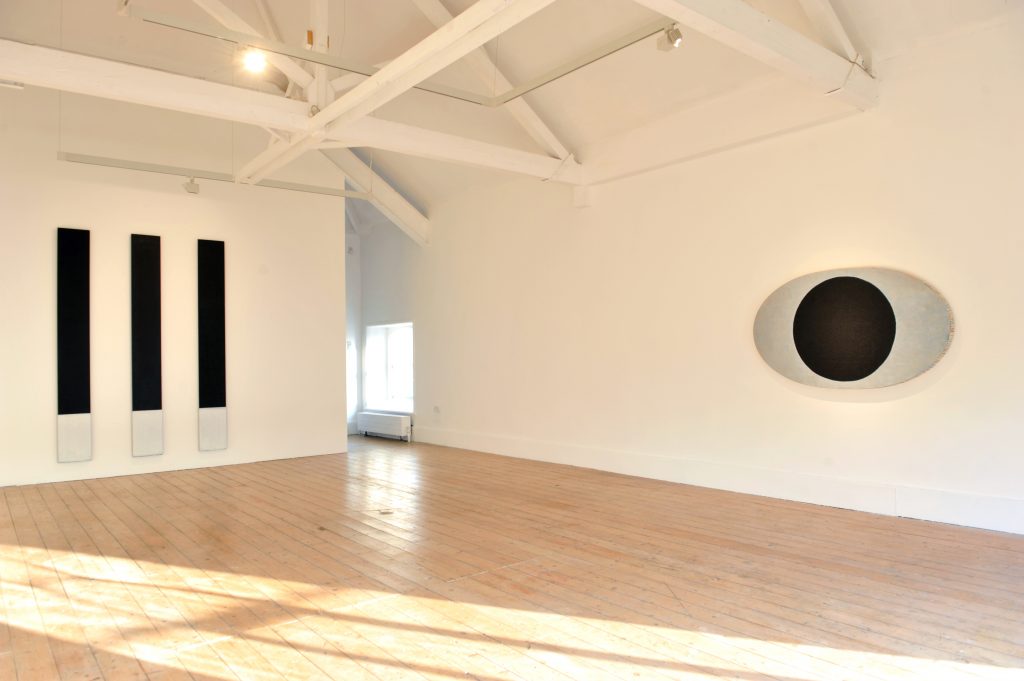 Opposite are two sister-works, identically constructed in opposing colours. The End of a Beginning (2017) consists of a deep black arc pointing upward, with a three-quarter white circle contained, and a blue edge to the canvas; while The Beginning of a Beginning (2017) features a white arc, a black three-quarter circle and a bright yellow edge. Between these works, above the arched windows, is a smaller work, Wave (2017), evoking the sea or perhaps a sound wave. Opposite, three long vertical strip paintings on steel, A Dying Light (2017), are three-quarters black, with white at the lower ends, suggesting the close of day.
The artist employs conceptually provocative titles, encouraging the viewer to consider personal, experiential or universal narrative threads. The paintings prompt the mind to enter into a dialogue with the eye. Many of the exhibited works are titled Open Painting, with no further differentiations given – a simple titling device that signals Doris's generosity to the viewer. As part of this open invitation, these paintings require interpretation and engagement; they lie dormant until confronted by the attendant interchange of the viewer. According to the artist, the focus is the metaphorical 'empty field' with "emptiness" being "held as a field of potentiality".
Doris's expansive 'open paintings' sit in stark contrast to his text-based paintings in Gallery B. Where the other four galleries feature highly restrained, elemental and purist paintings, the black walls of this small windowless space are heavily concentrated with a salon-style hang of 43 paintings. Various slogans and messages compete for the viewer's attention, such as: 'This is an attempt at an image of God'; 'Be composed, then decomposed'; 'A painting makes visible implicit unknown values' and so on.
There are also four totemic sculptures installed on the floor. Is this installation an artistic response to the pure paintings exhibited elsewhere? Does it represent the artist's musings on art and its purpose? Is it a range of thoughts gathered through self-introspection? Regardless of the artist's rationale, a dichotomy is set up between this chaotic hub and the other streamlined spaces, providing a unique mindscape for contemplating the exhibition's multiple identities.
The exhibition is not the exclusive product of the artist's investigations on his theme – it was accompanied by two unique participatory events. At the exhibition launch, Doris facilitated a "public inquiry", entitled 'Songs of Being Seen', consisting of spontaneous group vocalisation, lasting three hours. The second aspect is an extension of Doris's 'relational inquiries' series, entitled 'Taking History', where the artist offered one-to-one confidential sittings over two days. During these sessions, individuals became part of a "series of private, joint inquiries with the artist, into the sitter's dominant self-forms and their origins", thus adding an analytical dimension to the practice of conventional portraiture.
Marianne O'Kane Boal is a writer on art and architecture and a member of AICA.
Image Credits
Chris Doris, 'The Empty Field', installation view, The Model, Sligo; photograph by Heike Thiele, courtesy of The Model.