Rua Red, Tallaght
6 September – 5 October 2019
'Open Minds' featured over 70 artworks made in Irish prison education programmes, with the installation at Rua Red furnishing a metaphor for imprisonment. We know nothing of these artists' lives. They were necessarily anonymous, with artworks attributed not to the artists, but to the institutions that confined them. No context concerning them was available, save for the titles they had given their work. It was rarely clear quite what was on show. Prison Staircase, a spiralling, assiduous pencil drawing from Wheatfield Prison, was typically enigmatic. But a sense of the privileged intimacy of the disclosure prevailed, and the works were recast by this public encounter.
Across the exhibition, rampant natural themes frequently channelled darkness. Blood of Abel is a pastoral painting made in Midlands Prison. Its stippled impasto of violent, autumnal oil paint struck me before I noticed the title, which relates virtue, vice, punishment and striving. A sizeable contingent of ceramic animals appeared stuck. In forty-odd tiles from Arbour Hill Prison, flora and fauna burgeon outward, recalling the sensual benevolence of Judy Chicago's The Dinner Party. Yet context petrified them, their symmetrical alignment suggesting some institutional chamber. In three paintings from Cloverhill Prison, tall windows are stifled with thick, milky light. Their similarity could signal derived technical commonality, or simply the facing of shared confinement. Matchstick Wagon with Whittling from Castlerea Prison was installed on a plinth, its doily curtains pulled shut.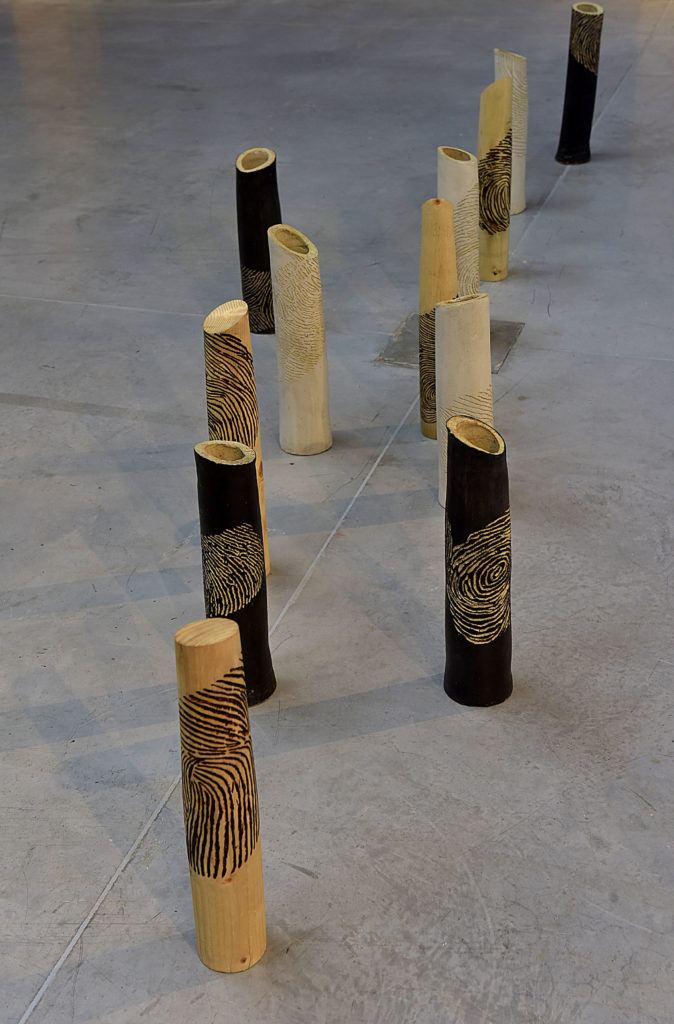 Elsewhere, nature appeared splendid and wild. A ceramic work from Cork Prison, Monet's Garden on TV, was magnetic, its bevelled screen images the subject in fuzzy saturation. Monet's footbridge resembles burnt toast; its reflection underneath as red as blood. All over is cadmium yellow, eggshell and ultramarine, with watery plants rendered in insouciant dots and stripes. The painting seemed to suspend a manic recollection of isolation, rushed by a frenetic cultural stream. Impressive animals also came courtesy of Cork Prison. One of several feathered, piebald Gypsy horses veered audaciously in a massive acrylic painting, like one of those cosmic biker images.
The exhibition title recalls the dreary platitude of 'keeping an open mind'; but it was also invaded by vital purpose, reminding us that we are open and alive to environmental influence. In the crowded installation – where attending to works felt like hauling them out in haste – one also sensed an ongoing defining and nurturing of self. Identities and social relations were examined; pain was explored and experimented with. In Life Inside (a plaster sculpture made in Castlerea), a spectral torso and head of cropped hair were seen from behind, hung from an old-fashioned, curlicued coat hook and disappearing into the wall. Between the shoulder blades is a six-sided, jagged hole – a murky window, like a Magic 8-Ball – in which little specked stars can be discerned. The exhibition curator, artist Brian Maguire, who has previously worked extensively with prisoners, stresses that art "is a means of resistance, albeit a legal one."1
'Open Minds' relates to the concept of 'outsider art' – what art-making looks like, untouched by academic influence – but privilege and welfare marked a more important distinction. It's not hard to imagine that many of these artists had to go to prison to find conditions conducive to making art. Here they lacked the freedom to enter the gallery, or to even identify themselves. First Impressions, ceramic and wooden sculptures from Priorswood House in Coolock, displaying large fingerprints on bamboo-like tree stumps, offered a thoughtful treatment of this absence. Meanwhile, a greenish ceramic hand from Arbour Hill was scored with brick wall – one of many such allusions to this motif. It looked as though a flattened hand had been used for a template. Although viewers could not know the exclusion and adversity of these artists, the oblique visibility of these experiences was provocative and memorable. A related exhibition of creative arts made by people in custody is currently showing at the Hunt Museum, Limerick, until 24 November.
Danny Kelly is an artist based in Dublin.
Notes
1 Hadrien Laroche, 'About the Experience of Violence and Violence as the Destruction of Experience', Open Minds, Rua Red, 2019. 
Feature Image:
Castlerea Prison, For you to be here, installation view, 'Open Minds', Rua Red; photograph by Tommy Clancy.