September/October Issue – Out Now!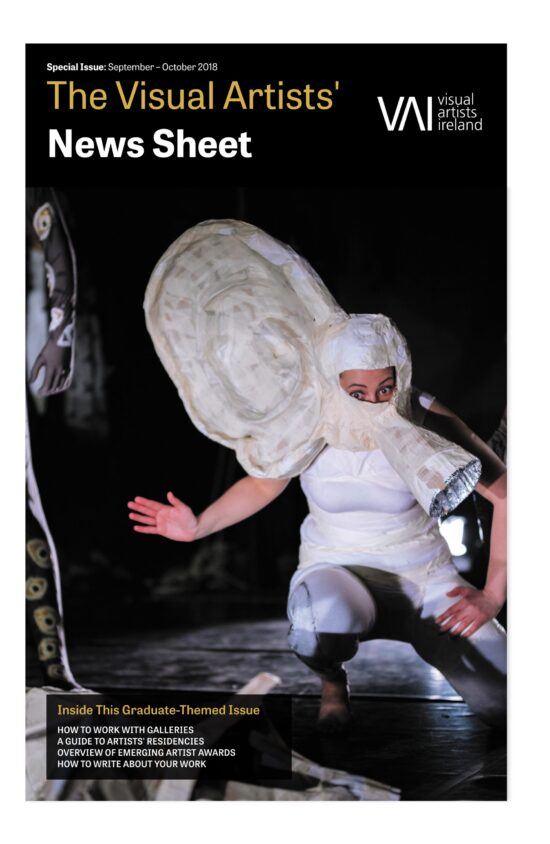 The latest issue of the Visual Artists' News Sheet is a special issue focusing on the infrastructure and supports in place for emerging artists nationwide. A range of specially commissioned extended essays, profiles and case studies offer practical advice across a range of themed sections including: Galleries & Workspaces; Residencies; Graduate Awards & Opportunities; Postgraduate Education; Career Development and a Critique section focused on exhibition featuring emerging artists.
Hugh Mulholland talks about how artists might work with different types of galleries throughout their careers. Mark Garry discusses strategies for sustaining your practice after graduation. In addition, Christopher Steenson outlines some of the main considerations when renting an artist's studio. Elsewhere, Jonathan Carroll outlines some of the main long-running opportunities for emerging artists north and south, including prominent graduate awards and annual open-calls, while Suzanne Walsh provides an extended overview of residency programmes nationwide. Joanne Laws offers advice on artist statements, CVs and public engagement, and also interviews emerging artists Cecilia Dannell, Marcel Vidal and Bassam Al-Sabah. Pádraic E. Moore also reflects on the realities of working as a freelance curator.
In the critique section, Colin Martin reviews Bren Smyth's show, 'Substance of Things', at Pallas Projects/Studios; Áine Philips reviews 'Outflow' at 126 Artist-Run Gallery, featuring Ronnie Hughes and Evgeniya Martirosyan. John Thompson gives his take on Klaudia Olszyńska's exhibition '51.791384, -8.291099' at Studio 12, Backwater Artists Group in Cork. Colin Darke also reports back with his thoughts on 'A composition of she', by Justine McDonnell, at Golden Thread Gallery, Belfast.