TULCA Announce 2020 Festival Programme – The Law is a White Dog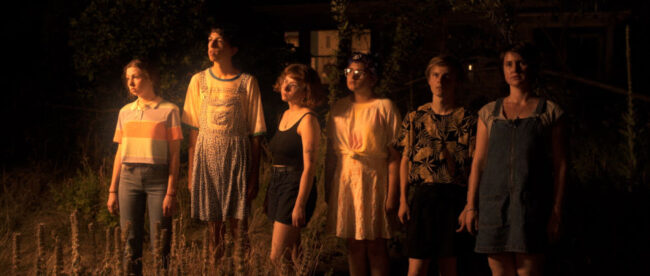 TULCA Festival of Visual Arts announces its 2020 festival programme, titled The Law is a White Dog, curated by Sarah Browne.
Contributors to The Law is a White Dog are artists, poets, lawyers and activists: AM Baggs, Éric Baudelaire, Rossella Biscotti, Caroline Campbell (Loitering Theatre), Maud Craigie, Máiréad Enright, Forerunner (Tanad Williams and Andreas Kindler von Knobloch), Michael Holly, Justice for Magdalenes Research, Vukašin Nedeljković, Felispeaks, Charlotte Prodger, Bob Quinn, Sibyl Montague, Kevin Mooney, Julie Morrissy, Rory Pilgrim, Rajinder Singh, Soft Fiction Projects, Anne Tallentire, Saoirse Wall, Eimear Walshe, Suzanne Walsh and Gernot Wieland.
Festival dates: 6 – 22 November 2020, pending government restrictions and public health advice.
The TULCA festival in 2020 will be delivered in multiple platforms. Like every year, artworks for The Law is a White Dog have been selected through a process of direct invitation as well as TULCA's annual open call, which closed in late March with 180 eligible applications. Of the 20 artist presentations in the festival (including 3 collaborative entities), 12 were invited and 8 were selected through the open call. There are a further 2 contributions specially commissioned for the book, which will be a significant feature of this year's festival.
The Law is a White Dog is a project that recognises that 'Law' is not a straightforward force. It is present as a set of representations and practices, across different temporalities and jurisdictions, that requires diverse tactics of response. Artists have been invited to consider their work as forms of address that could relate to legal processes such as bearing witness, giving testimony, granting pardon, lodging complaint, forming contracts, presenting evidence – or steadfastly refusing to speak in those terms. The Law is a White Dog is a project that brings together a range of practices that refute confinement and categorisation, that invent new languages and forms of expression, and who develop new affinities with others.
'It's been a huge privilege and challenge to be curator of TULCA this year, and to be in close contact with an incredible range and depth of artistic practice. As the pandemic has unfolded, my priority for the festival has been to spend time engaging directly with artists and finding ways to support their work, in new ways and in dialogue with the concerns of the project. We have been working very carefully and intensely and I'm really excited to share this work with audiences in November, most of which has never been seen before in Ireland.'
– Sarah Browne, Curator
Image credit: Rory Pilgrim, still from The Undercurrent (2019-ongoing). Courtesy the artist.
Source: Visual Artists Ireland News