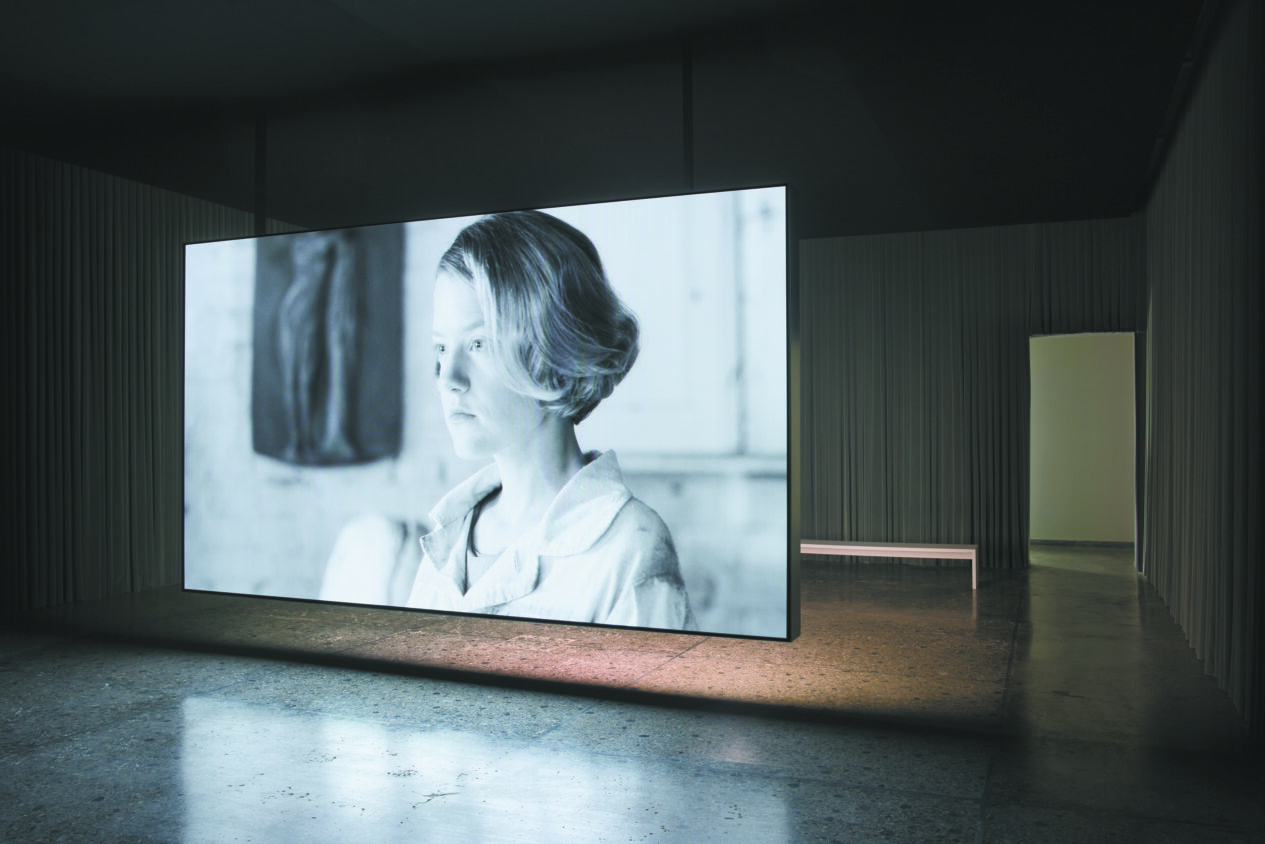 ANNE MULLEE REPORTS ON THE CONTRIBUTION OF IRISH ARTISTS AND CURATORS AT THE 57TH VENICE BIENNALE.
Many of the reviews of curator Christine Macel's ambitious handling of her two huge, artist-centered 'Viva Arte Viva!' exhibitions at La Biennale di Venezia have drawn less than fulsome praise, with critics variously citing too many weak works, not enough diversity and flabby contextualisation, among other criticisms. Of course, the 57th Biennale is far more than a sum of these parts. Perhaps reflecting the increasingly globalised art world, this year sees the inclusion of new pavilions from first-time participants Antigua and Barbuda, Kiribati and Nigeria. As more countries are invited to participate in the event, reflections on nationhood are becoming an increasingly common trope. Virtual utopian state NSK hosts Turkish artist Ahmet Öğüt, who has worked with young refugees to run a live passport office, where I secured an NSK State Passport (nskstate.com). In contrast, the southern part of the globe is represented in Venice by the Antarctic Pavilion, which is not so much an imagined state as a state of enquiry. Instigated by Russian artist and biennale stalwart Alexander Pononmarev, the pavilion provides a platform to showcase artworks and projects by various invited artists who participated in the first Antarctic Biennale – a 12-day artistic research expedition undertaken in March 2017 with 100 participants aboard the research vessel Akademik Ioffe.
Irish artist Méadhbh O'Connor, who is currently UCD artist-in-residence at Parity Studios, is among the 15 international artists selected to exhibit at the Antarctic Pavilion. Working in collaboration with UCD's science department, O'Connor devised an experiment and offered it as an open-source work. Presented as a film work, the piece explores climate change, demonstrating atmospheric reactions on a micro level by mixing milk with different densities of water. Filmed in close-up and displayed on two wall-mounted tablets, the result is magical. Climate-Simulator Phase I and II are tiny worlds evoking the gaseous clouds around the earth, swirling and eddying at the whim of their creator. The film is disseminated via YouTube and social media throughout the biennale, inviting viewers to recreate the experiment at home.
Another cross-state collateral pavilion is the exhibition from the European Cultural Centre. Presented across three venues – Palazzo Bembo, Palazzo Mora and the Giardini Marinaressa – more than 250 artists from all over the world respond to the concepts of "time, space and existence" under the title 'PERSONAL STRUCTURES – open borders'. Irish artist Patricia McKenna has created an installation ….and the world goes on (2017) in the eaves of the Palazzo Mora, where slender trees reach towards its centuries-old rafters, met by others reaching downwards. Illuminated by a neon sign proclaiming "Goes", this make-shift forest is mounted on neat metal stands (painted in blue, red and black) and is broken up with straight rods. Here and there, small clay human figures seem to leap from tree to tree, while fake foil leaves indicate possible signs of life. It's oddly dystopian, with the sodium-like glare of neon casting a kind of post-apocalyptic yellowish tinge.
At the Giardini, the Swiss Pavilion is curated by Philip Kaiser, who has somewhat perplexingly given this year's exhibition the title 'Women of Venice', drawing on the pavilion's own history. Kaiser stated that he aims to "reflect on the history of the pavilion and Switzerland's contributions to the Venice Biennale from a contemporary perspective, and to initiate new work, specific to this context." However, one of the works is then framed through the history of the Giacometti brothers: Bruno, the architect who originally designed the pavilion, and Alberto, the acclaimed artist who repeatedly declined invitations to represent Switzerland in that pavilion.
Flora (2017) by Swiss artist Alexander Birchler and Irish artist Teresa Hubbard, is one of the most arresting works at the biennale. The pair made a synchronised, double-sided film installation about the life of Flora Mayo, a former muse of Alberto Giacometti and an artist in her own right. While it seems that every female artist working before 1980 is doomed to be 'little-known', 'undiscovered' or 'under-recognised', Mayo truly did fade into obscurity. This happened by her own hand, as she destroyed much of her work. Born into a wealthy US family, her first marriage ended after she bore her first child. She absconded to Paris and later became friends with Giacometti, who sculpted her. Flora was cut off from her family and forbidden from seeing her daughter ever again. In the 1930s she moved to California, working menial jobs and bringing up her son, David Mayo, born two years after Flora's return to the USA. Flora's story is told in the style of a drama-documentary filmed in black and white, which recounts an imagined view of her life in Paris as an artist. In the second film, now in colour, David recalls his mother's life while we watch sequences of Flora's lost works being reconstructed and reunited with the bust Giacometti made of her. A quietly powerful and moving work, Flora is a melancholy tribute to its namesake.
The history of national pavilions is a habitual source of inspiration for many biennale curators. The stunning Nordic Pavilion presents 'Mirrored', curated by Mats Stjernstedt, which includes work from Swedish artist and IADT graduate Nina Canell. Her explorations of transmission, connection and materials underpin a concrete collection of objects, including sections of transatlantic cable (famously running from Valencia in Kerry to Trinity Bay in Newfoundland) and a delicate tower of medicinal pink gum mastic. The frayed edges of the cable and the slowly oozing gum invoke the gradual erasure of the present.
The Dutch Pavilion is overseen by Irish curator Lucy Cotter. Issues of post-colonialism and modernist social utopias are explored in a site designed by Gerrit Rietveld in 1953. Here, Cotter, along with Dutch artist Wendelien van Oldenborgh, has created 'Cinema Olanda' – a series of enquiries into the Netherlands' perceived reputation as a progressive nation. A counter-narrative offers three video works and a pair of still images to introduce a string of observations from the 'old Dutch', who discuss some of the country's new nationals, which include post-colonial Surinamese and refugees from Indonesia. The language used is frequently clumsy and, to the 'enlightened' ear, it borders on racist. Throughout the eponymous film, Holland's newer population are flippantly referred to as 'Indos', while the language of the Surinamese is described as 'violent', assuming connotations of aggression and physical violence.
It's hardly a revelation that such attitudes exist, though van Oldenborgh offers counterbalance through her exploration of social experiments and redrawn narratives instigated by artists, activists and undocumented migrants. These take place in various locations including a church in Rotterdam and architect Aldo van Eyck's Tripolis building in Amsterdam, linking these utopian urban ideals with those of the town-planner Lotte Stam-Beese, and capturing snatches of lesser-known histories. We learn about the first black member of the US Communist Party, Otto Huiswoud, a Surinamese revolutionary who organised workers around the world and lived much of his life in the Netherlands. We also gain insights into various forms of domestic activism and squatting that took place in the Netherlands from the 1960s to the present. Van Oldenborgh resists the construction of neat parallels and chronicles, instead allowing the viewer to listen in to the recollections and recounted experiences of black, white and brown Dutch citizens.
No resolutions are offered, a sensitivity that is missing in some of the other works presented at the biennale seeking to address contemporary concerns around post-colonialism and migration. An example comes from the usually pitch-perfect Olafur Eliasson, whose 'Green Light' project occupies the largest space at the Giardini's central pavilion (curated by Macel). It calls on migrants in Venice to hold workshops making geometric lamps, which can be bought for €250. There is a decidedly uncomfortable 'human zoo' aspect to this spectacle, which recalls distinctly capitalist social entrepreneurship rather than radical collective, especially when it emerges that the workshop facilitators are unpaid.
But perhaps even this is not quite as borderline offensive as Ernesto Neto's Um Sagrado Lugar/A Sacred Place at the Arsenale. Here, a vast netted tent – recently referred to as a "chill out space" – houses actual live shamans from South America. Macel seems keen on this kind of cultural appropriation, which runs through both of her exhibitions and feels excruciatingly naive. For all the vaunting of a biennale led by artists, the curator's hand is decidedly heavy.
Berlin-based Irish artist Mariechen Danz presents her installation Womb Tomb (2017) at the Arsenale. A previous performance in the space is evidenced on-screen, while wall-mounted footprints and a thermoactive sculpture variously depict the 'primordial theatre' of the human body in a stage-set fabricated from locally-sourced mud. Unstinting in its physicality, Danz's corporeal practice recalls the visceral, second-wave feminist explorations of artists like Carolee Schneemann or Rebecca Horn. At the Irish Pavilion, Jesse Jones's mesmerisingly powerful video and performance installation Tremble, Tremble, curated by Tessa Giblin, was widely well-received. The towering multi-screen video installation invites us to look upon Olwen Fouéré's primordial crone and quake at her power. Elsewhere, amidst the often-overwhelming volume of work on show throughout the city, it's gratifying to see such strong contributions from fellow Irish artists and those we claim for ourselves.
Anne Mullee is a curator, researcher and art writer. She is currently curator of The Courthouse Gallery and Studios in Ennistymon, County Clare.
Images: Teresa Hubbard/Alexander Birchler, Flora, 2017; synchronized double-sided film installation with sound; 30-min, loop; Swiss Pavilion, Venice Biennale 2017; photo by Ugo Carmen, courtesy of the artists, Tanya Bonakdar Gallery, New York and Lora Reynolds Gallery, Austin. Nina Canell, Gum Drag and Brief Syllable, 2017; Nordic Pavilion, Venice Biennale 2017; photo by Åsa Lundén/Moderna Museet. Jesse Jones, Tremble Tremble installation view, 2017; film, sculpture, moving curtain, sound and light scenography; Venice Biennale.