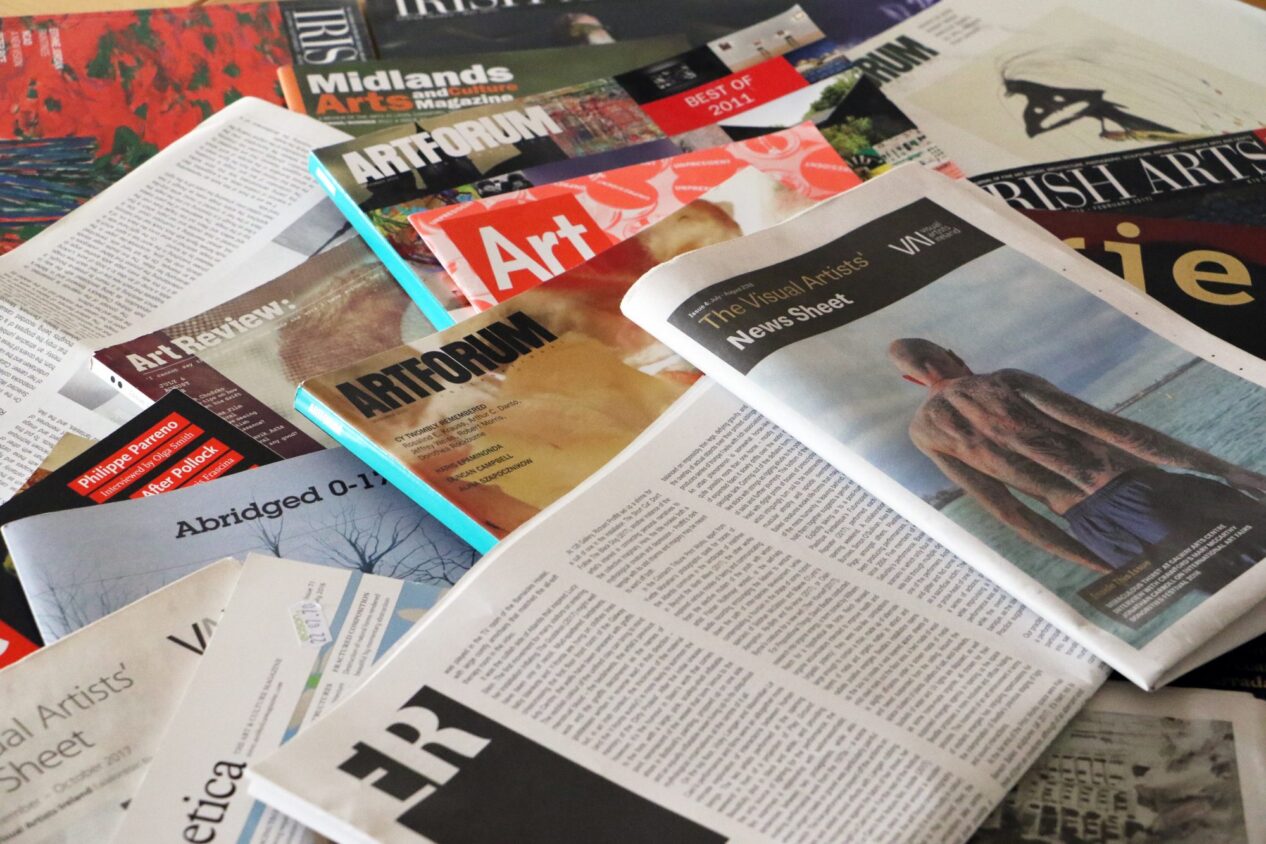 JOANNE LAWS PROVIDES SOME PRACTICAL ADVICE ON HOW TO GET YOUR WORK CRITIQUED AND WRITTEN ABOUT.
As Features Editor of VAN, one of the most common requests I receive from artists is: "Can you review my exhibition?" Often these pitches arrive at short-notice and contain sparse information about the exhibition in question. All VAN writing proposals are discussed during bi-monthly editorial meetings and only five exhibitions are reviewed in the Critique section of each issue. We try to cover a range of media, venues and geographical regions, as well as giving coverage to artists at different career stages. Artists, curators and gallery directors are advised to submit details at least two months before an exhibition opens, to have the best chance of being considered for a review. Exhibitions not selected for the Critique section are frequently included in VAN's Roundup section. Regardless of potential coverage in VAN, it is advisable to list your upcoming exhibition via VAI's twice-weekly eBulletin service. With a readership of over 15,000, this is the primary way to let Irish arts audiences know that your show is happening.
There is no quick or simple way to get your work reviewed. The most you can do is invite critics, curators and other art professionals to your exhibitions and keep them periodically informed about the development of your practice. As a free-lance writer, I rarely review exhibitions based on direct contact from artists. More often, my pitches to editors are based on my existing knowledge of an artist's work, my awareness of upcoming shows and consideration of whether particular exhibitions will suit the publication's remit and editorial calendar. For example, Art Monthly prefer exhibitions to still be on when the review goes to print. Therefore, most exhibitions covered will run for at least another six weeks after the writing submission date. As a result, exhibitions with a short run rarely get coverage. Conversely, the Irish Times and Sunday Times Culture supplement have much more flexible editorial calendars, publishing exhibition reviews on a daily and weekly basis. It is advisable to contact the editors and writers directly, to let them know about upcoming shows – though coverage or even a response is never guaranteed.
In addition, it is worth considering why you actually want your exhibition reviewed. Receiving critical feedback on your work is of huge long-term benefit to your practice; however, you must ask yourself whether you are ready to take the good with the bad. Would a negative review have a detrimental impact on your confidence at this stage in your career? (Note: I find it takes much longer to write a negative review than a glowing appraisal; I have to be doubly sure of my facts, taking care to develop a well-structured critical assessment of the intentions behind the work. Constructive criticism can often be productive for artists and shouldn't always be perceived as a bad thing). Having your work reviewed in a major publication can certainly help circulate your work to wider audiences, offering a degree of recognition that your work is relevant within current critical discourse. Recent press coverage also proves useful when making funding applications; however, writers dislike their work being used solely to enhance someone else's CV. For that reason, I personally cover shows that I find challenging and enjoyable to write about. When reviewing exhibitions, I tend to not have any direct contact with the artist or the gallery, which upholds a degree of independence in my writing.
In conclusion, one of the most effective ways of ensuring that your work receives critical attention, is to love what you do and to be committed to your work for the long-haul. Maintaining an artistic practice is highly demanding. Artists are increasingly expected to manage a vast array of technical and administrative tasks that can erode precious studio time. In my view, artists should make work solely for themselves and resist the urge to presuppose its critical reception. In the long-run, the values and obsessions in your work will prove infectious and will provide you with the substance and motivation to keep going.   
Advice for early-career artists on building a critical profile:
Familiarise yourself with the major publications – There are a range of Irish and international newspapers, magazines and journals, both printed and online, that feature reviews of exhibitions taking place in the Irish context.
Research the editorial calendars and submissions procedures – Different publications have specific timeframes, submission procedures and preferences regarding content. For example, VAN is a bi-monthly printed publication with an arts readership of over 5,000. We receive a large number of submissions. We do not accept texts that have previously been published (in print or online). We do not accept finished texts; rather, we work with writers to oversee the development of texts, in keeping with an agreed brief – a process that involves detailed correspondence and several drafts.
Identify independent journalists and arts writers – In Ireland there are only a handful of arts writers and critics who actively contribute to various publications, yet there are hundreds of shows around the country each month.
Compile your own professional mailing list – It is useful to source contact details for a range of arts professionals including writers, critics, editors, curators, peers and other contacts. Send out regular updates, press releases and personalised invitations to upcoming exhibitions.
Develop a website – This should feature good quality documentation of previous work, projects and exhibitions, as well as your bio and contact details. When submitting images with applications, make sure you are familiar with the technical specifications regarding files sizes and make sure the respective image credits are clearly indicated.
Don't overlook local press coverage – Getting a review in a regional newspaper is a good starting point, so don't forget to contact local newspapers and journalists.
Develop an events calendar – This might comprise upcoming events and exhibition previews that you are planning to attend. Networking is one of the most effective ways to open up career opportunities in a competitive industry. Subscribing to the mailing lists of various galleries, publications and arts organisations is beneficial. In addition, subscribing to the VAI eBulletin will keep you informed about submission deadlines for funding opportunities, commissions, gallery open-calls, residencies and so on. You can also use the VAI website to keep a track of upcoming deadlines. This will help you organise your time while identifying opportunities that you can submit your work to.
Commission a catalogue text – Beyond exhibition reviews, another way for your work to receive critical appraisal is to directly commission a writer to develop a text, normally to coincide with a solo exhibition of new work. The cost (which can range from approximately €300 to €800, depending on length) can be factored into funding applications or can occasionally be covered by arts organisations as part of an exhibition production budget, particularly when exhibiting with public galleries.
Consider setting up a peer review group – Opportunities to receive critical feedback on your work will diminish after college, unless you continue to work alongside or collaborate with fellow graduates. Your peers bring a fresh perspective to bear and will often be able to point out whether something is clear or not. Their input can be highly motivating. Consider joining a studio group, collaborating with other artists on a group exhibition, or joining one of VAI's regular peer critique sessions.
Joanne Laws is Features Editor of the Visual Artists' News Sheet – a bi-monthly printed publication of Visual Artists Ireland. VAI members receive an annual subscription, with six issues of VAN per year posted directly to their door. Issues are also available free of charge in galleries and arts centres nationwide.
Image Credit:
A selection of Irish and international art publications; photograph by Christopher Steenson