Pallas Projects/Studios, Dublin
14 – 29 August  2020
The launch of Barry Mulholland's solo exhibition, 'Tossed in The Drink', at Pallas Projects/Studios – the first in the gallery's 2020/21 Artist-Initiated Project programme – was postponed due to COVID-19. However, this delay proved to be a fruitful one, with the Belfast-based artist creating a diverse body of new work, inspired by recent events, and making use of a broad range of media and materials. The resulting exhibition succinctly articulates the lived realities of 2020, characterised by anxiety, flux and daily news cycles, that have seen us collectively lurching from one crisis to the next, with barely a pause to process or evaluate.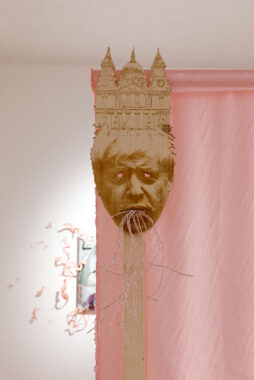 The exhibition's title, which references the tossing of Edward Colston's statue into Bristol Harbour in June, reflects not only Mulholland's mining of recent events for inspiration but also the witty delivery of his incisive commentary. 'Tossed in the Drink' wears its references proudly, in a manner that is frankly refreshing. Among an eclectic cast of actors, we encounter the disembodied heads of Irish politicians – Sinn Féin Leader Mary Lou McDonald, Taoiseach Micheál Martin and Tanaiste Leo Varadkar – projected through acrylic cut-out, to cast faint shadows onto the main gallery wall. The gargoyle-like heads of Boris Johnson and Jacob Rees-Mogg, wearing the institutions of Westminster and St Paul's Cathedral like hats, also feature in a theatrical installation that is tucked inside the gallery's smaller room. All five heads were created using laser cutting and etching techniques on plastic and wood, indicative of the ever-encroaching role of technology in art creation. Johnson and Rees-Mogg are viewed by many as the tyrannical architects of Brexit, whilst simultaneously being seen by others as the saviours of Britain. Such binary existence is a key component of populism, which further amplifies the 'Us Versus Them' mentality that has come to typify 21st-century politics and electioneering, despite the capacity for societal unity displayed during the early phases of lockdown.
Elsewhere in the exhibition, we encounter conspiracy theories (via 'Pizzagate') and internet memes (through depictions of the Ghanaian Pallbearers) – two trashier aspects of digital culture that have gained momentum during the pandemic. And of course, COVID-19 – which has accelerated and laid bare the encroachment of politics in social life – is a central theme. It does not dominate any individual work, but instead is carried through them all to become omnipresent. In the main gallery space, a large wooden frame, edged with multicoloured hazard tape, spans from floor to ceiling. Amebic, virus-shaped blobs float freely through this hollow barrier, highlighting the fallacy of manmade borders in stopping microscopic bacteria. The transient nature of national borders is highlighted in Mulholland's laser-cut maps of Europe. The dissolving and fluctuating borderlines represent areas of past conflict, reminding us that they did not emerge through peaceful means. They signify areas where political tension continues to rise; areas where the past still needs to be reckoned with, assessed and understood.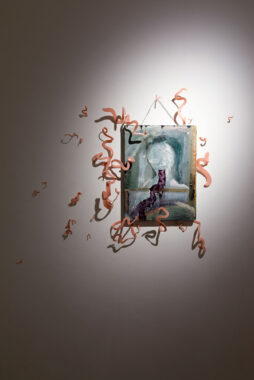 Mulholland's colour palette is vibrant and, at times, garish and intoxicating. This fun and playfulness masks a serious, almost sinister message, offering a perfect analogy for the dark arts of politics, in which optics and spin is everything. Occasionally, the sheer volume of works can feel overwhelming – the accompanying list outlines 20 artworks, with some involving multiple constituent parts. It can be impossible to isolate or critique individual works, just as historic events cannot be reviewed in isolation. Increasingly history is understood through its connections and effects upon other events, people or cultures to provide a more rounded reassessment of established narratives. The artist highlights a recent example with a submerged view of slaver Edward Colston's statue covering the entire back wall of the gallery.
While Mulholland's exhibition offers timely commentary, some quieter and more personal moments provide distance to help us reflect on this enormous paradigm shift, taking place during our lifetime. In two small but emotionally packed oil paintings, titled Waiting for Deliveroo and Now, back to looking out the window, we observe and empathise with the loneliness, distance and solitude of lockdown. In these moments, Mulholland is most vulnerable – we all are – and the human connection between artist and viewer feels strongest.
Aidan Kelly Murphy is a writer based in Dublin. He is an Associate Editor for CIRCA Art Magazine and the Arts Editor for The Thin Air.