Critique: Camille Souter & Frank Morris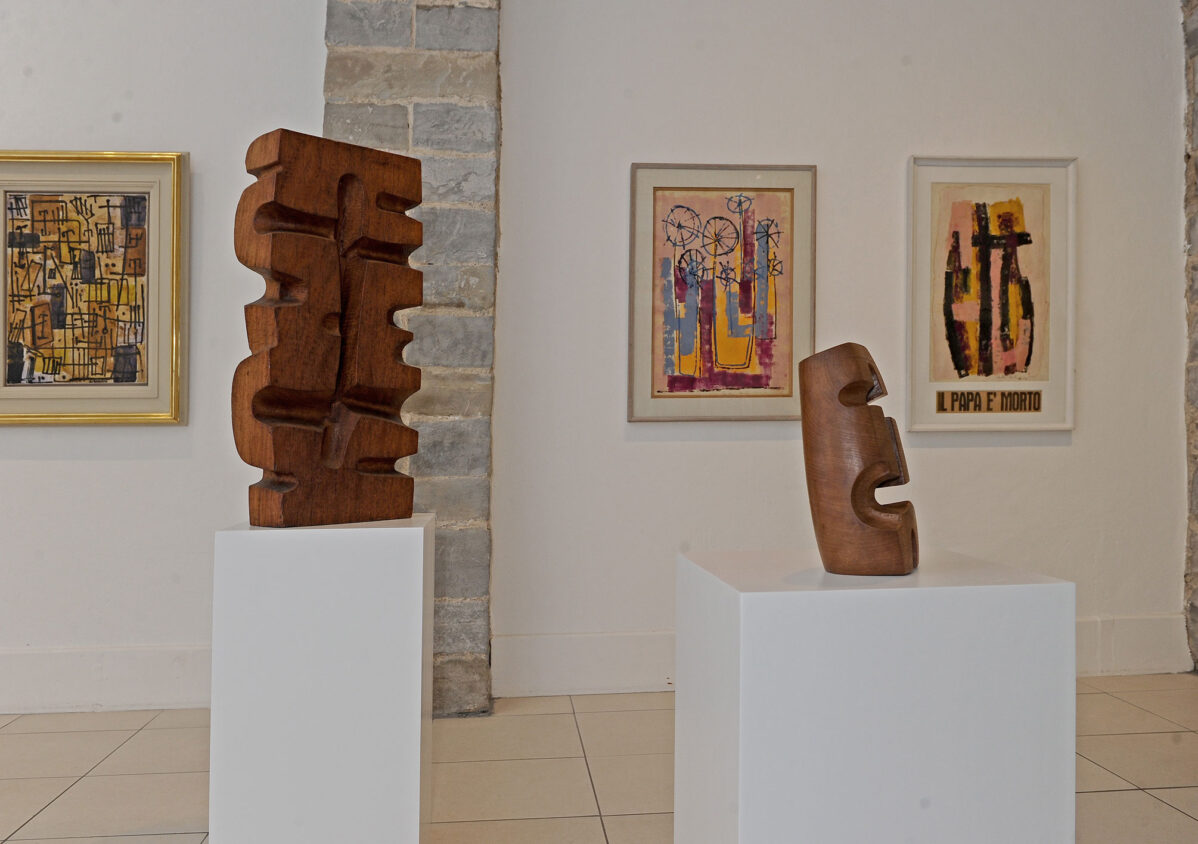 Custom House Studios & Gallery, Westport
19 October – 1 December 2019
Any exhibition featuring Camille Souter's work is going to have immediate visual impact, and her recent retrospective at the Custom House Studios in Westport was no exception. Curated by her biographer, Garrett Cormican, the exhibition featured 24 works, ranging in date from 1955 to 2015, grouped by decade throughout the ground floor gallery. Several paintings – including When the Mist Comes Down (1964), The Musical Clown at Duffy's Circus (c. 1966–67), My Father's Garden (c.1970) and My Father's Greenhouse (c.1970) – engaged with the concept of memory, and were shown alongside work that explored environmental and political issues, all of which confirmed Souter's artistic status among her peers, and among her viewers.
The exhibition encompassed five sculptural works by Souter's late husband, Frank Morris (1928 – 1970), which were a revelation for their quality. Carved from wood, Morris's sculptures are quietly monumental. Four of the works, abstract in form, were displayed together. The fifth, a figurative work, titled Busheltits, was exhibited on its own in the second room. Well-known in artistic circles during his lifetime, Morris died young and has been somewhat sidelined since. Now fifty years since his death, Morris is a prime candidate for further research, and a larger-scale exhibition of his work.
The central focus of the show is Souter, for whom the figurative, or rather elements from reality, form the initial basis of her work, from which she then creates her highly individual style of abstraction. Influenced by international abstract expressionists, Souter paints on various types of paper (including newsprint) and board, using various combinations of oil paint, printers' ink, plaka paint and aluminium paint. Harlequin (1955), for example, painted on newsprint, calls to mind the work of Cubist artists, several of whom worked directly onto text or sheets from contemporary newspapers, as a means of commenting on political issues and war. Souter visually comments on war too, evident in Target Aim and Fire (c.1982–84), which at first glance, is an attractive landscape, until the grey aeroplane and the red, poppy-shaped fields emerge. Another example, Desert Shield (c.1992), the title of which references the Gulf War, features a caravan of combat vehicles in formation across the scorched desert. Landscape, particularly that of her home, Achill Island, is a recurring theme for Souter; The Rape of the Achill Quartz Quarry (1992), for instance, demonstrates the artist's ability to investigate landscape in cross section, and yet it visually criticises the physical destruction and environmental devastation caused by commercialism on the island. So too, and although gaily titled, The Achill Wedding (1989) quietly remonstrates against the number of cars on the island, while Now Find Shannon Airport (1979), painted as if from a bird's eye view, encourages viewers to question the obliteration of the natural world for the purposes of imposing a modern runway. At the same time, Souter's sense of humour is evident in a small painting, titled Self-Portrait as a Cod's Head (1993), in which she plays with ideas of being a 'cod' or 'codding', an Irish expression for having a laugh, or making a joke.
Garrett Cormican, and the team at the Custom House Studios, are to be warmly congratulated for the excellence of Souter's retrospective, installed to celebrate her ninetieth birthday. All of the paintings, with one exception, were on loan from private collections in Ireland. The selection of work was well thought out, and well-grouped. While Cormican's biography of the artist was available to purchase, a minor gripe was that the handout for the exhibition was disappointing; the images were too small, and the information about the artist and her work was sparse. Souter is one of the most significant artists of her generation. A Saoí of Aosdána, she is widely considered to have made a "sustained contribution to the visual arts in Ireland", to quote Cormican's text. In my view, the excellence of the work on show highlights the merits of a far larger, full-scale retrospective, that would situate her 64 years of sustained practice within its national and international abstract expressionist context. As the Custom House Studios exhibition proved, Souter may live far from the perceived artistic centre, but her artistic sensibility merits universal celebration.
Dr Éimear O'Connor HRHA is a curator, art historian and author.
eimearoconnor.ie
Feature Image: Camile Souter & Frank Morris, installation view, Custom House Studios & Gallery; photograph by Conor Mc Keown, courtesy of the artists Custom House Studios & Gallery.