'An Unreliable Presence', co-curated by Mary Cremin and Peter Richards, is the third of Golden Thread Gallery's annual 'Dissolving Histories' exhibitions, which aim "to actively investigate the notion of history itself." There is no thematic or visual congruity and it should be considered as four discrete shows, were it not for the smartness of its hang. The work leads us through the horseshoe of three spaces in such a way that the diversity of practice lends itself to a coherent narrative.
Entering the first gallery is like walking onto a silent and empty theatre stage of blue and red light, awaiting the arrival of the prog rock band. The action, though, is to our immediate right – the projection of Bassam Al Sabah's CGI film, Dissolving beyond the worm moon.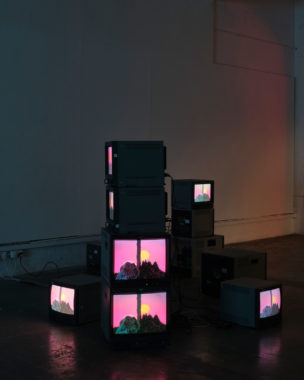 A wire-frame child is thrashing in agony as he loses control of his physical integrity, his torso, head and limbs all expanding and contracting like Play-Doh, as it's squeezed between fingers. Next, the film's three central characters arrive sequentially at a forest, where they shatter into tiny fragments. The ostensibly invulnerable digital humanoids (two of whom wear the garb of the superhero/villain) die their digital deaths and find themselves battling each other in the pink void of their afterlives under the moon and a flat-disc yellow sun.
Sharing this space is Stuart Calvin's formalist/quasi-spiritual sculpture Up Close and Distant. Rather than conforming to the overall intent of the show – of investigating the notion of history – this piece appears to wish to live outside of history altogether. The comparison with ancient menhirs is all too clear. Five tall, thin inverted cones, resembling carved stone, are placed in a circle – a sculpture in the round, but one that we can scrutinise from within. They are painted black and lit with a strong blue light, casting grey/pink shadows with perhaps an equal presence.
It's lovely, but its apparent attempt to appropriate the sense of awe generated by the stone circles it emulates is inevitably futile. The latter possess this quality precisely because their histories and social functions are matters of wonder and speculation. Attempting to elicit this same emotional response by echoing their physical form proves fruitless.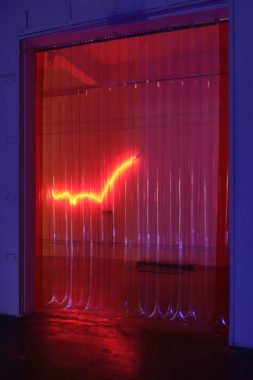 The space which houses Liliane Puthod's work connects the two large spaces with two large openings. Onto these she has attached PVC strip curtains (titled Curtain!), as found in factories and hospitals to allow fork-lift trucks and trolleys to pass through safely. Passing through, we move from blue to red-orange, the result of Sign*age! – a curving line of red neon on the wall. I found this agreeably indecipherable – it might be a snake rearing up or a Pitman shorthand form (if "fit-right pot melter" is a thing) or, considering its companion piece, a banana shedding its skin.
Cool Death (greetings) is a light box/refrigerator/coffin, made from steel, but seemingly held together with just wax. Its front is plastic, brightly lit from inside, a large image of a half banana, its black tip pointing down, mostly filling this frontage. This flaccid member brings to mind Beckett's Krapp, whose impotence signalled his imminent death.
Michael Hanna's video piece, Indoor Sunlight, is a montage of found material, mostly from the seventies and eighties, exploring new technologies as the basis for anticipating the future. This was a time of lazy utopianism that generated wildly inaccurate conceptions of urban planning, technological developments and leisure activities. The hopeful tone of all the elements of the montage was tempered by the voice of HAL 9000, the mutinous sentient computer from 2001: A Space Odyssey.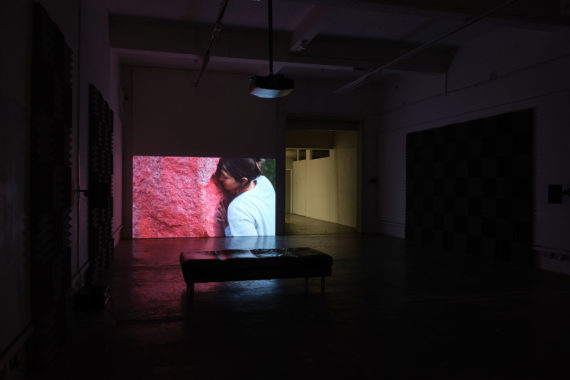 The 1980 film record of Andy Warhol using a Commodore Amiga 1000 to produce, before an audience, a digital portrait of Deborah Harry, somehow manages to make the two of them appear seriously uncool. Following this is Hanna's much cooler non-figurative pixel animation. A promotional video animation of what I'm pretty sure was described as a "regimentally classless" future Belfast was given the musical backing of Hot Butter's jarring 1972 synthesiser recording, Popcorn – an attempt to stress its modernity.
The value of history as dialectical process should be the enhanced comprehension of the present and the development of strategies for the future. The 'Dissolving Histories' project attempts to facilitate this ambition and 'An Unreliable Presence', on the whole, makes a notable contribution.
Colin Darke is an artist based in Belfast.
colindarke.co.uk
Feature Image: Stuart Calvin, Up Close and Distant, 2020, Styrofoam, plaster, resin, steel; Liliane Puthod, Curtain!, 2020 and Sign*age, 2019, installation view, 'Dissolving Histories: An Unreliable Presence'; photograph by Simon Mills, courtesy the artist and Golden Thread Gallery.