Dublin International Film Festival 2020
2 & 3 March 2020
Two Irish-made documentaries premiered at Dublin International Film Festival 2020, with screenings at the Irish Film Institute (IFI) in early March. Ciara Nic Chormaic's Skin+Soul (2020) explores the career of Dublin-based photographer, Perry Ogden, while Vivienne Dick's New York Our Time (2020) is a deeply nuanced return visit to her No Wave social circle in New York City. Both films were funded through the Arts Council's Reel Art scheme 2018, an award that supports "highly creative, imaginative and experimental documentaries on an artistic theme for cinema exhibition".
New York Our Time reflects on a slice of time in the late-70s/early-80s in NYC's Lower East Side. The film begins with director, Vivienne Dick, warmly recounting her first home on East 9th Street. Her rent-stabilised apartment afforded her time – time that she would spend filming Super 8 footage of her community of neighbours and friends, musicians, artists, independent businesses, and the local drug dealer, all basking in the energy and shared experiences they created.
The storytelling trajectory continues and gathers momentum, and the baton is passed to those still residing in NYC. Their experiences of – and artistic contributions to – the No Wave movement are felt by the audience, yet Dick's decision to wait until the closing credits to publish their full names posits them chiefly as her friends, in the context of this film. These people are established as essential to Dick's relationship with the city. Through her conversations with them and via original footage, we learn about post-punk band, Bush Tetras, starting out in 1979; music venues and clubs such as CBGBs and The Mudd Club; the range of records listened to that were purchased on the street, including African, guitar and minimalist music, reggae and disco; the clothing and dancing styles each person preferred; how the apartment buildings were treated as blank canvases by the residents – spaces to share time, music, opinions, make art, have fun; ways of earning money and living off part-time jobs; and being nourished by the opportunity provided by the city to spend time communally outside on the streets, by the pier or in parks during the hot summer months.
New York Our Time skilfully contrasts time once spent responding to the city, with its residents now feeling immobilised by it, trying to navigate living in this now dramatically altered place. As the film progresses, we are increasingly familiarised with the next generation of New Yorkers, in some cases the children of Dick's friends, who live in a neoliberal, franchised city; local bodegas are replaced by 7-Eleven convenience stores, and private and public space is now controlled to prioritise commodity values. Due to rental pressures, they live either with their parents, in shared suburban accommodation, or are moving to Detroit or Pittsburgh or Berlin.
Reaffirming the 40-year gap exposed throughout the film, the original footage and music joyously reach back in time, yet the film evades immersing the viewer in the 70s and 80s. Dick breaks up the documentary with contemporary shots of New York, viewed through a sepia-tinted lens. These 'not-quite-now' rhythmic moments looking up between Manhattan's buildings point to physical and psychological escapism. This contrasts with social media, another form of escapism touched on in the film. The strong sense of shared community from Dick's own experience as a young adult is now somewhat replaced (either willingly or reluctantly) by global digital systems.
New York Our Time spotlights an extremely formative period that influenced Dick's experimental approach to filmmaking, her editing aesthetics and her ensuing career. An intergenerational film, where every voice is presented as equal, the documentary successfully poses questions around human expression and societal obligations, holding powerful resonance for any city dweller.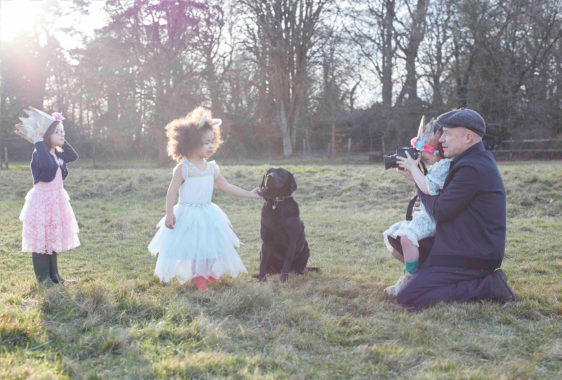 Skin+Soul, directed by Ciara Nic Chormaic, spans the oeuvre of Dublin-based fashion photographer, Perry Ogden, beginning with Lipstick, his 1979 co-edited magazine, produced while at Eton College, Windsor. Ogden's resourcefulness in contacting, photographing and interviewing celebrities set his own personal standard for how he would pursue his career. Influenced early on by London culture and the DIY nature of punk, the film quickly establishes Ogden's drive and accomplishments, from publishing work in Vogue, to shooting campaigns for Ralph Lauren and photographing Francis Bacon's studio. Skin+Soul highlights Ogden's career as internationally focused from the offset, having started out in New York to pursue commercial photography. However, we learn that he embraced working from Ireland because of the renewed artistic vision he experienced here, through self-initiated projects. Ogden refocused his attention on photographing different classes and communities of people: the Anglo-Irish in their Manor houses; young joyriders in action in the 80s; and neighbours cutting turf in the Connemara bogs, in addition to international communities, such as the Navajo Reservation in Arizona.
Continually attracted to existing textures and style, especially through one's own clothing, Skin+Soul repeatedly asserts Ogden's ability to reimagine photography and to gain the trust of his chosen models. Particularly notable are his relationships with members of the Traveller Community. Ogden's body of work, 'Pony Kids', documented settled and Traveller children coming together at Dublin's Smithfield markets in the late-90s. Ogden would strip back the scene to photograph children and horses in front of a white background, unifying the subjects into one photographic object. 'Paddy & Liam' is Ogden's ongoing project, working with two brothers, Paddy and Liam Doran, since they were children. Footage of an outdoor shoot hints at the curiosity the brothers and the photographer hold toward each other, giving extra presence to the subsequent photographs.
Photographs taken by Ogden regularly appear in the documentary, surrounded by black screen and overlaid with music and unscripted narration by Ogden. Additional sequences include large-scale photographic images projected in a warehouse; fly-on-the-wall footage at outdoor shoots; and Ogden speaking to the camera in his studio – a place alluded to as a 'shadow character'. Whilst the controlled presentation of these visuals mirrors Ogden's way of working, the circular and very measured editorial approach loosens the narrative and subdues the film. Skin+Soul is a vivid, visual journey through the singular artistic pursuits of Ogden's creative work. Bolstered by footage of printed photographs being retrieved from the studio archive, this recurring action in the film highlights the preservational aspect to his work, in terms of the people and communities he documents.
Emer Lynch is a curator based in Dublin. 
Feature Image: Vivienne Dick, New York Our Time, 2020; still courtesy of the artist and Dublin International Film Festival 2020.