Elizabeth Magill 'Headland'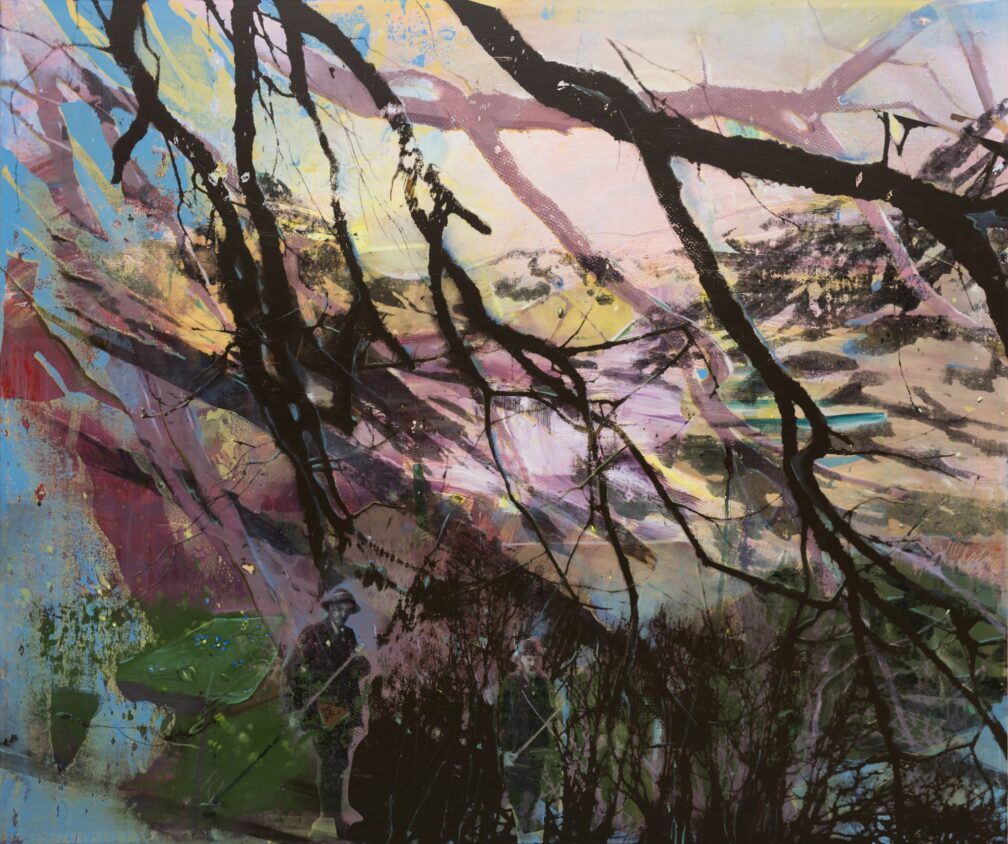 Ulster Museum, Belfast
11 May – 23 September 2018
'Headland' is a major exhibition of recent paintings by Elizabeth Magill, powerfully displayed across two large gallery spaces at Belfast's Ulster Museum. Developed in partnership with Limerick City Gallery of Art and the Royal Hibernian Academy, Dublin (both of which have hosted the exhibition already), 'Headland' has finally come to Belfast and will by no means disappoint those who have long anticipated its arrival.
The exhibition, which presents 24 landscape paintings, draws attention to Magill as one of the region's finest painters. The bare limbs of trees dominate the dimly-lit gallery spaces, twisting their way across the majority of the works on display. Beyond the dark branches lie half-concealed, uncanny landscapes, rich with colour and detail. Magill's non-naturalistic colour palette is particularly worthy of mention, with toxic yellows, fierce reds, and enchanting purples making these landscapes seem both recognisable and otherworldly, as if conjured from the artist's dreams. Magill may be depicting real Northern Irish landscapes, but they have been processed through the filters of memory and imagination, creating rich dreamscapes that captivate the viewer.
The works are simultaneously beautiful and unsettling, calm and eerie. The red branches that crackle and splinter across Red Bay (2016–17), for example, could be viewed as autumnal, but also suggest something more sinister, as the blood red pigment diffuses into the water below. Solitary figures, almost ghostly in their appearance, can be seen in many of Magill's landscapes – strolling along a beach, sheltered under a tree, or rowing across a lake – giving the works a haunting quality. Similarly, flocks of birds often dominate the multicoloured skies, while splashes of bold colour seem almost violent in their application across more naturalistic undertones.
Despite the synthetic colour palette used in the many of the works, there is strong sense of natural and seasonal cycles. As one moves through the exhibition, wintery, snow-capped mountains and the aforementioned autumnal shades, give way to the new buds of spring, and the warm, dewy, almost stifling forests of summer, as strong rays of sunlight burst magnificently through the branches. Within the exhibition, one feels like something of a voyeur, spying on scenes that we perhaps should not be viewing. Large branches in the foreground provide a kind of concealment or protection, as if allowing us to observe without being seen ourselves, offering cinematic perspectives that I have rarely seen used in painting to such great effect.
The large canvases clearly demonstrate Magill's sophisticated use of mixed media, incorporating painting, screen printing and photography to create multi-layered works which reward closer inspection. One work, Les Demoiselles (2014–15), is particularly alluring. Directly referencing Picasso's Les Demoiselles d'Avignon (1901), the painting again features Magill's signature branches, which slice across the canvas. The faces of several women begin to appear, almost camouflaged, in beautiful hues of yellow and purple. As hidden creatures within the forest, the women feel almost nymph-like, not fully noticeable at first glance, but then impossible to ignore. Magill's art historical interest in this Picasso painting is further explored in one of a series of nine smaller works. Here, the artist uses collage to depict Picasso's famed angular women, set against her own signature brushstrokes.
The smaller, intimately scaled works on display are demonstrative of the artist's ability to work across a range of scales, and it is impressive  how much detail Magill can incorporate into these works, giving them just as much atmosphere as the larger pieces. In the smaller paintings we see a couple promenading by a lake, a remote cottage and a particularly vivid twilight scene, amongst other striking landscapes. 'Headland' no doubt comes at a prolific and exciting time in Magill's career, and it is promising to see such an established talent continue to push boundaries and experiment within her work, testing new theories and embracing new approaches. This exhibition has been a highlight of the Ulster Museum's recent fine art programme and is highly recommended.
Ben Crothers is the Curator/Collections Manager at the Naughton Gallery at Queen's University Belfast.
Image Credits
Elizabeth Magill, Wildlife, 2016–17, oil and silkscreen on canvas, 153 x 183cm; image courtesy Hugo Glendinning and the artist
Elizabeth Magill, Only Tune, 2016; image courtesy Hugo Glendinning and the artist