I Have Nada So Far But I Remain Optimistic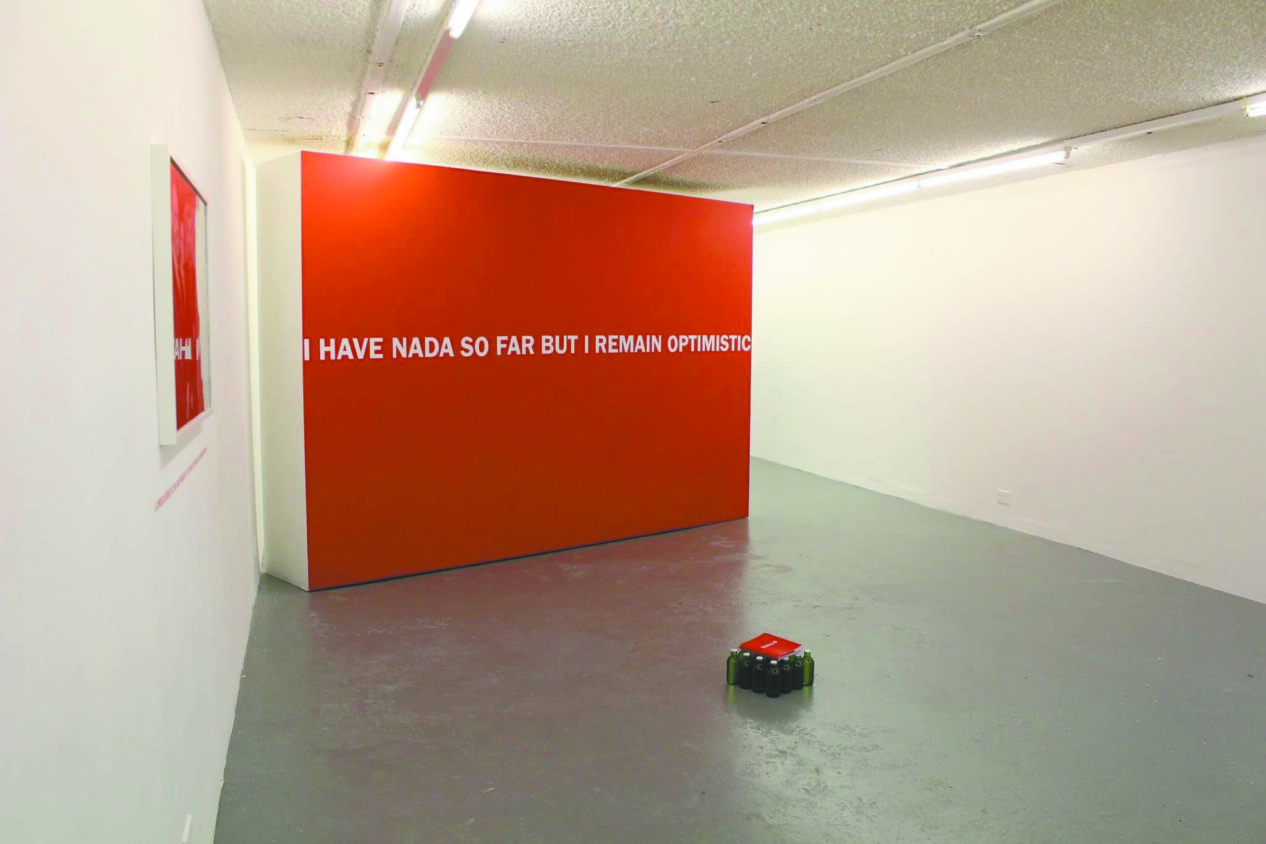 David Fagan, Tactic, Cork, 23 June – 20 July 2016
Sometimes I find it interesting, on my first encounter with an exhibition, to pretend I am illiterate.
A brightly lit, concrete-floored rectangle. A white sentence on a red floating partition. Three separate clusters of green glass beer bottles. On one wall, a black and white photograph of four suited and bespectacled persons unknown; on the opposite, a colour photograph of two men in a pub, one to the rear, one to the fore. A pedestal upon which a ticket and ticket receipt are propped, another sentence in the crook of the wall, this time in red. A video, one moment showing a solitary trolley outside a squat, brick building against a blue sky, the next showing the same scene on a TV screen inside a living room – net curtain, radiator, fireplace – and a tune burbling up from inside the video, a soul song from the 1970s. As the screen blacks out it throws its chorus to a speaker in the ceiling: "Have you seen her? Tell me have you seen her?"
At this point, illiterate-me leaves the premises, almost standing on a smart phone which someone appears to have left charging beside the entrance as she goes.
Tactic is the exhibition space encircled by Sample Studios, programmed by an in-house curator and two curators-in-residence, joint recipients of the organisation's 2015 Curatorial Graduate Residency Award, one of whom, Aoife Power, is responsible for the Fagan show, as well as its accompanying literature, for which I was considerably grateful.
After several minutes of reading, I understand that the show's surface ambiguity arises from its being a body of work-in-progress, which began when Fagan returned to live in Tallaght – where he is from – as an attempt to look afresh, to summon enthusiasm, for this place possibly most remarkable for everybody's apparent lack of enthusiasm for it. And lo, surely out of age-old habit, Fagan has steered away from Tallaght, turning instead to the German town Kreis Segeberg, with which, in 1997, it was twinned. The black and white photograph shows the twinning ceremony; the caption names three men and designates the only woman as 'unnamed'. The nameless woman has something to do with the solitary trolley video, partially explaining the inclusion of the Chi-Lites 1971 hit single Have You Seen Her? The ticket is for the 2016 Karl May Festival hosted by Kreis Segeberg, and Karl May is one of the best-selling German writers of all time, renowned for his adventure stories of the American West, as well as for never having travelled any further than New York.
"If things look completely the same, I search for differences," John Baldessari said in conversation with Thomas McEvilley in 1999; "if completely different, I search for similarities". Like that of Baldessari, Fagan's work is droll. The colour photograph turns out to be a Becks ad; the man to the rear is the artist himself. He smirks out from the pub across the exhibition space, and the nameless woman smirks back, as they share some joke without a  punchline.
And the battered Samsung on the floor by the entrance – screen shattered in a spidery pattern, rainbow sticker on the back – is an artwork. OMG maybe you saw me like ten minutes ago was first included in Fagan's solo exhibition at Siamsa Tíre last year. The jerkily moving scene is a public square: trees, buildings, a scattered crowd. This is the view from a webcam somewhere in Berlin and the soundtrack is the artist phoning his friend, who is somewhere in the square, somewhere in Berlin, cognisant of the coming call. The most potentially interesting part of the conversation takes place at the very beginning, as he struggles to locate her in the webcam's frame: "…where are you…I'm walking around the circle…I'm on the wrong side…am I holding my left arm out…?" The Chi-Lites sing out their chorus, indicating why this particular piece has been reused, but almost as soon as Fagan has seen her, the poetry dissipates. The artist stumbles to explain what he is trying to do by making the piece; stumbles to establish a connection with his faraway friend.
Had the wall held 20 shattered and stickered Samsungs, 20 friends on 20 webcams in 20 different cities, the artist floundering to identify each, this would have been a brilliant artwork. But instead it's just a snapshot, like every other piece here.
As a body of work, 'I Have Nada So Far But I Remain Optimistic' is frustrating. As an exercise in curation, perhaps it does something more interesting: taking a spool of ideas and exposing it to the light before it is fully developed; perhaps propounding that there's no reason why in-progress work can't be presented for exhibition. The title, after all, confesses its flaws: Fagan has nada so far, but seemingly remains optimistic that the show will be evaluated in a similar spirit of optimism.
Sara Baume is a writer based in West Cork.
Images: David Fagan, 'I Have Nada So Far But I Remain Optimistic', Tactic, Cork