In Focus: Irish Arts Abroad | Untitled (Bodies)
VAI Member Kira O'Reilly outlines the realities of maintaining a visual art practice in Helsinki.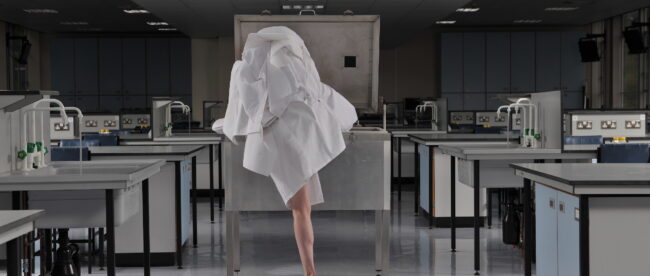 I graduated in 1998 from Time Based, a dynamic, experimental department within Fine Arts, at what was then University of Wales Institute, Cardiff. To this day, I continue to work with ephemeral and experimental media – including performance, installation and sculpture, biotechnical practices and writing – often in relation to speculation around the body and how that intersects with the social, private and intimate. My practice has meandered across live art, dance and visual art contexts, and interfaces of art, science and technology, sometimes in recognised art venues, other times in non-art spaces, where site itself becomes a generative dimension of the process. The monograph, Kira O'Reilly: Untitled (Bodies), edited by Harriet Curtis and Martin Hargreaves, provides an expansive visual and discursive retrospective of my work from 1998 to 2017.
In 1986, when I was a 19-year-old young adult, I left Ireland for the UK. From the late '90s, my artistic practice benefited from flourishing contexts for live art, both in the UK and Europe. The Live Art Development Agency in London, and its former creative director Lois Keidan in particular, was a vital force in highlighting how marginal art forms might receive support, be curated, and most importantly, be experienced by viewers.
With the impact of austerity politics, surviving the harsh economic climate of London became impossible. I moved to Helsinki in 2016 for a short-term teaching contract at University of the Arts. Working in Finland was a complete contrast, with an opportunity to run a pilot for an MA programme in ecology and contemporary performance. 
I found a community with Helsinki-based Bioart Society, who produce projects in "art and natural sciences with an emphasis on biology, ecology and life sciences". My introduction to the society was in 2013 when I participated in 'Field_Notes', a week-long art and science field laboratory in which five groups work in the sub-Arctic environment of Sápmi (Sámi traditional lands in northern Finland) to develop, test and evaluate specific interdisciplinary approaches to a theme. I have since made several projects with the Bioart Society, and co-edited its decade-marking publication, Art As We Don't Know It (Alto University, 2020), that surveys art and science practice and it's evolving futures.
I have been immensely fortunate to receive support from The Finnish Cultural Foundation, Taike. I am also an alumnus of Saari, a generously resourced two-month residency opportunity in rural south west Finland, funded by Kone Foundation, a significant funder of arts and research. 
The biggest challenge I experience is getting my work shown here in Finland, where curatorial relations are not particularly developed. It is widely recognised that artists who are not Finnish and who have not emerged via the Finnish arts education system are explicitly disadvantaged. There is also enormous and proactive will for this to change. 
Whilst I do not have a defined professional profile and presence in Ireland, I find myself increasingly hopeful this will change. As my parents age, I return to Ireland more frequently. Visits to North Kerry, where my artistic journey began, never fail to inspire creative projects. I have several works I wish to develop, pending interest and funding, including a work in my family home in Listowel. 
In August I will present work at Live Art Ireland's Convergence Festival in County Tipperary. I will also give a workshop in the Burren at the invitation of Áine Phillips, performance artist and head of sculpture at Burren College of Art. Áine did the enormously hard work of editing the ground breaking publication, Performance Art in Ireland: A History (Intellect Books, 2015), which I was grateful to be included in. She has been tremendously generous in offering advice on how to bring my work to Ireland, as have Dublin-based artist Karen Donnellan and Helsinki-based Irish artist Suzanne Mooney. 
Kira O'Reilly is an Irish artist currently based in Helsinki.
kiraoreilly.com