November/December Issue – Out Now!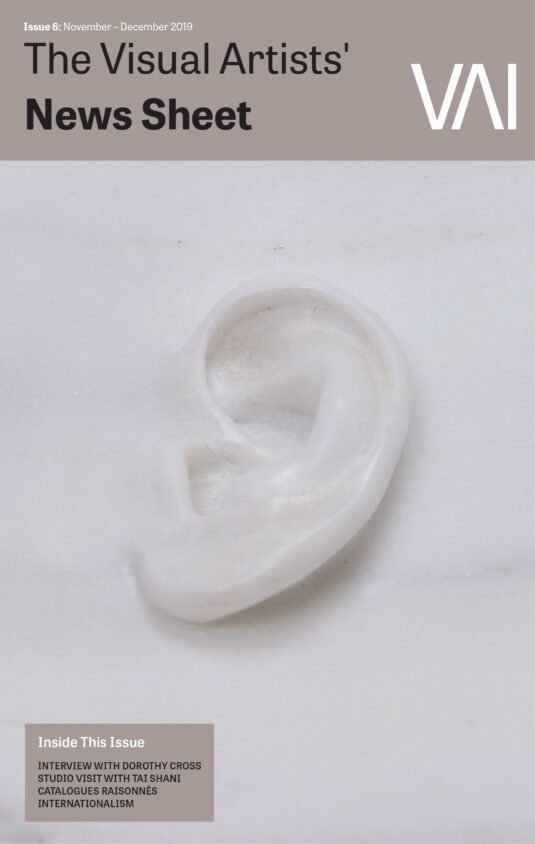 The final issue of 2019 profiles a range of significant projects including: Dorothy Cross's recent performative event, Heartship; Sinead McCann's socially-engaged project, film and touring exhibition, The Trial; and Eimear Walshe's recent commemorative project, commissioned by Roscommon County Council. In addition, Ailve McCormack visits current Turner Prize 2019 nominee, Tai Shani, in her studio at Gasworks, London.
Shifting our focus to the island of Syros in Greece, Christopher Steenson, reports on the site-specific sound residency, Sounding Paths 2019, which he attended in July, while Andrew Duggan discusses his presentation of unravel_rios at Eye's Walk Digital Festival. In other festival profiles for this issue, Chris Clarke discusses his highlights from Middleborough Art Weekender 2019, and Sandra Corrigan Breathnach reports on 'Somatic Distortion', a two-day performance art event that took place across the town of Manorhamilton.
This issue features a broad range of interesting columns, including reviews of two recently published books: Sarah Pierce looks at Reclaiming Artistic Research; while Astrid Newman offers an appraisal of Curating After the Global: Roadmaps for the Present. Skills Columns by Cornelius Browne and Fiona O'Dwyer outline the logistics of outdoor winter painting and bronze age casting techniques respectively. In addition, Matt Packer introduces a new series of columns, addressing the concept of internationalism within current curatorial discourse.
Following recent queries from VAI members about artist catalogues raisonnés and GDPR protocol, we invited contributions from Toby Treves (International Catalogue Raisonné Association), Carl Schmitz (Catalogue Raisonné Scholars Association) and David Murphy (Data Protection Commission), who each offer a range of practical guidelines for artists on these subjects.
The Regional Focus for this issue comes from County Wexford, with insights from Cow House Studios, Geordie Gallery, Wexford Arts Centre and Wexford Arts Office. Visual artists local to and originating from the Wexford region, such as Julia Dubsky, Aileen Murphy, Helen Gaynor and Nadia Corrdian also reflect on the evolution of their respective practices.
Reviewed in the Critique Supplement are Sarah Long at Studio 12, Backwater Artists Group; Joanne Boyle at Mermaid Arts Centre; Claire Halpin at Olivier Cornet Gallery; David Bickley at Uillinn: West Cork Arts Centre; and 'Open Minds' at Rua Red.
As ever, we also have details of upcoming VAI Lifelong Learning workshops, recent exhibiitons, public art roundups, news from the sector and current opportunities.